Sponsored Content
What the Term "Pregnancy Craving" Means to an Interior Designer
Sarasota interior design firm Chic on the Cheap shares her unique pregnancy craving for walnut: the wood, not the nut.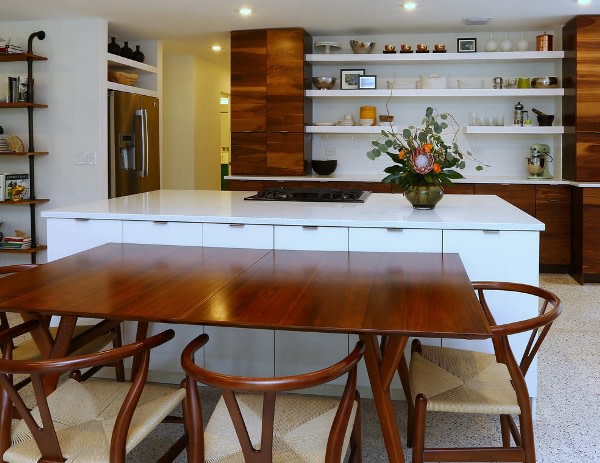 If you've been reading my blogs, which I sure hope you have, you know I recently had a baby. And while some women crave pickles and ice cream during their pregnancies, I was obsessed with walnut—no, not the nut, the wood species. As an interior designer, I spend a lot of time selecting finishes and considering the correct proportion of each material so spaces look balanced and exciting. Every time I looked at walnut for such an application, the answer was "yes!" I couldn't get enough.
One client wanted help selecting new flooring for her downtown condo, so of course we went with engineered walnut wood. I might have been on a walnut binge, but she still tells me she loves it months later. Another client needed a finish for her custom dining set and after looking at our options, we choose the black walnut stain. She loves it, too! No matter the architecture of the space or the style of décor, walnut really fits the bill. It's warm, and its grain is inherently beautiful—who wouldn't want those qualities for their home?
Below are three examples of how my unique pregnancy craving transformed spaces.
Walnut Cabinetry
The photo at the top of the blog is my kitchen; you see it when you walk up to my house. I thought I wanted an all-white kitchen so it would be neutral and timeless—then my craving kicked in. Nothing is more timeless than a natural material like wood, and walnut would really give me the wow factor I wanted. I used a design trick we at Chic on the Cheap use for our clients—I went with a horizontal grain direction to make my space look wider. The eye follows the side-to-side direction past the actual kitchen, making the space appear larger than it actually is.
Walnut Furniture
The photo below is a home on Siesta Beach. During pre-construction, I jokingly said to the homeowner that we could shop for furniture or he could chop down a tree on his northern property. Well, he took me up on the latter and we set out to design a handful of one-of-a-kind pieces. The stump legs and live edge on the dining table complement the location of the home nicely. Additionally, these pieces warm up the travertine floors and the light-colored walls. By utilizing multiple walnut pieces throughout the space, I employed yet another design tactic: to make an element feel integrated in the design, repeat, repeat, repeat.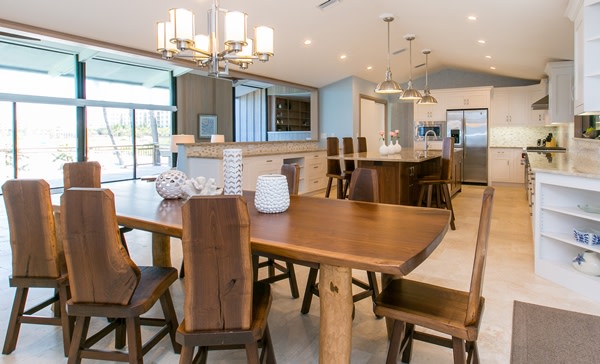 Walnut Countertops
It was easy to use my recent home renovation as a testing ground for my ideas, and my laundry room was no exception. Instead of repeating the quartz countertops from my kitchen, I went with butcher block in (surprise, surprise!) walnut. I spent my money wisely in this small space because this material was a few hundred dollars less than quartz. That savings afforded the wild wallpaper. What I didn't expect however, was that more people comment on the countertop than they do the wallpaper! Thank you very much, weird pregnancy craving!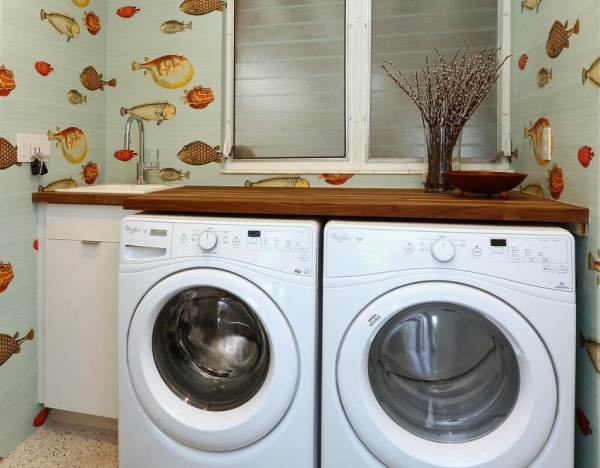 Tastefully yours,
Jill Geisdorf, RID, LEED AP
Interior Designer at Chic on the Cheap