Sponsored Content
What's Up with Wallpaper: Why and How You Should Use It
Sarasota interior design firm Chic on the Cheap shows us how to pick the perfect wallpaper.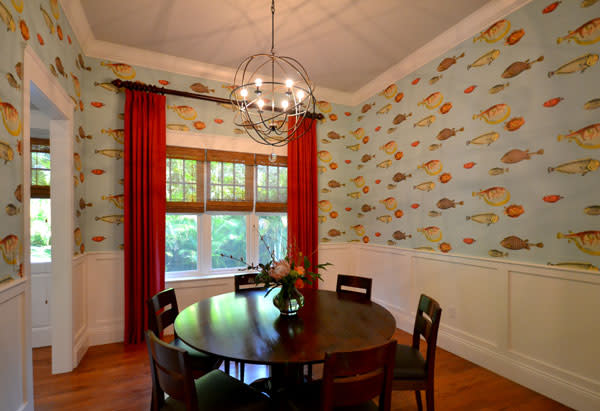 It's back, baby!  Like all good trends, wallpaper has cycled back around to being en vogue—and I am pumped! There are so many good wallcoverings out there right now, from rich and sophisticated to bold and funky.   Sure, you could paint your walls a dark color for impact, but paint is so one-dimensional.  If you want to make a statement, look to wallpaper. It can be a bit pricey, but the visual is worth every penny!  Think of it as an investment in style.  Wallpaper is art; it can take the place of other fluffy design elements you could buy, thus saving money.
OK, that might be a little bit of a stretch, but consider taking what you would spend on expensive art or fancy accessories and drapes, and put it towards the largest surface in the room—the walls.  This harkens back to our firm's principle philosophy of spending money wisely.  Don't spend money just to spend it, but don't skimp either. Spend money on what's important and will give you the most bang for your buck.
How to do this?  Keep reading for three ways to navigate the wonderful world of wallpaper.
Bring on the drama.
If you want to take a risk that can really pay off, go for a bold design.  This is a great example of how wallpaper becomes a piece of art.  It elevates the whole room by putting pattern on the walls.   In the photo above, fish adorn the walls of this dining room.  It's the first room you see when you walk into the home, and boy, it's something you won't forget!
Get the lux look.
Grasscloth is a staple wallpaper.  It's all about texture and luxury.  It's a natural material, so no two pieces are the same, thus creating an organic look.  The photo below is our sophisticated take on a guest bedroom.  Treat your company to something special by adding warmth to the walls.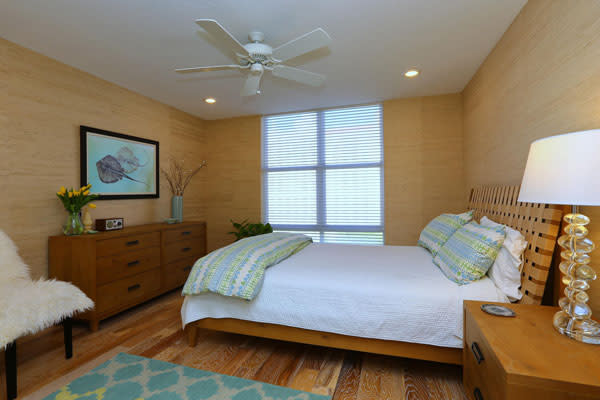 Tell a story.
If you have a hobby, embrace it by adding a décor element like wallpaper.  It could be a paper with French bulldogs, sailboats or shoes (yes, I've seen this last one recently).   Using a themed paper will give a glimpse into your personality and passions.  In the photo below, I celebrated my husband's love of golf by decoupaging our guest bathroom in golf course maps (yardage books).  It's wild and fun, and it makes us smile.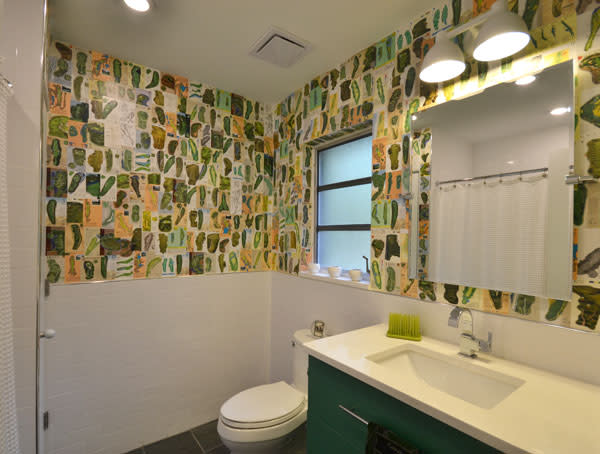 Seeing an ear-to-ear grin on a client's face when they see their finished space means the design is a success.  In the words of one of our current clients, "Go big or go home!"  It's just wallpaper—have fun!
Tastefully yours,
Jill Geisdorf, RID, LEED AP
Interior Designer at Chic on the Cheap