Sponsored Content
Welcome Home: Four Very Different Ways to Create a Stylish Entry
Sarasota interior design firm Chic on the Cheap shares four unique ways to create a stylish entryway.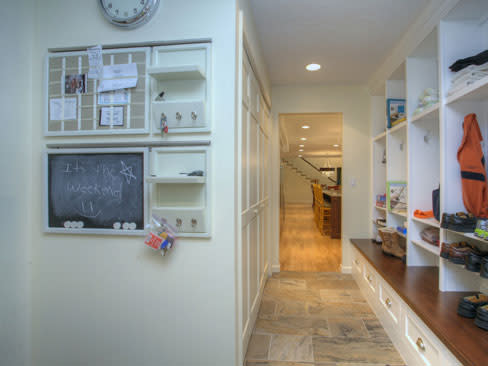 What is the first space you see when you come home? Is it a welcoming space that evokes feelings of home and family or is it simply a means to get to the kitchen or TV?  What it is now is not what it has to be forever.   At Chic on the Cheap, we feel that you never get a second chance to make a first impression.  Even the smallest rooms in your home are important (we did, after all, write a whole blog devoted just to bathrooms!), and the entrance is no exception.  We analyze not only our client's aesthetic but also their lifestyle to create an entrance with personality.  Below are four ways to make this space come to life.
1. A family affair
If you are a busy parent and want to try to organize your life, you can carve out a simple drop zone in your laundry room for a bench, book bag storage, and shoes.  If you have a massive garage, like the family did in the photo above, you can borrow space to do a full-blown mudroom with a desk and slate floors- very durable and inexpensive if you know how to shop for a bargain like we do.
2. The city life
If you have more of a foyer space, it needs to be clean, simple and streamlined. Address function first- do you have a dog? Get a console table with drawers for a leash.  Get a bowl to drop your keys and wallet in.  Use a lamp so you can have a nightlight or something to leave on when you go out to dinner.  Lastly, add a mirror to check your face before leaving home or add art that suits your style. We custom designed the piece below for our client who has been on many safaris and likes bright colors.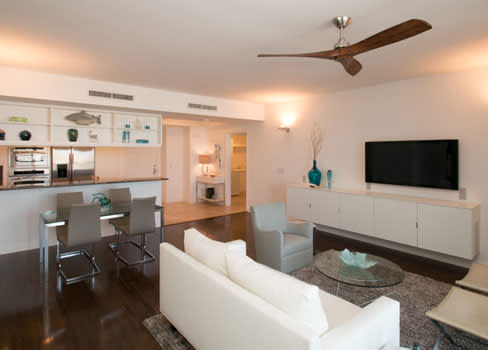 3.The beach getaway
Almost all the beach condos we redesign have small hallway spaces for entries.  There is not even room for a small console table.  In the photograph below, we utilized part of the kitchen by adding base cabinets to create a simple countertop for the owners to 'drop' their belonging on when coming in with sandy feet from the beach.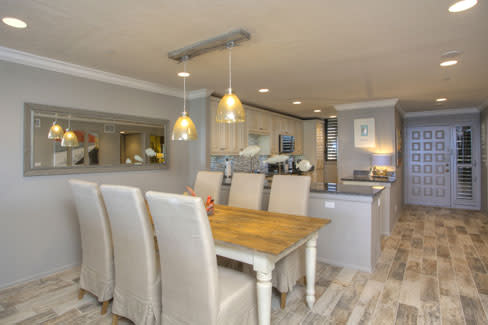 3. Living at the beach.
Even if the entrance through the garage is attractive, you still want guests to see something that represents your personality when they come over.  What if your house is a 1970's ranch that has a tight foyer?  If lucky, like this homeowner (photo below), your sister is a fabulous interior designer at Chic on the Cheap (haha) and advises you to blow all the walls out to create an open plan showcasing the great view.  Then, she tells you that the space doesn't need a lot- just a narrow console table and some artwork.  This sounds easy, right?  If you have a narrow space next to your front door and need a slim table, have something made!  Again, this is where your awesome interior designer comes into play.  If your husband is an avid fisherman (true story), frame a chart and put a star on your home's location.  Voila!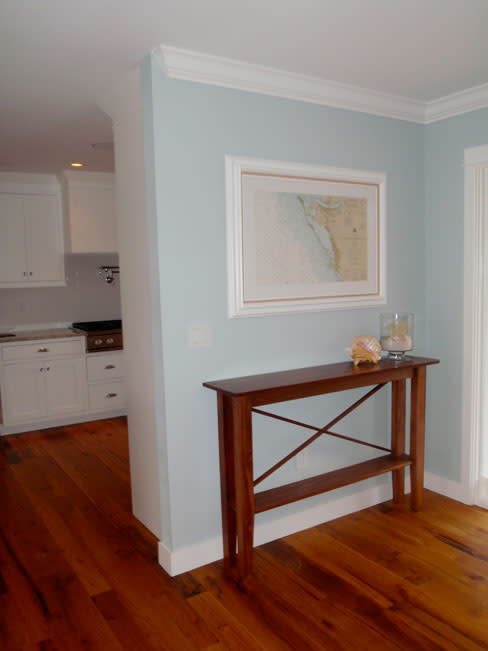 Tastefully yours,
Jill Geisdorf, RID, LEED AP
Interior Designer at Chic on the Cheap