Sponsored Content
How to Fit Carrera Marble (and Other Expensive-Looking Finishes) into Any Budget
Sarasota's Chic on the Cheap shows you how to fit Carrera marble and other expensive finishes into your home--on any budget.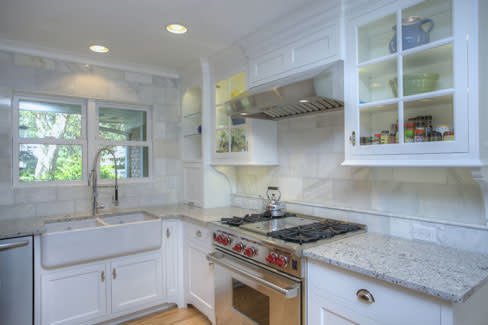 Are you remodeling your home with Champagne taste on a beer budget?  Not to worry—you, too, can achieve a high-end look at any price point.  At Chic on the Cheap (the name of our company embodies this thrifty philosophy!), we utilize a number of techniques so that our interior design clients can have an upscale appearance and not break the bank.  Yes, Carrera marble and travertine can be pricey, but there is a reason we use them so frequently.  Natural materials like these were used hundreds of years ago and will continue to be in style for many years to come.  (Striated 12-by-24 porcelain tile, on the other hand? Probably not.)  That being said, there is nothing wrong with being trendy and doing something outside of the box (we do that, too—did you read "What Does Your Bathroom Say About You?"), but if you're in the market for something with lasting appeal that's not a budget-buster, continue reading for our top five tips.  Visit www.chiconthecheap.net/before-after for photos of how to implement these strategies.
1. Size Matters
The bathroom projects below both have Carrera marble from floor to ceiling.  One was transformed at half the price of the other.  By using 12-by-12 tiles instead of 24-by-24 tiles, we recognized substantial savings.  Can you tell the difference?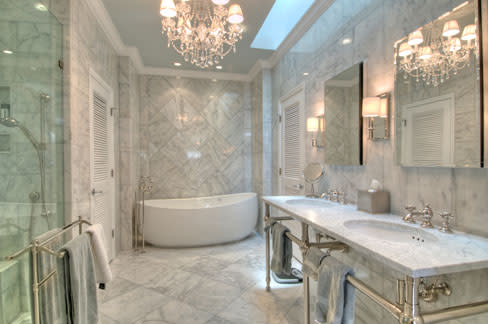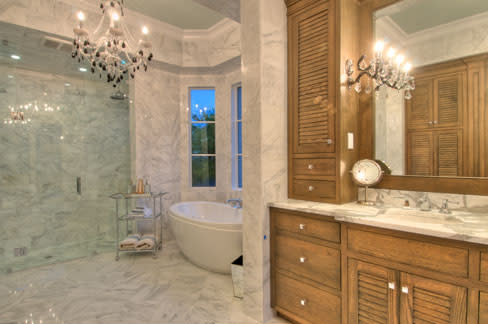 2. Shop at Unconventional Places
Did you know Costco has great-looking plumbing fixtures? Did you know that there are closeout tile stores? Did you know online stores can be your ally?  Costco sells Hansgrohe for much less than many retailers.  Floor and Décor recently opened in Sarasota and has a wonderful selection of stone and wood flooring at all price points.  Having an original Hans Wegner Wishbone chair is awesome, but if you don't have a few thousand dollars to spend on your dining chairs, try Overstock.com for a nice knockoff.
3. Make the Material a Focal Point
If you want to re-create the marble bathroom pictured in tip No. 1, use the marble sparingly to get the effect, possibly as the listello in the shower.  Or perhaps you have a small vanity—you may be able to find a remnant piece of an exotic stone at a discounted price from a local granite yard.
4. Pick the Right Material for the Application. 
Carrera marble makes for a beautiful kitchen counter, but you won't love it when it's ruined by orange juice (or red wine).  Yes, you can seal the life out of it, but a much safer bet is to use it as a backsplash.  It's cost-effective to use 3-by-6 marble in a running bond pattern.  Also, big box stores and the closeout store listed above sell 12-by-12 marble mosaics on mesh backings, which are not only affordable but easy to install, lowering your labor costs as well.
5. SPLURGE!
I know, you thought we were budget shopping here. But sometimes you have to spend (a.k.a. invest) a good chunk of change on a statement piece and really shop around for the rest of the ensemble.  Your living room sofa is a good example of this.  You use that day in and day out and quality matters.  It's the largest piece in your living room and the first thing you see when you walk in.  So if the piece looks expensive and is of good quality, it will set the tone for the rest of your ensemble. An Ikea piece or thrift store find can be elevated when mixed with the right sofa!    Spend your money wisely.
Tastefully yours,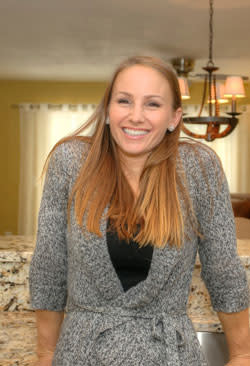 Jill Geisdorf, RID, LEED AP
Interior Designer at Chic on the Cheap