Article
Sarasota Arts and Entertainment Guide
Your guide to Sarasota arts and entertainment.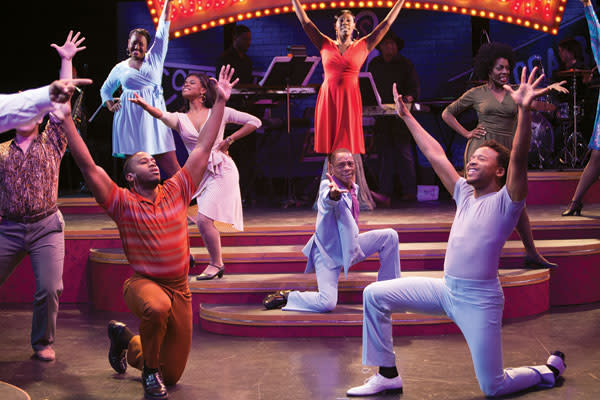 THEATER
Asolo Repertory Theatre, (941) 351-8000. The largest professional not-for-profit theater in the U.S. south of Atlanta, the Asolo Rep presents eight Equity theater productions each season, including an occasional world premiere. Its rotating repertory cast is drawn from across the country. asolorep.org
Banyan Theater Company, (941) 358-5330. The Banyan offers theater-hungry audiences the opportunity to view professional-quality comedy and drama in the traditionally slower summer months. banyantheatercompany.com
FSU Center for the Performing Arts, 5555 N. Tamiami Trail, Sarasota. (941) 351-8000. Home to the professional Asolo Rep, the FSU/Asolo Conservatory of Professional Actor Training (which presents its own four-play season in the smaller Cook Theatre here), Sarasota Ballet and, in the summer, the Banyan Theater Company. Performances on two stages year-round.
Florida Studio Theatre, 1241 N. Palm Ave., Sarasota. (941) 366-9000. FST's five professional theaters present topical plays, musicals, cabaret and improv comedy shows year-round for wildly loyal and appreciative audiences. floridastudiotheatre.org
Manatee Players, 502 Third Ave. W., Bradenton. (941) 748-5875. This award-winning community theater presents a full season of plays (mostly musicals) at the Manatee Performing Arts Center in downtown Bradenton. The quality often rises well above the usual concept of community theater. manateeplayers.com
The Players Theatre, 838 N. Tamiami Trail, Sarasota. (941) 365-2494. The great-granddaddy of local community theaters, with a stage that has been graced by Montgomery Clift and Charlton Heston. It offers mostly Broadway musical favorites September through April, plus a summer play fest and occasional edgier work. Its Players Studio helps students of all ages hone the talents that may launch them onto mainstage. theplayers.org
Urbanite Theatre, 1487 Second St., Sarasota. (941) 321-1397. Sarasota's newest theater company, founded by a pair of FSU/Asolo Conservatory grads, presents brand-new, cutting-edge plays in its intimate downtown space. urbanitetheatre.com
Venice Theatre, 140 W. Tampa Ave., Venice. (941) 488-1115. This award-winning community theater presents musical favorites, the occasional drama and a comedy or two on its mainstage. Its smaller, black-box Pinkerton Theater plays host to more contemporary Stage II offerings and cabaret shows. As a testament to its reach, Venice Theatre hosted the quadrennial International Amateur Theatre Festival in 2010 and 2014. venicestage.com
Westcoast Black Theatre Troupe, 1646 10th Way, Sarasota. (941) 366-1505. Now in its 16th season, this professional African-American theater company presents hit musicals and the occasional drama, drawn from either African-American playwrights or relating to the African-American experience. westcoastblacktheatre.org
SOMETHING TO SING ABOUT
A remarkable endeavor that began way back in 1989 is about to come to a rousing close. The Sarasota Opera's Verdi Cycle, which aims to present every single musical note intended for performance that Verdi wrote, will end this winter with his rarely produced lyric tragedy, The Battle of Legnano. The season opens with a better-known Verdi work, Aida, conducted by Sarasota Opera artistic director (and Verdi superfan) Victor DeRenzi. Several special events surround this momentous season, including recitals of Verdi's music, a Verdi conference with international experts and a grand finale concert preceded by a gala dinner party for supporters, many of whom who've been with the Sarasota Opera through this entire wild 28-year ride.
MUSIC, DANCE & POETRY
Artist Series Concerts of Sarasota, (941) 306-1200. The Artist Series presents world-class classical music as well as concerts featuring pop and Broadway sounds at the intimate Historic Asolo Theater. artistseriesconcerts.org
Gloria Musicae, (941) 387-6046. Twenty-four classically trained vocalists comprise this professional chamber chorus, which presents concerts at various venues, including a December holiday event, a Fourth of July celebration and a large-scale piece. gloriamusicae.org
The Hermitage Artist Retreat, 6660 Manasota Key Road, Englewood. (941) 475-2098. Restored hundred-year-old cottages comprise this artist retreat on Manasota Key, where composers, authors, choreographers and visual artists from around the world are invited for six-week residencies. The Hermitage holds open studio tours and beach readings on its beachfront campus. hermitageartistretreat.org
The Jazz Club of Sarasota, 330 S. Pineapple Ave., Suite 111, Sarasota. (941) 366-1552. Now in its 36th year, the Jazz Club organizes jams, members' concerts and educational programs year-round, and the big Sarasota Jazz Festival in the spring. jazzclubsarasota.org
Key Chorale, (941) 921-4845. This venerable choral ensemble presents choral masterworks as well as world premieres, and takes pride in collaborating with other local arts institutions. keychorale.org
La Musica International Chamber Music Festival, (941) 366-8450 ext. 7. Each April, La Musica brings musicians from Europe and the Americas to perform chamber works under the artistic direction of Bruno Giuranna and Derek Han. Public rehearsals take place at New College's Sainer Pavilion and concerts take place at the historic Sarasota Opera House. lamusicafestival.org
New Music New College, (941) 487-4888. This innovative concert series brings nationally and internationally renowned contemporary musicians to the New College campus to perform, discuss and enlighten. newmusicnewcollege.org
North Port Concert Band. An all-volunteer, 90-musician band performs 14 concerts each season at the North Port Performing Arts Center.  northportconcertband.org
Perlman Music Program Suncoast, (941) 955-4942. A professional development program for gifted young musicians founded by the famed Itzhak and Toby Perlman, with free public recitals offered during the two-week winter program. It culminates with a Celebration Concert at the Sarasota Opera House led by Itzhak Perlman himself. PMP alums also give occasional concerts during the year. perlmanmusicprogramsuncoast.org
The Pops Orchestra, (941) 926-POPS. The community orchestra performs three concerts at Riverview High School and Bradenton's Neel Auditorium from December to March. sarasotapops.org
Sarasota Ballet, (941) 359-0099. Under the artistic direction of Iain Webb, this international professional company has garnered acclaim for staging new or rarely seen dances by choreographers ranging from legends like Sir Frederick Ashton to contemporary masters such as Matthew Bourne. This year, it made its debut at the Jacob's Pillow Dance Festival. sarasotaballet.org
Sarasota Choral Society, (941) 343-9894. A community chorus numbering up to 300 strong that has performed the Christmas portion of Handel's Messiah (accompanied by a full orchestra, organist and soloists) every December for 70 years. sarasotachoralsociety.org
Sarasota Concert Association, (941) 225-6500. Presents a five-concert series at the Van Wezel featuring stars of the classical music world. Among them this season are the Cleveland Orchestra and pianist Olga Kern. scasarasota.org
Sarasota Concert Band, (941) 364-2263. Performs at various area venues, focusing on concert band music, often with a patriotic theme. sarasotaconcertband.org
Sarasota Contemporary Dance, (941) 345-5755. The former Fuzion Dance presents a range of dance genres, often in collaboration with other arts groups, at venues throughout the area. The company and its choreographers also work with students of all ages. sarasotacontemporarydance.com
Sarasota Opera, 61 N. Pineapple Ave., Sarasota. (941) 328-1300. This internationally acclaimed professional company, led by Maestro Victor DeRenzi, performs in the stunningly restored Sarasota Opera House. This season, the company will complete its Verdi Cycle—a unique undertaking to perform the complete works of Giuseppe Verdi, which started 28 years ago in 1989. The company also maintains a highly regarded Sarasota Youth Opera program. sarasotaopera.org
Sarasota Orchestra, 709 N. Tamiami Trail, Sarasota. (941) 953-3434. Music Director Anu Tali conducts this 80-member professional orchestra, which presents a traditional Masterworks series, plus Chamber Soirees and a pops series. The orchestra is also justly proud of its Youth Orchestra programs, which involve more than 200 young musicians. sarasotaorchestra.org
Van Wezel Performing Arts Hall, 777 N. Tamiami Trail, Sarasota. (941) 953-3368. This Frank Lloyd Wright Foundation-designed purple seashell-shaped hall on Sarasota's bayfront boasts a wide-ranging season of Broadway touring theater, international dance companies both classical and modern, comedians, pop and country music stars and more, mostly October through May. vanwezel.org
Venice Chorale, (941) 484-8491. This choral ensemble, formerly known as Exsultate!, presents five concerts this season in the new Venice Performing Arts Center. exsultate.org
Venice Symphony, (941) 207-8822. This popular ensemble presents seven sets of concerts from November through April, from classical to pops, as well as a summer music camp. Performances are held at the new Venice Performing Arts Center. thevenicesymphony.org
LEAPING ONTO A NATIONAL STAGE
The Sarasota Ballet started its 25th anniversary season on a high note this summer, when it was invited to perform before dance aficionados from across the nation at the famed Jacob's Pillow Dance Festival in western Massachusetts, earning a rave review from The New York Times, which called them "beyond extraordinary."
CIRCUS
Circus Sarasota, (941) 355-9335. Co-founders of this top-quality, one-ring circus, Pedro Reis and Dolly Jacobs
(daughter of legendary clown Lou Jacobs), produce winter performances under the Big Top that feature international stars in the fields of high-wire, aerial, juggling, equestrian acts and more. Its parent organization, Circus Arts Conservatory, also oversees the all-student Sailor Circus and its training programs. circusarts.org
COMEDY
McCurdy's Comedy Theatre, 1923 Ringling Blvd., Sarasota. (941) 925-FUNY. With a spiffy new home in the heart of downtown Sarasota, this laugh palace is drawing such nationally known stand-up comics as Darrell Hammond, Jim Breuer and Kevin Nealon and hosts workshops and other special events. mccurdyscomedy.com
FILM
Sarasota Film Festival, (941) 366-6200. Each spring, Sarasota welcomes actors, filmmakers and film lovers to a 10-day celebration of the art of film, with screenings of brand-new movies at downtown's Hollywood 20, plus parties, talks with the artists and more. This year's fest is set for April 1-10. Recent attendees include Woody Harrelson, Peter Bogdanovich and Elisabeth Moss. sarasotafilmfestival.com
Sarasota Film Society/Burns Court Cinema, (941) 955-FILM or (941) 364-8662. SFS presents independent and international films at the intimate Burns Court Cinema in downtown Sarasota and at its Lakewood Ranch Cinema. The weeklong Cine-World Festival in November is hugely popular. filmsociety.org