Article
Restaurant Review: Seasons 52 at The Mall at University Town Center
Plus, dining at the new Sophie's at Saks.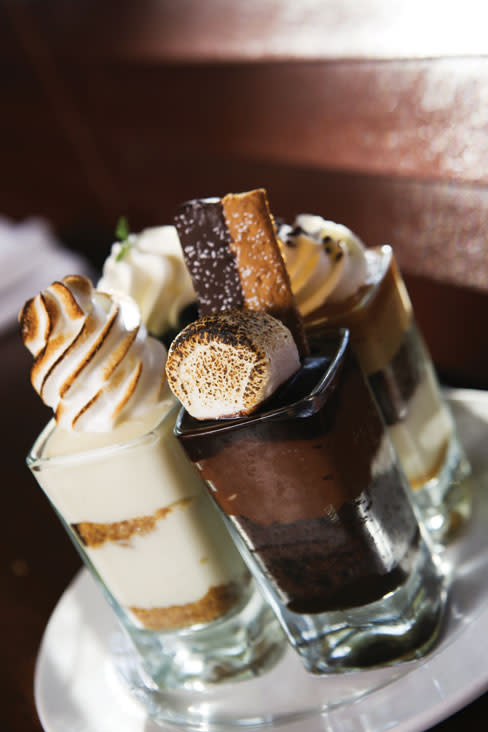 If I were to to eat dinner in a single restaurant twice a week for the rest of my days, it would be Seasons 52 Fresh Grill.
Owned by the Darden restaurant company, this chain arrived in Sarasota with the recent opening of the Mall at University Town Center. I first dined at a Seasons 52 when the company market-tested the format in the Orlando area in 2003, and I've been eating at Seasons 52 whenever I could since then. It's comfortably sophisticated, has a great wine list, and a menu designed for the way sensible foodies want to eat today. I can find out how many calories a dish contains, and I can depend upon fresh presentations that focus on layered flavors and authentic seasonal ingredients.
Seasons 52 is not interested in tempting you with mounds of uninspired pasta or cheesy-French fries or huge chunks of white bread. Instead, expect an assortment of flatbreads as an appetizer offering. My favorite is artichoke and Laura Chenel goat cheese with leaf spinach, balsamic onions and roasted peppers ($9.95). The steak and blue cheese flatbread is by far the heartiest, and men gravitate to it almost every time.
In the starters section, don't pass over the warm olives. Served in a hot ramekin, they're a revelation, with a variety of green and black olives that have been seasoned and oiled.
You can compose an entire meal of starters and salads (which I often do), such as lump crab with roasted shrimp and spinach-stuffed mushrooms under Parmesan panko crust ($9.50) or ahi tuna tartare layered with wasabi avocado mousse and tropical salsa ($12.75). There's a lot going on in the BBQ chicken presentation, including baby spinach, romaine, sweet corn, roasted red peppers, pumpkin seeds and crumbled blue cheese ($12.95). And there's always a seasonal vegetarian tasting platter that averages about $15.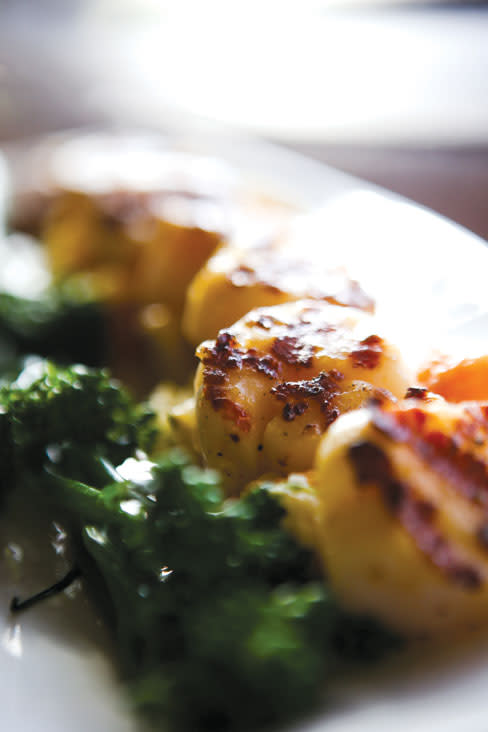 Another option is to go for an entrée, such as caramelized grilled sea scallops paired with butternut squash risotto, broccolini and lemon butter ($22.50). I loved every mouthful of this dish. The scallops and risotto had a pleasant smoothness and silky texture that contrasted with the snap of the crisp broccolini. The oak-grilled filet mignon is presented with mushrooms, roasted tomato, broccolini, mashed potatoes and red wine sauce ($26.95). Or try the wood-roasted pork tenderloin with polenta, broccolini and caramelized cipollini ($17.75). Here's the happy kicker: Every item on the menu is under 475 calories. So if you're counting, you can keep track while sacrificing absolutely nothing to flavorful satisfaction. The restaurant serves lunch and dinner, and has two private event rooms.
True to its name, the Seasons 52 menu changes four times a year, and executive chef Melissa Louty adds creative specials to the daily offerings more often than that. You can order 62 different wines by the glass or 100 more labels by the bottle. The cellar stocks about 2,000 bottles, with prices starting at about $9 for a glass and bottles ranging from $28 to about $300.
I particularly like what Seasons 52 does with desserts. There are plenty of choices from mousse, tort and crème brûlée to ice creams and sherbets; each comes in a shot glass, with a garnish such as a crunchy cookie, chocolate-dusted marshmallow or whipped cream. The theory is that you only need three or four bites of something sweet at the end of a meal to be satisfied. It's true; food science confirms it. Desserts average about $2.75; about 10 different ones are available any day of the week.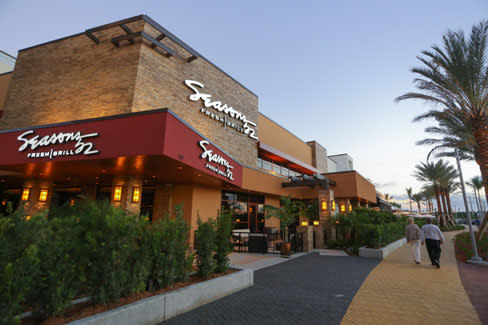 Seasons 52 is a fine-dining experience, but the ambiance is not formal. It's a classy, contemporary space with a beautiful bar and a wood-centric decor that promotes a feeling of coziness. One of the several dining areas features the open presentation kitchen, and the whole restaurant has a nice buzz that rarely turns unduly loud.
The Verdict: Seasons 52's lush flavors and creative American dishes are also calorie- and nutrition-conscious. The menu changes with the seasons, and the wine list is wide-ranging, Indulgent and intelligent.
Seasons 52 Fresh Grill
170 University Town Center Drive, Sarasota
Reservations: (941) 702-9652
Hours: Sunday through Thursday, 11:30 a.m. until 10 p.m., Friday and Saturday nights, until 11 p.m. Happy Hour: Monday-Friday, 4-6:30 p.m.
Selected spirits and small plates, $5. To-go menus also available.
Credit cards: all major
Valet parking; handicapped accessible.
A Seat at Sophie's
There is a saying among intrepid shoppers: "When I get too tired to shop, I just sit down and try on shoes." Now Sarasota shoppers can sit down and have a bite at Sophie's, a restaurant and bar on the second floor of Saks Fifth Avenue in the Mall at UTC.  With both indoor and outdoor seating, Sophie's is as stylish and contemporary as anything associated with Saks should be, but it's comfortable, too, with a chic color palette of black, white, gray and taupe, and a limited but nicely thought-out menu.
Select from several well-chosen salads, bisques and sandwiches at both lunch and evening with entrées that include strip steak, grilled cobia, pasta and short-rib ragout, even a deluxe cheeseburger for $17. The three-grain risotto ($22) gets raves but doesn't look nearly as appetizing on the plate as the shrimp salad, which has a confetti-like colorful presentation with tender and perfectly cooked big wild-caught shrimp. The veal meatballs sold out the day I wanted to try them, but I was satisfied with my Nueske bacon-grilled cheese sandwich ($16) made with hearty country white bread. The side ramekin of fig jam is genius. Salad or fries accompany the dish. I opted for salad and then separately ordered the truffled French fries ($6)—just to evaluate them, of course. They're superlative, with plenty of musky-earthy truffle flavor and a sprinkle of grated cheese on top.
Breakfast is simple continental fare with fruits, muffins, yogurt and croissants that average about $6 an item. The Sunday brunch features short-rib hash, shrimp and grits, eggs Benedict, baked French toast, a steak and eggs plate and that lovely shrimp salad. And the bar is a big deal at Sophie's, with craft cocktails, beers, wines and hard ciders.
Sophie's is named for Sophie Gimbel (1898-1981), the Saks couture designer for 40 years in New York. Department store dining is an honored European and American tradition that went dormant for a while, but is back again.
Bear in mind that Saks closes at 9 p.m. and Sophie's last seating is at 7:30 p.m. But Sophie's is a genuine convenience. The food is altogether fresh and flavorful, and when I'm too tired to shop one minute more, I gratefully fall into the padded banquette and welcome a cool drink and delicious nourishment.
Sophie's Restaurant & Bar
120 University Town Center Drive, Sarasota
Reservations: (941) 444-3077
Hours: Breakfast, lunch, dinner and Sunday brunch. Monday-Saturday, 10 a.m. until 8:30 p.m.; Sunday, 11:30 a.m.-5:30 p.m. Space for private parties available.
Credit cards: all major
Handicapped accessible
Valet and self parking
The Verdict: Sophie's offers shoppers a comfortable and tony place to flop down and relax with a drink and flavorful nourishment during a busy shopping day.
For more Sarasota restaurant and dining news, click here. >>
This article appears in the January 2015 issue of Sarasota Magazine. Click here to subscribe. >>