Article
Behind the Scenes at Key to the Cure 2014
Party Girl Loren Mayo takes us behind the scenes of Key to the Cure 2014 at Sarasota's Saks Fifth Avenue.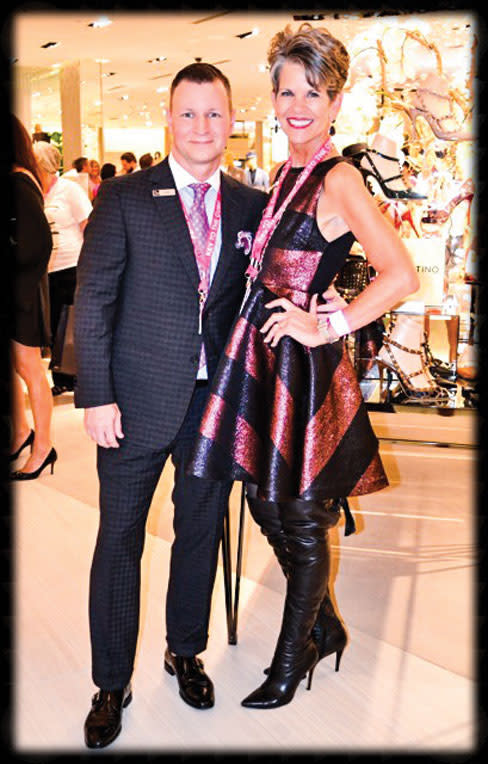 Joel Ellzey and Sally Schule
So this is what shopping in heaven must feel like. I've always envisioned glorious pink hues that spread far and wide (across 80,000 square feet, to be exact), glass sphere chandeliers dangling from the ceiling over a chic shoe selection, and my three best friends—Chanel, Jimmy Choo and Valentino. Oh, and let's not forget the fourth: diamonds. Because, well…you know.
Squeezing through the entrance of the new Saks Fifth Avenue at University Town Center past four picture-perfect doormen wearing picture-perfect pocket squares, here I stand, completely mesmerized by 12 paparazzi and 1,600 pink-cloaked supporters of Key to the Cure, an annual event that kicks off Sarasota's party season and benefits women's cancer research programs through the Sarasota Memorial Health Care Foundation. This place is an absolute shoe-stopper, that's for sure. The Saks gang hasn't even been out of their old store in Westfield Southgate for a week, and yet they've turned this space into a pink gem.
"Margaret Wise, our honorary co-chairwoman, was the first to arrive," says Sabrina Cullen, a Key to the Cure committee member for the past six years. "She walked through the door and up to Sophie's (Saks' in-house restaurant and bar) at 5 o'clock, all in pink; she was already planning private lunches."
The energy is so intense I can feel it like a chill on my skin. It's as though I've suddenly been teleported into the grand party scene from The Great Gatsby. Everyone is upbeat and giddy, with lopsided smiles from the champagne. Key to the Cure always raises the party bar. And with a goal (which they reached) to hit the million dollar mark in fund-raising efforts for cancer research, why wouldn't it?
"For me, Key to the Cure is like the welcome home to my new home at Saks," says Saks marketing director Sally Schule. "My biggest concern with this move was to make sure everyone felt like it was their home, too. I still wanted them to walk inside and feel special."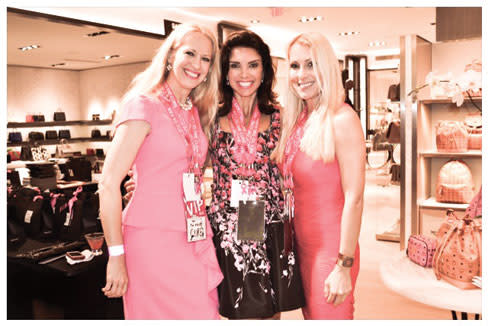 Ariane Dart, Aimee Cogan and Alex Miller
And feel special we did. Just one glance at Sally's Key to the Cure event timeline, which spans over a nonstop no-time-to-breathe 12-hour period, tells me she once again poured her heart and soul into this sold-out event. Backed by co-chairs Alex Miller, Aimee Cogan and Ariane Dart—otherwise known as "The A Team"—Sarasota Memorial Healthcare Foundation's Lisa Intagliata, and a committee of 35 (plus priceless celebrity treasure key prizes such as New York Fashion Week tickets for two, VIP passes to AC/DC and souvenir wire from Nik Wallenda's historic crossing of the Grand Canyon, along with glitter tattoo artists and killer swag bags), there's zero chance that this evening could disappoint.
Aimee tells me this year's Key to the Cure campaign is a partnership between Saks, Saturday Night Live, Rag & Bone's David Neville and Marcus Wainwright. To promote the Key to the Cure tee, SNL cast members Will Ferrell, Ana Gasteyer, Vanessa Bayer, Cecily Strong and Colin Jost were photographed wearing the shirts. All the proceeds will benefit the Women's Cancer Research Fund, which has donated more than $35 million to cancer research since 1999.
I watch as my fellow Designing Daughters Erin Hart, Montana Ross and Jennifer Rust rush into the photo booth area. Before I know it, they're parading before the paparazzi in outlandish pink props—feathered masks, tiaras, boxing gloves and sunglasses. I chat up BFFs Jenn Stutler and Renee Phinney, fight a giggle as some of the younger gentlemen check out Shannon Holder, whose legs seem to go on for days in her white lacey getup, and share a hilarious escalator ride with Scott Anderson. I also manage to fall madly in love with Susan Jones' magnificent pink Christian Dior peep-toes.
Now that I've made my way back to the first floor, it's time for a stroll through make-up and perfume, but not before I find myself caught in a Phil King and Dennis Stover sandwich. Phil, who can barely contain his excitement from seeing so many familiar faces all decked out for a great cause, just returned from the nearby wonderland of shoes, but not before buying a pair of Ferragamos, which he refers to as "the glass slipper."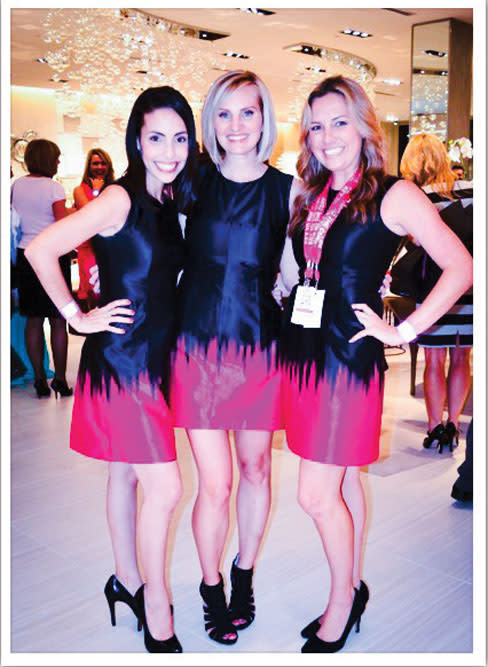 Alene Fowler, Sydney Gruters and Molly Biter
Back in make-up, Bridget Ziegler and Sydney Gruters are hamming it up for Red Carpet Sarasota's Jackie Rogers and Matt Holler when methinks I've also seen Sydney's fabulous fuchsia-and-black Milly dress on Alene Fowler. Minutes later, while catching up with Terri Klauber, I learn Molly Biter is—you guessed it—also wearing "the dress." I'll skip the who-wore-it-better because there's just no comparison between these three young beauties.
Hours later, even as the party winds down and guests begin to make their exit, I'm still caught up in the glamorous aura of this heavenly, intoxicating evening. Maybe, just maybe, they'll let me stay here forever.
Follow Loren on your social network of choice, including Instagram, at @elle_mayo.
To read past Party Girl columns, click here. >>
This article appears in the December 2014 issue of Sarasota Magazine. Click here to subscribe. >>