Article
SCAT, MCAT to Merge? Plus More Sarasota City News
Hot topics, talk and history.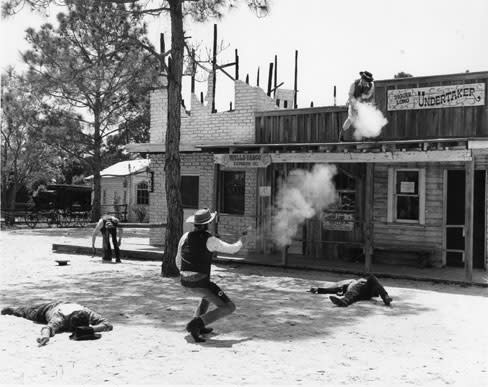 Vintage Sarasota: Floridaland
This Osprey attraction, which opened in 1964, blended mock shootouts, saloon can-can dancers, petting zoos and a porpoise show for a not-entirely Florida experience, but it drew guests for seven years before closing in 1971—about the time that a new sort of amusement park, Disney World, opened near Orlando.
SCAT, MCAT to Merge?
This year the Sarasota County Commission pushed Sarasota County Area Transit (SCAT) to explore merging with Manatee County's bus system (MCAT.) General manager Glama Carter says a regional system would offer more efficient routes and shorter waits between buses. In cities like Boston, the transit system crosses city and county borders—why should Sarasota riders have to get off and use a different card when they hit University Parkway? But Carter says it's not entirely clear the merger would offer much cost savings. Pinellas and Hillsborough County explored merging, she says, before deciding it wouldn't be worth it.
Privatization has folks more concerned. While drivers fret about losing their jobs or benefits, riders—typically the elderly, the disabled and the working poor—worry that privatization would mean diminished service. "SCAT puts people first, and a private company puts the bottom line first," SCAT driver Rebecca Turner told the commission in August. With privatization, "The public is effectively shut out of the process, beholden to a company that may have entirely different priorities," Teresa Turner, another SCAT employee, added.
Louise Cottom uses SCAT to get to the Senior Friendship Center, where she volunteers regularly. She warned the commission that any decrease in services would negatively affect the elderly. "They need affordable transportation to go to doctor's appointments, shopping or to socialize," she said. "Privatizing SCAT would affect the health of many."
SCAT Facts
2.8 million
SCAT's projected 2013 ridership
3 percent
Increase in riders from 2012
281
Number of SCAT employees
3
Factor by which SCAT is larger than MCAT
Just Sayin'
"I would not make this motion, I would not second it, I would not third it." —Sarasota County Commissioner Charles Hines, who nevertheless voted minutes later to make the motion to fire County Administrator Randy Reid unanimous. His vote eliminated the possibility of a three-week cooling-off period.
For more Sarasota news and updates, click here to read our Hot & Happening blog. >>
This article appears in the January 2014 issue of Sarasota Magazine. Like what you read? Click here to subscribe. >>