Article
Party Girl Veronica Pastore Meets Real-Live Angels at All Children's Hospital Miracle Ball
Veronica Pastore encounters a host of angels at the Miracle Ball.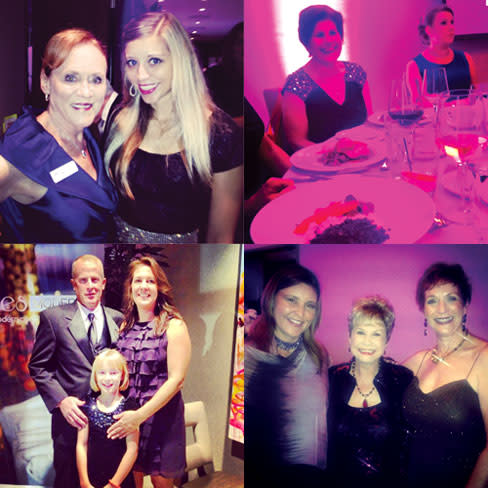 Do you know what an angel looks like? After the All Children's Hospital Miracle Ball, I think I might.
As I strolled to The Francis on a cool Saturday night, one smiling face after the next ushered me past Louies Modern to the still newish event space further down Palm Avenue, a very welcoming entree. Inside, I found my table to sit for a moment and take a look at the program, but before long Jane Hutchins, director of All Children's Hospital's outpatient center in Sarasota, came over and introduced herself with a big smile.
"It's my honor to take care of the kids," Jane said as we talked. "A lot of people here tonight have had children and grandkids in the center. There's this wonderful, warm attachment."
I felt it looking around the room. Everyone was so open and smiling. You thought angels wore white, didn't you? Nope, most of the angels I met at this party were in black—I suppose because of the black-tie dress option—and the ladies' gowns were very sparkly and pretty with lots of rhinestones and sequins. Many gents went all out in crisp tuxes. No matter their costume, the kindness in their eyes gave these angels away.
Jane introduced me around and I chatted with her colleagues over passed hors d'oeuvres including duck meatloaf bites, mushroom puff pastries and mini Irish grilled cheese sandwiches— the "Irish" in this case means with sweet pickles added. Dr. Dennis Hart, who just joined ACH as administrative director of developmental and rehabilitative services, told me it "didn't take much to lure" him to Sarasota-Bradenton from California, and he and his family are already enjoying the community. It turns out we're lucky to have him, too—Dr. Hart is one of only a handful of pediatric physiatrists in Florida dedicated to holistic treatment.
Learning more about the scope of the work at All Children's Hospital helped me to understand the need for such specialized care. They treat infants, children and teens with some of the most challenging medical problems imaginable and provide comprehensive services from emergency to rehabilitation. Kay Aidlin, the hospital's Sarasota/Manatee guild branch president, was telling me about these when the belle of this ball danced though the door and captured our attention.
Sami Bass, a darling 8-year-old with a blond bob and a bright smile, was a patient at All Children's when she was just 12 weeks old. Her parents took her in when she inexplicably stopped eating, and thanks to ACH, she survived a life-threatening blood clot. At the party, Sami expertly posed for pics with proud parents Vaughn and Cindi before we traded compliments on each other's outfits—I really dug her sequin-tipped ballet flats and she my rhinestone belt.
Jenine Rabin, executive vice president of the All Children's Hospital Foundation, and event co-chairs Ro Kennedy and Rosie Korfant kicked off the program for the evening, which included more about ACH. Jenine dove into history, sharing the shocking fact that before the first iteration of the facility opened in 1926, local children with polio were kept in chicken coops. Today, all rooms are private and even offer sleeping accommodations for two parents in addition to the patient.
"You know how I feel tonight?" master of ceremonies Linda Carson said. "Like this may be one of the most important things I've ever done." The beaming smiles of everyone around her seemed to corroborate this as she spoke, telling us more about Sami's amazing story.
Over at my table, after a rousing auction led by David Kauffman, I conferred with Estelle Hayes, who attended with her daughter, Peggy Albano, both also impossibly nice and sweet. Estelle and I begin talking about her family and life—kids and grandkids and travel and even still passionately working as a nurse at age 78! Please forgive me for sharing your age with everyone, Estelle, but your joie de vivre was so real and moving I had to include this.
Though I've yet to consider having my own family, I could see that it is Estelle's descendants who are her greatest joy. As Estelle welled up describing a recent visit with her grandkids in Atlanta, I could also understand the deep commitment the people in that room felt towards All Children's Hospital, which had taken care of their own little ones during a time that was otherwise fraught with fear and worry. Dang right it's a miracle, and we're lucky to have ACH right in our back yard here in Sarasota, Lakewood Ranch and St. Pete. Thanks to all you angels who make that possible.
Click here to see our Limelight pix from the Miracle Ball. >>
This article appears in the January issue of Sarasota Magazine. Like what you read? Click here to subscribe. >>