Article
From the Editor: What to Do in Sarasota
Pam Daniel and Sarasota Magazine staffers share their favorite things to do in Sarasota.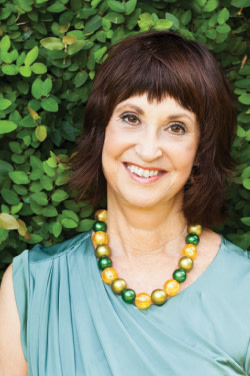 Whether you're a tourist reading this On the Beach annual in your hotel room, a snowbird planning your next visit, or a local hoping to rekindle your love affair with Sarasota, we hope you'll agree we've succeeded in our mission: to make visitors feel like insiders, and subscribers feel like visitors.
In addition to comprehensive guides to attractions, recreation, arts and much more, you'll find stories about what's new and wonderful in our city. Award-winning writer Adam Davies takes you inside the Ringling Museum's new Skyspace, by celebrated artist James Turrell; another award winner, Tony D'Souza, won rare access to circus CEO Kenneth Feld, who shared his passion for elephants on a personal tour of his nearby Center for Elephant Conservation. You'll also enjoy stunning views from those magical walkways over water, our region's public piers, and after all that exercise, you'll be ready for "Eat This Now," in which our food writers and Facebook fans pick the region's 57 best dishes.
But to kick off the issue, I turned to the ultimate insiders—our staff, who seek out and showcase the best of this beautiful city in every publication we produce. Nobody knows Sarasota better than they do; here are some of their favorite ways to enjoy the region.
Associate art director and Sarasota native Lauren Pritchard and her boyfriend, Tom, recently discovered the 11-mile Legacy Trail, which runs from south Sarasota to Venice. They'll park their car at the trail head at Oscar Scherer State Park and pedal south to the Venice Train Depot and on through the Venetian Waterway Park to beautiful, secluded Caspersen Beach. On the way back they always stop in downtown Venice for lunch. "It can be an all-day adventure," says Lauren.
One of web editor Megan McDonald's favorite Saturday treats is a visit to the Myakka City Farmer's Market. "After I-75, the landscape changes drastically, and you feel worlds away from urban life," she says. The market is small, "but not lacking in goodies," she says. "You'll find farm-fresh eggs, produce, local honey, yogurt, bread and cheese as well as the market's mascots: two baby goats and a giant turkey named Mr. Darcy."
Associate editor and outdoor enthusiast Beau Denton grew up and lives in Bradenton, just 15 minutes from newly restored Robinson Preserve. Beau says visitors can explore the 487-acre park by kayak or on hiking and biking trails. "There's also a great boardwalk that winds through dense mangrove canopies before opening up to stunning views of Tampa Bay," he says. And for a bird's-eye view, climb the observation tower—"that's a highlight," he says.
Account executive Sandy Moore stays in great shape by swimming laps, so she deserves an occasional indulgence. One of her favorites: She heads to the picturesque New Pass Grill and Bait Shop on City Island, and orders one of the best hamburgers in town. "Sitting outside on the picnic tables watching the boats go under the bridge is so relaxing," she says.
When marketing and events manager Molly Hunsinger moved here from Huntington Beach, Calif., in 2005, she says she'd "never seen anything like Siesta Key Beach." Instead of California's coarse sand and icy water, she says Siesta's soft sand "looked like bright, white snow, and the Gulf was like bath water." She and her family celebrate birthdays and even New Year's Eve with Siesta Beach picnics. They like to pack a basket and ride their bikes there, she says, "so you feel like you've earned your treats."
There might be a civic cause or local hotspot that account exec Kim Davis doesn't support, but we can't think of one. Yet when we asked this ultimate Sarasota cheerleader about her favorite local experience, she confessed it's escaping from crowds and commitments to kayak by moonlight on Little Sarasota Bay. She picks a night when the moon is full and launches from Turtle Beach around sunset. "Your vision is compromised, so you hear your surroundings instead," she says. "The wildlife, the breeze through the mangroves—it brings incredible peace and tranquility."
To see more staff tips, click here. >>
This article appears in the December 2013 issue of Sarasota Magazine. Like what you read? Click here to subscribe. >>