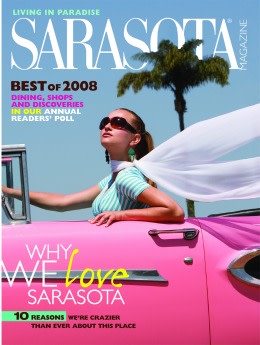 FEATURES
From dining to shopping to serious fun, our annual readers' poll serves up 224 of the best experiences in town.
LOOKING AT SARASOTA
The winning images in our first-ever photo contest reflect our city's beauty and energy--and the fresh perspectives and talents of the readers who took the pictures.
You told us what you like about living here. Now it's our turn, as we showcase some of the many reasons for our ongoing fascination with this place.
DEPARTMENTS
FROM THE EDITOR
Our editors present the latest and greatest in Sarasota adventures. By Pam Daniel
News and names to boost your civic I.Q.
* Hot Seat
Carol Tisch explores international offerings on Lower Main Street and cleans up on specialty soaps.
Dish and drama from the Asolo's 50th anniversary gala.
LIMELIGHT
Rebecca Baxter snaps people and parties, and our "Social Detective" investigates the revitalizes Sarasota Opera House at the grand re-opening gala.
Kay Kipling's calendar of arts and entertainment, plus On Exhibit by Mark Ormond.
What can you do when drug or alcohol addiction hits home with your son or daughter? Su Byron turns to the experts for help.
John Bancroft finds fine dining to the north with Lakewood Ranch's La Tosca and Polo Grill, and chef Judi Gallagher delivers a dessert that 's just peachy.
NATURAL SELECTION
Our artist's sketchbook of Sarasota flora and fauna.