Article
The Luxury Home: Natural Glow
With the help of interior designer Sally Trout, this Ritz-Carlton penthouse apartment gets a luxury makeover.
By Ilene Denton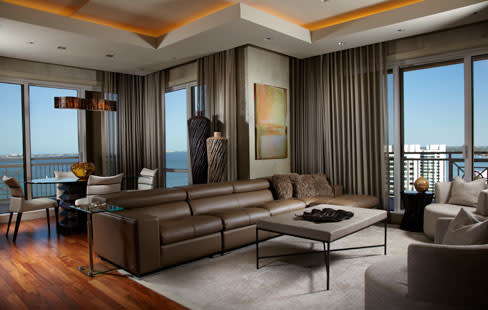 Banish the inclination to equate natural materials with granola and Birkenstocks. In this knockout Ritz-Carlton penthouse apartment, interior designer Sally Trout demonstrates that stone, shell, wool and different types of wood create a supremely sophisticated look and feel. We asked Trout about the project.
This home feels so grown-up. How did you achieve that?
We used a very neutral palette. There's really no definite color; everything's sand, taupe, metallic. Instead, we played with textures and subtle patterns. We were fortunate to work with clients who appreciate interesting finishes. The bar top and backsplash, for example, are Conchetto stone; it's a composite of natural stones that's semi-opaque, so when you up-light it you get a beautiful soft glow.
Tell us more about the mix of natural materials you used.
In the entry foyer we used a Donghia wall covering tile made of capiz shells that sets the tone for the whole apartment. The handmade wall covering in the living room is stonelike in texture with a slight metallic gleam. Upholstery fabrics in this room are primarily leather, and we used a custom-made wool rug in natural alabaster with a thick, dense pile. The focus of the family room is a texture-rich split-stone fireplace wall, with concealed cabinetry in fiddleback maple that opens to reveal the TV.
And the dining room light fixture?
It's hand-blown Murano glass, made by Barovier & Toso, an Italian glass manufacturer that dates back to the 1200s, making it the oldest company in the world. The dining table is black-tea mahogany, and the chairs were upholstered in a tone-on-tone contemporary damask-patterned fabric. The bar is painted a high-gloss mocha lacquer
because I wanted that contrast along with a little sheen.
The powder room just glows.
Powder rooms should be little jewel boxes. We used Sonoma mosaic glass tile in iridescent glass with coppery green tones and designed a custom cabinet with a bronze vessel sink. The light fixtures are feathery-looking hand-blown glass from Light Up Your Life.
Who are the homeowners?
This is our second project for this couple. They'd lived in a smaller condo at the Ritz, which we did, and bought the penthouse when they decided they needed a bigger space. It's three times as big, about 5,000 square feet. It was a very traditional apartment that had never been lived in, with chair rails, crown moldings, a Colonial fireplace.
We pretty much gutted it; refaced cabinets and redid countertops, and redid the master bath completely in a high-gloss bird's-eye maple. In the kitchen, we took the ceiling all the way up in order to create the upper cabinets. That gave it a tremendous amount of storage. It's a warm, modern kitchen, made so with the use of unstained, high-gloss tay wood from Africa.
What was their design direction?
They have a more traditional home up North; they wanted something clean, contemporary, uncluttered—a totally different look. (Says the homeowner: "Since the water view is so amazing, we wanted everything to be calm so the focus is on the outside. We were aiming for a relaxing feeling.")
What are you most pleased about?
[The homeowner answers]: "The openness. A lot of people had looked at the apartment and shied away from it because there were walls up, the kitchen was dark and the cabinets blocked light. Sally gave us the confidence to open things up, and it made the biggest difference."