Article
Restaurant Review: Melange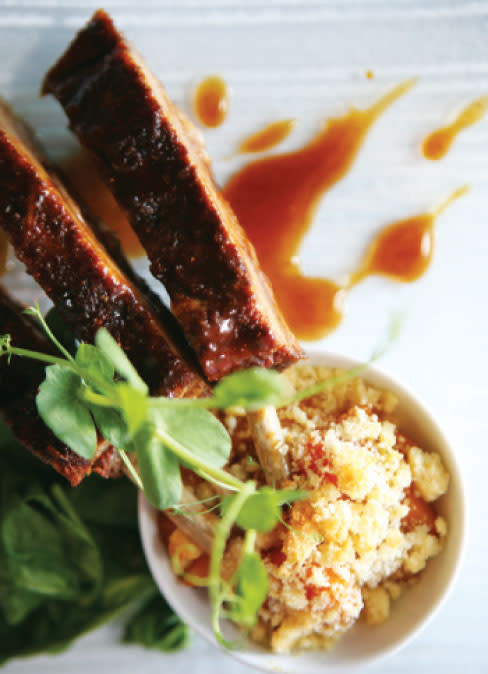 We were crazy about chef Lan Bradeen's eponymous Main Street restaurant before she retooled her menu, redesigned her dining room and changed the name to Melange, or, as she spells it, mé*Lan*ge. Now we like it even better.
The revamped enterprise capitalizes on two trends in fine dining: a menu of snacks, soups, salads and small plates designed for grazing and sharing complemented by a selection of yummy and inventive artisanal cocktails. We also very much like that one can eat and drink well here until 2 a.m. every day but Tuesday, making it a great aprés theater destination, and that the prices are so amazingly reasonable for such high-quality fare.
Seating options are nicely varied to include sidewalk tables, a classic dining room with a velvety smooth urban edge and a new food bar bordering the open kitchen, allowing serious foodies to get up close and personal with the chef.
The splashy cocktails are where co-owner and mixologist Brad Coburn shines. I enjoyed something he calls a Blue Mule, a vodka-based cocktail kicked up with the snap of ginger beer and spiked with blueberry ice cubes, while Colette purred over a Sir Sazerac (both $10), which starred Earl Grey tea-infused bourbon, orange bitters, an absinthe rinse and a single maple syrup ice cube. Wow!
The cocktails were a great start to a great evening at table. Our only regret about the beautifully designed and artful menu is that we could not try everything. Our waiter—and service at Melange is as excellent as the food and drink—said she could make that wish come true, but even our appetites weren't up to that challenge. We contented ourselves with sampling widely and left the restaurant supremely satisfied but not overstuffed and without a single doggie bag.
For our first course we tapped both the snacks list for an order of savory bacon and corn fritters ($6), fried to a perfect golden brown and served with a wonderfully smoky ranch dip, and the small plates list for a trio of crunchy, creamy rabbit tacos ($9) perfectly accented with curry, a mango fennel slaw and crème fraîche.
Oh, and bacon: That delicious indulgence pops up often on the chef's list and we are so glad it does. We could have gone the whole hog, so to speak, and ordered the pork belly in sweet and sour sauce, but for our second course we chose instead heavenly, delicately crisp veal sweetbreads kicked up by a zingy katsu barbecue sauce and plated with a yummy potato and bacon hash ($11), and meaty, succulent wild boar ribs (closer in texture and oomph to lamb chops than to spare ribs; $14) in a perfectly balanced cinnamon sugar and ancho chile glaze accompanied by a near miraculous squash and bacon cobbler and a spoonful of bitter greens.
With this course we chose wines by the glass, all of them offered at a bargain price of $7.50, a cab for her and a malbec for me. With our single-dish third course I switched to a crisp California blend of chenin blanc and viognier, which perfectly complemented a plate of ultra creamy duck and brie crêpes in which the richness of the shredded duck, the brie and a swoony brandy cream sauce were nicely offset by the nearly astringent tang of currants and almonds.
As in everything we tasted, even a lavender-scented dessert of crème brûlée brightened with fresh ripe berries ($9), balance and inspiration ruled the day.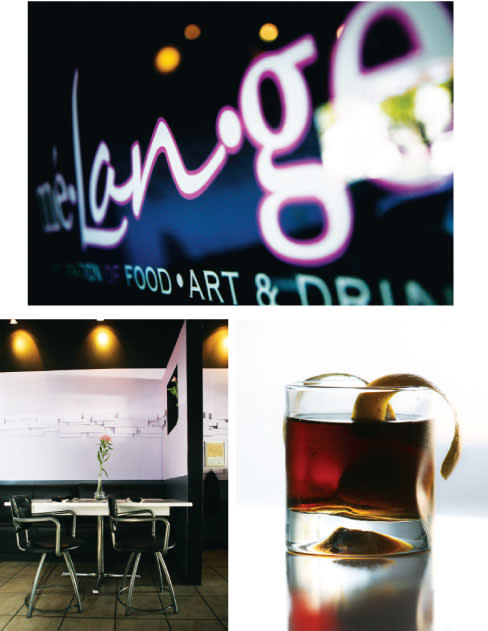 The Verdict
Chef Lan Bradeen's revamped Melange marries culinary magic, inventive cocktails and excellent service in a sleek and friendly Main Street space that keeps the good times rolling until 2 in the morning.
Melange
1568 Main St., Sarasota
Reservations: (941) 953-7111
Hours: 6 p.m. to 2 a.m. every day but Tuesday
Bar: artisanal cocktails, beer, wine and sake
Cards: All major
Parking: On street
Handicapped accessible: Yes