Article
Party Girl: January 2013
Veronica Pastore on sex, stilettos and turning lives around at Wine, Women & Shoes.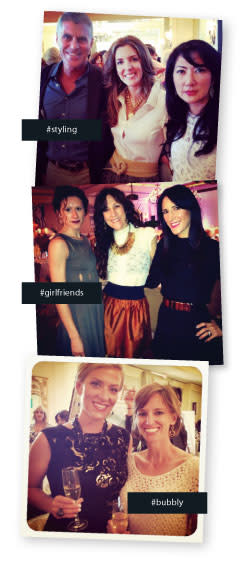 Why do you think women love high heels? I mean, aside from the sex appeal—that much is obvious, right? We know they make us taller and appear slimmer, that they sculpt the calf and lift the butt and arch the back like a dog in heat. But that is all so far below the level of consciousness, a million miles from the visceral interaction with a beautifully crafted piece of footwear.
The attraction seems to be on the instinctual level, inexplicable and yet powerful, as the 600 or so women at Forty Carrots' annual Wine, Women & Shoes luncheon at the Ritz could attest. The event was an extravaganza of shoe shopping, wine buying, picture posing and ogling of the "Sole Men," dapper dudes in tight black T-shirts serving drinks and high heels on silver trays. Paradise, in other words.
WWS is one of the best-attended fund-raising events locally, and I think it's the focus on our favorite accessory as well as the cause, a popular school with outreach parenting programs, that generates so much enthusiasm. "If I see a pair of shoes I like, then I have to have them," said Sarah Lamar of Sajedesign South, the design firm behind all the chic WWS promotional work. "I'm not really into jewelry—I'm not even wearing any! But I get excited about the right pair of shoes."
I get that. Few experiences compare to the sense of power and beauty that comes from striding into a room in a killer pair of heels. Sorry, guys, there's almost no way to describe it—this privilege is reserved for the ladies (and the drag queens, of course).
My first favorite pair of shoes was a pair of baby-pink glitter jellies, which, while still in primary school, I felt quite fancy wearing. Tatyana Sharoubim, owner of T. Georgiano's Shoe Salon on First Street, also remembers the first set she (pun intended) went head over heels for: a pair of black leather combat boots. Footwear runs in the Sharoubim family, with Taty's late father and uncle also in the biz, and after a lifetime around sharp shoes, she has her own take on why we love them. "That feeling you get once you put on your heel—you feel like a badass," she says. "It's awesome."
Bonnie Keller, a Saks employee onsite for the event, believes that the love of the shoe is inborn. "I've been at Saks for 15 years, and I'll see girls, even at three years old, who will make a run for the shoe department as soon as they come in. They always go right to the shiniest pair," she says.
WWS co-chair Emily Stroud looked divine, wearing basic black—and shiny—platform Mary Janes, complementing a black sheath with an embellished neckline. She showed me a cute video of her three-and-a half-year-old daughter trying them on, which Emily says she used to do as a child, too.
"There is just a natural draw to great shoes. Maybe because once you know your size the shoe always fits," she says.
I hadn't thought of that, but our feet are always the same size. Even on those days when the dress or pants don't fit right, my favorite shoes feel and look great. According to this logic, all the guests at the luncheon were already feeling pretty fabulous, but the fashion show ratcheted the emotion up to something like ecstatic. We got to see glamorous evening wear from Saks and more amazing stilettos, then one of the male models removed his shirt to reveal an incredibly cut chest. All the footwear, flash and flesh had the crowd of ladies rising from their chairs, screaming and dancing along.
Fitting the name of the event, some of the chicks definitely got into their cups—the after-party on the terrace went on until dusk—but I enjoyed the time Forty Carrots took to introduce us to a few of the women their programs helped. They hit the runway first, with big cue-card-style signs that told a piece of their story. One walked out, head held high, carrying a sign that read "fled from spousal abuse," and flipped it over to reveal the message "because of Forty Carrots, I'm helping my family feel safe." I got a little teary-eyed at that, and I wasn't even drinking.
When executive director Cheryl Andrews took the stage and pronounced us "all Miss America to Forty Carrots today," I actually believed her. The event raised $245,000 for parenting education programs, and everyone looked and felt amazing doing it.
A pair of high heels and supporting a good cause: Guaranteed to make any woman feel like the queen she is.
Follow Veronica on your social network of choice, including Instagram, @veronicapastore