Article
Vacation Extras: Sun and Beach Basics
Winter in the subtropics is like summer everywhere else. Don't forget these basic precautions.
Sun protection: Protect your skin from skin cancer (and wrinkles and aging spots) by using sun-protective clothing and sunscreen on exposed areas. Look for a waterproof sunscreen that blocks both UVA and UVB with a SPF (Sun Protection Factor) 30 rating or higher. Apply generously 30 minutes before sun exposure; keep applying it every two hours throughout the day—despite any "all day" claims. If it's "very water resistant," reapply every 90 minutes when swimming. If it's "water resistant," reapply every 40 minutes when swimming.
Dehydration can also be a problem in these latitudes. Bring lots of water or sports drinks if you're going out in the sun.
If you're walking in the water, do the "stingray shuffle"—slowly shuffle your feet to keep the critters away. If you're bitten by a stingray or jellyfish, don't panic! The sting isn't usually harmful. Wash the area in warm water; use a topical antiseptic if you've got it; wrap the wound with something clean. Then get to a doctor, walk-in clinic or emergency room. At the very least, you may need medication to help with the inflammation, infection and pain.
The glorious Gulf of Mexico hides strong currents and rip tides. What to do if you're caught? Don't freak out or fight against the current. Swim parallel to the shore until you are out of the current, then swim diagonally back to shore.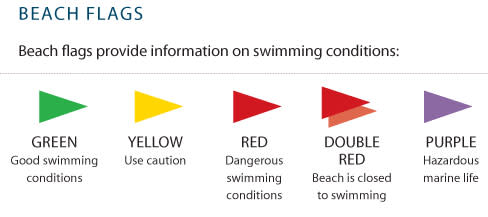 Emergency Numbers
We hope you won't need these, but here are a few places to call in case of illness or accident.
Hospitals
Sarasota Memorial Hospital, 1700 S. Tamiami Trail, Sarasota; (941) 917-9000 or (800) 764-8255.
Doctors Hospital of Sarasota, 5731 Bee Ridge Road, Sarasota; (941) 342-1100.
Lakewood Ranch Medical Center, 8330 Lakewood Ranch Blvd, Lakewood Ranch; (941) 782-2100.
Emergency Clinics and Walk-Ins
Sarasota Immediate Care, 7005 S. Tamiami Trail, Sarasota; (941) 870-4440.
Fruitville Walk-In Urgent Care, 3420 Fruitville Road, Sarasota; (941) 954-8686.
St. Armands Medical Center, 500 John Ringling Blvd., Sarasota; (941) 388-4408.
Sarasota Family Medical Center, 6813 S. Tamiami Trail, Sarasota; (941) 923-5861.
Emergency Veterinary Hospital
Sarasota Veterinary Emergency Hospital, 7414 S. Tamiami Trail, Sarasota; (941) 923-7260.
When in doubt, ask a lifeguard. They're available at six beaches: Lido, Siesta, Nokomis, North Jetty, Venice and Manasota.