Article
Vacation Extras: Kids' Stuff
It's playtime in Sarasota—and kids and adults are invited.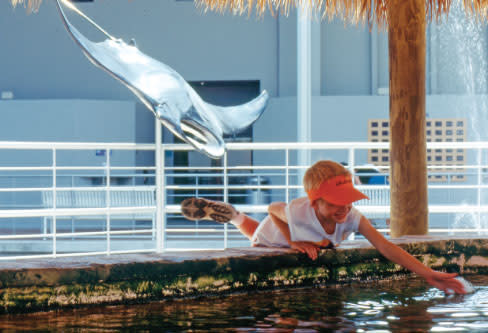 Kids can join the circus without running away at the circus playground at Payne Park. This multicolored playground offers one zone for children ages two to five and another for ages five to 12. More than 300 children can play at the same time, enjoying swings, slides, crawl tubes and a rock-climbing wall. The music circle boasts drums, contrabass chimes and a xylophone. When kids want to cool it, they can run through the misting rings of the delightful water feature. 2050 Adams Lane, Sarasota.
At Sarasota Jungle Gardens, you can feed flamingoes, get close to raptors, learn about rainforests, stroll through lush gardens, and interact with slimy reptiles. There's a "Kiddie Jungle" playground, picnic tables, and continuous live shows, thanks to birds and lizards that have made it big in show business. 3701 Bay Shore Road, Sarasota; (941) 355-5305.
Adults and children flock to Mote Marine Laboratory and Aquarium to get up-close-and-personal with 100 species of marine life. This internationally acclaimed marine research facility celebrates the life aquatic with an aquarium and interactive touch tank. An all-star cast of sharks, manatees, turtles, rays, eels and more will keep the whole family entertained. 1600 Ken Thompson Parkway, Sarasota. (941) 388-4441.
Artist Joan Marie Conclon's Sarasota Children's Garden is two acres of whimsical, interactive possibility where kids can let their imaginations bloom. The "Land of Odd" includes a tree fort, a fairy garden, a koi pond, a pirate ship and a maze, with whimsical metal sculpture and topiary beasties at every turn. Special programs include nature crafts, bug hunts, and garden and nature classes. 1670 10th Way, Sarasota; (941) 330-1711.
The Steigerwaldt/Jockey Children's Fountain in downtown Sarasota's Bayfront Park offers an enchanting way for kids to make a splash on a sweltering Florida day. This 4,000-gallon fountain blasts water from more than 30 jets. Bring a picnic and make an afternoon of it. The kids will get a giggle—and get clean. It's right next to a nice playground, too. Bayfront Park, Ringling Boulevard and Bayfront Drive.
G.WIZ is a hands-on science and imagination center with interactive exhibits, activities and year-round programs for brainiacs of all ages. Whiz kids and their adult sidekicks can investigate Florida's indigenous inhabitants, appearing live in the Critter Garden; tots can play in the center's "Tot Zone," and wannabe inventors can tinker in the new "Fab Lab"—a fully loaded, high-tech, small-scale workshop. 1001 Boulevard of the Arts, Sarasota. (941) 309-4949.
The John and Mable Ringling Museum of Art's Circus Museum celebrates Sarasota's circus legacy with a world-class collection of circus art and mementos, including posters, photographs, newspaper clippings, wagons and costumes. The Tibbals Learning Center boasts The Howard Bros. Circus Model—a scale-model replica of the Ringling Bros. and Barnum & Bailey Circus from 1919 to 1938. Ladies and gentlemen, it's the world's largest miniature circus! 5401 Bay Shore Road, Sarasota; (941) 359-5700.
Sarasota Classic Car Museum boasts more than 100 classic cars from more than 100 years of automotive history. This car buff's paradise is home to John and Mable Ringling's collection of Rolls-Royce motorcars, Paul McCartney's cherished Mini Cooper, and John Lennon's 1965 Mercedes Benz. A special "Kids Corner" features miniature replicas of kids' all-time favorite cars. 5500 N. Tamiami Trail, Sarasota. (941) 355-6228.