Article
Highlights: January 2013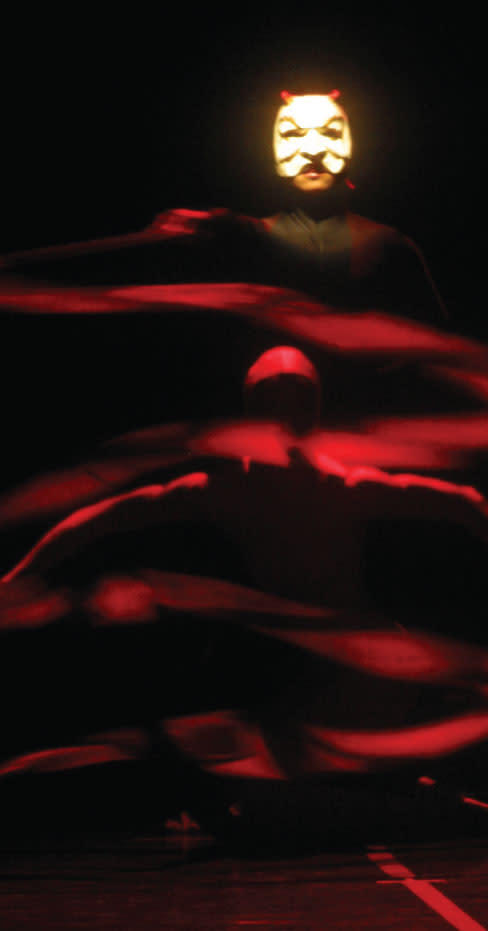 Art
Art Center Sarasota. Continuing through Feb. 17: For the Love of Art (featuring Florida Division of Cultural Affairs award winners), ASALH Black Muse, an ACS instructors show, and Point of View, an all-media juried exhibition. 365-2032.
Ringling Museum of Art. Continuing here through April 14 is Paolo Veronese: A Master and His Workshop in Renaissance Venice. Also on view, through Feb. 3, The Warren J. and Margot Coville Photography Collection. 359-5700.
Palm Avenue Fine Art. Four Artists, Four Styles features the works of Dominic Avant, Charles Miano, Viktorija Buleava and Jack Dowd starting Jan. 3. Up next: International Marine Masters 2012, opening Jan. 31. 388-7526.
Selby Gallery. Artists Carol Mickett and Robert Stackhouse collaborate on a new installation piece, including sculptures and paintings, in Phases of Identity, Jan. 7 through Feb. 16. 359-7563.
Selby Gardens' Musum of Botany and the Arts. Showing here Jan. 9 through March 3 is Florida Fantastica: Botanical Art by MF Cardamone. 366-5731.
Crafts Festivals. The sixth annual Venice Craft Festival and the 10th annual St. Armands Circle Art Festival both take place this month; the former Jan. 12-13; the latter Jan. 26-27. (561) 746-6615.
Longboat Key Center for the Arts. Fifty Highwaymen paintings from the Lawrence Helmuth collection will be on view here Jan. 18 through March 1, along with a small selection of paintings by Syd Solomon. 383-2345.
Dance
Momix: Botanica. The modern dance company's latest creation turns to nature for inspiration, onstage at 8 p.m. Jan. 22 at Van Wezel. 953-3368.
Motionhouse: Scattered. Straight from the United Kingdom, this company makes its Sarasota premiere with a blend of movements and video projections that take you places you've never been, at 8 p.m. Jan. 29 at Van Wezel. 953-3368.
Miscellaneous
Adam Trent. Magician Trent blends music and comedy with his act, on view at 7 p.m. Jan. 5 at Van Wezel. 953-3368.
Forks & Corks Food & Wine Festival. Mark your calendars for Jan. 25-28 and this annual culinary fest presented by the Sarasota-Manatee Originals. Winemaker events, food and wine seminars, and the Grand Tasting in the Ringling Museum courtyard are all on the schedule; for complete info, go to freshoriginals.com/forksandcorks.
Circus Sarasota. The circus is back, and so is daredevil Nik Wallenda, who headlines this year's show with his family troupe. Also on the playbill: hand balancer Encho, ringmaster Paul Binder, and much more. Jan. 25 through Feb. 15 under the Big Top near Ed Smith Stadium. 355-9335.
Music
Perlman Music Program/Suncoast. The program winds up its annual winter residency in Sarasota with recitals at the USF Sarasota-Manatee campus and a Celebration Concert Jan. 5 at the Sarasota Opera House. For info on the former, call 955-4942; for tickets to the latter, 366-8450.
Salute to Vienna. The Strauss Symphony of America returns to the Van Wezel with its annual New Year's concert at 8 p.m. Jan. 1. 953-3368.
Stomp. If you've never seen this unique percussion ensemble, which uses everything from Zippo lighters to hubcaps to make noise, here's your chance, at 8 p.m. Jan. 3 at Van Wezel. 953-3368.
Sarasota Orchestra: America and Beyond. Dirk Meyer leads the orchestra in a concert of contemporary classical work, including pieces by William Bolcom, Charles Ives and Joseph Schwantner. At 7:30 p.m. Jan. 4 at Holley Hall. 953-3434.
The 5th Dimension. Go Up, Up and Away with the longtime pop group, at 7 p.m. Jan. 6 at Van Wezel. 953-3368.
Paul Anka. The one-time Lonely Boy returns to the Van Wezel, at 8 p.m. Jan. 9. 953-3368.
Artists of Our Time: Huang Ruo, composer, conductor and folk-rock singer, appears in the Hermitage Artist Retreat Series at the Historic Asolo Theater, Jan. 10. 360-7399.
Sarasota Orchestra Masterworks. Guest conductor Anu Tali leads the orchestra and guest pianist Joyce Yang on Beethoven's Piano Concerto No. 5 (Emperor), Jan. 11-13 at the Van Wezel. Also on the program: music from Prokofiev's Romeo and Juliet. 953-3434.
Susanna Phillips. Soprano Phillips performs music by Copland, Schubert and others Jan. 12 and 13 in an Artist Series concert at the Historic Asolo Theater. 360-7399.
Tokyo String Quartet. The quartet, in its final season after 44 years, returns to Sarasota one last time, accompanied by pianist Jeremy Denk, in a Sarasota Concert Association event Jan. 14 at the Van Wezel. 955-0040.
Johnny Mathis. Do you still get Misty for Mathis? Satisfy that urge when the crooner performs at 8 p.m. Jan. 16 at Van Wezel. 953-3368.
Venice Symphony. The orchestra recalls Days of Glory: WWII, with a variety of appropriate musical selections, Jan. 17, 18 and 19 at Church of the Nazarene. 207-8822.
Sarasota Orchestra Bravo Broadway. Broadway vocalists Debbie Gravitte, Christiane Noll and Doug LaBrecque perform hits from such theatrical works as Cats, Hairspray, Chicago, Wicked and more, Jan. 18 and 19 at the Van Wezel. 953-3434.
Marilyn Lerner. Pianist Lerner, whose works spans jazz, improvisation, classical and klezmer, performs in the New Music New College series, at 8 p.m. Jan. 19 at the college's Sainer Pavilion. 487-4888.
Sarasota Orchestra Great Escapes. The orchestra's Mardi Gras medley mixes a little bit of Lerner and Loewe, some Brahms and good ol' Bill Bailey. Jan. 23-26 at Holley Hall. 953-3434.
Natalie Cole. Cole returns to the Van Wezel at 8 p.m. Jan. 24, no doubt with some songs from her latest CD, Love Brought Me Back. 953-3368.
Vince Gill. Guitar Slinger Gill returns to the Van Wezel, where he's usually a sellout, at 8 p.m. Jan. 26. 953-3368.
Doo Wop Magic. Doo wop never dies, at least not when you've got The Brooklyn Bridge, JT Carter's Crests, The Capris and the Del Satins keeping it alive. At 8 p.m. Jan. 25 at Van Wezel. 953-3368.
Key Chorale. The ensemble brings to life Maurice Durufle's Requiem and Ola Gjeilo's Across the Vast Eternal Sky, at 2:30 p.m. Jan. 27 at St. Boniface Episcopal Church. 924-0790.
Cleveland Orchestra/Joshua Bell. Violin superstar Bell and the orchestra, under the direction of Franz Welser-Möst, perform Jan. 28 at the Van Wezel in a Sarasota Concert Association offering. 955-0040.
Neil Berg's 105 Years of Broadway. Performers from the Great White Way capture some of the stage's greatest hits from the decades, at 8 p.m. Jan. 30 at Van Wezel. 953-3368.
Artists of Our Time: Nathan Currier. The composer-pianist will share parts of a cello sonata written at the Hermitage Artist Retreat, at 7 p.m. Jan. 31 at the Historic Asolo Theater. 360-7399.
Talks
Sunshine from Darkness. The mental health organization presents its Journey to Wellness symposium, Jan. 12 at Van Wezel, featuring scientists and experts on the topics of depression and suicide. For more info, call 308-6463.
Ringling College Library Association Town Hall. Walter Isaacson, award-winning writer whose most recent subject was Apple leader Steve Jobs, kicks off the Town Hall series Jan. 15 at Van Wezel. 925-1343.
Theater
Smokey Joe's Café. This look at the music of famed songwriting team Leiber and Stoller is set to end its run Jan. 6 at Florida Studio Theatre's Keating Theatre. 366-9000.
Waist Watchers: The Musical. This PLATO show about women and their diets winds up Jan. 6 at the Ramada Waterfront. 363-1727.
Let's Twist Again…with the Wanderers. The 1950s-era musical revue closes Jan. 6 at FST's cabaret stage. 366-9000.
Best of Enemies. How do a Ku Klux Klan member and a civil rights activist come to terms? Find out in this work by Mark St. Germain, which is onstage through Jan. 27 at FST's new Gompertz Theatre. 366-9000.
Urban Cowboys. Enjoy the songs of such country stars as George Strait, Reba McIntire and Kenny Rogers in this new revue, playing Jan. 2 through March 10 in FST's cabaret space. 366-9000.
You Can't Take It With You. Who doesn't love the crazy Sycamore family, whose unique take on life can get through them anything, including the Great Depression? The George S. Kaufman-Moss Hart perennial returns, Jan. 4 through April 20 at Asolo Rep. 351-8000.
Jitney. Westcoast Black Theatre Troupe presents this August Wilson play from his Pittsburgh Cycle, about unlicensed cabbies trying to survive in a tough environment. Jan. 4 through Feb. 3. 366-1505.
Sunset Boulevard. Norma Desmond and Joe Gillis meet their fates in Hollywood in this musical version of the classic film, a Sarasota premiere Jan. 9-20 at the Players Theatre. 365-2494.
Wicked. The big Broadway hit about the wonderful world of Oz, pre-Dorothy, takes to the stage of the Straz Center in Tampa, Jan. 9-27. (813) 229-7827.
Intimate Apparel. Works by playwright Lynn Nottage have been turning up a lot lately around town; now Venice Theatre's Stage II presents this piece focused on an Africa-American seamstress, circa 1905, who's trying to build a business but wants to have a love life, too. Jan. 10-27. 488-1115.
Glengarry Glen Ross. Chicago real estate agents with the motto "Always Be Closing" will do just about anything to achieve that in this David Mamet scorcher, onstage Jan. 11 through Feb. 28 at Asolo Rep. 351-8000.
Moon Over Buffalo. Comedy king Ken Ludwig's farce centers on a theatrical family facing a set of crises, Jan. 15 through Feb. 3 on Venice Theatre's mainstage. 488-1115.
Anything Goes. Hop onboard with this Cole Porter musical cruise about a nightclub evangelist, star-crossed young lovers and gangsters on the lam, Jan. 17 through Feb. 3 at the Manatee Players. 748-5875.
A Little Murder Never Hurt Anyone. A wealthy, bored man decides to kill his wife, but she's more than a match for him in this comedy-mystery, Jan. 17 through Feb. 3 at the Island Players. 778-5755.
The Heidi Chronicles. Wendy Wasserstein's acclaimed play about baby boomer art historian Heidi, trying to assess what's missing in her life, runs Jan. 19 through March 20 at Asolo Rep. 351-8000.
Word Becomes Flesh. Marc Gamuthi Joseph documents nine months of pregnancy from a young, black father's point of view, as part of the Ringling Museum's New Stages series, Jan. 24-26 at the Historic Asolo Theater. 360-7399.
Monty Python's Spamalot. King Arthur and his silly knights of the Round Table are back in the musical comedy that "lovingly rips off" the original Python movie. At 7 p.m. Jan. 27 at Van Wezel. 953-3368.
The Columnist. Remember columnist Joseph Alsop, once the most powerful political writer in America? Learn more of his personal story in this David Auburn play, running Jan. 30 through April 14 at FST's Keating. 366-9000.
Kimberly Akimbo. David Abaire's comedy about a teen with a rare illness that causes her body to age rapidly is brought to the stage Jan. 31-Feb 2, with more performances in February at the Players Backstage Theater. 365-2494.