Article
Discover Our Downtowns
Retail editor Carol Tisch unearths food, fun and shopping finds in Sarasota, Bradenton, Venice and Englewood.
Retail editor Carol Tisch unearths food, fun and shopping finds in Sarasota, Bradenton, Venice and Englewood.
DISCOVER OUR DOWNTOWNS:
SARASOTA
Whether you like to browse for elegant gifts, home decor or top international fashion brands,downtown Sarasota has it all. Stock up on designer swimwear before hitting the beach; peruse racks of resort clothes locals love for traveling but also for wearing in Florida's climate year-round. You'll find everything from quaint vintage boutiques to luxurious spas and fine art galleries. The level of sophistication of Sarasota's new stores is rivaled only by our newest downtown dining destinations.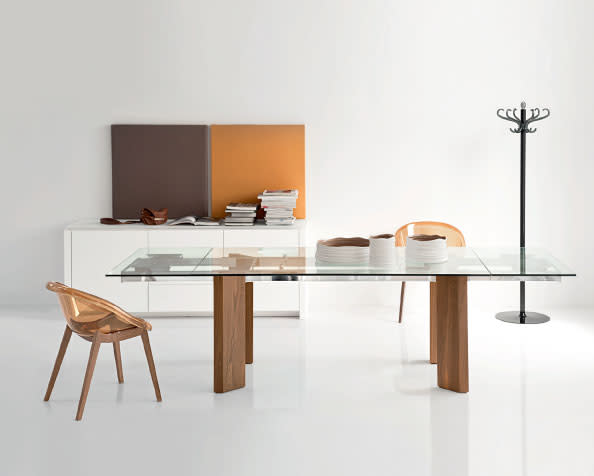 Form and Function meet in the Tower table (from $4,416 MSRP), a sleek best-seller by Italian furniture maker Calligaris displayed in a brand-new showroom that pays homage to the style leader's innovative collection of tables, chairs, consoles and more. Calligaris, 1506 Fruitville Road, (941) 554-4068.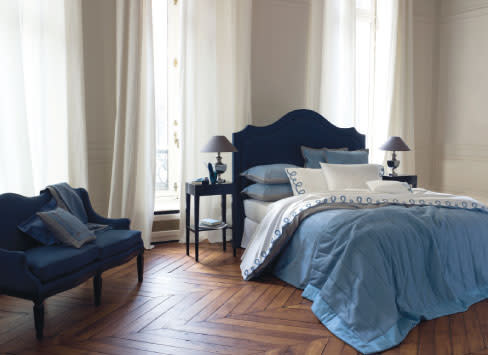 Sleeping Beauties luxuriate in the world's finest linens now that Coquillage, the Main Street home décor boutique, has opened a bed-fashion emporium on Palm Avenue. Look for sumptuous ensembles from Peacock Alley, Wildcat Territory, Ann Gish and this Calligraphie ensemble among the elegant offerings from Yves Delorme. Coquillage, 60 Palm Ave., (941) 444-7969.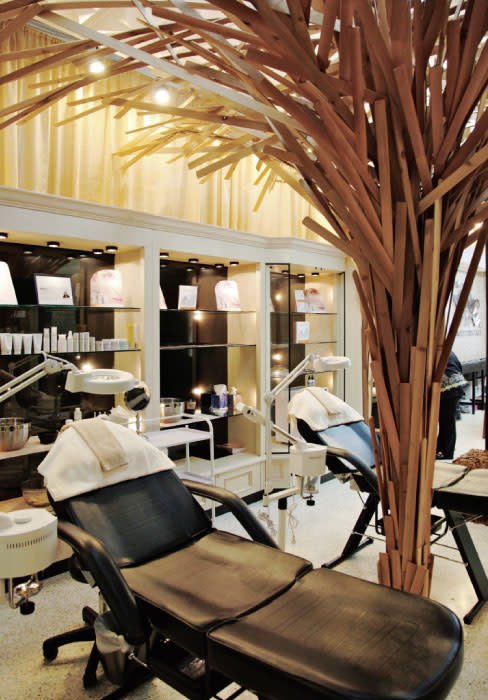 Beauty Secrets are unmasked at an ethereal new day spa at Simply Spoiled, where skincare products and cosmetics sold at the boutique are used for facials ($30), make-up application ($55), manicures ($25) and more. Beauty Bar at Simply Spoiled, 1471 Main St., (941) 364-3337.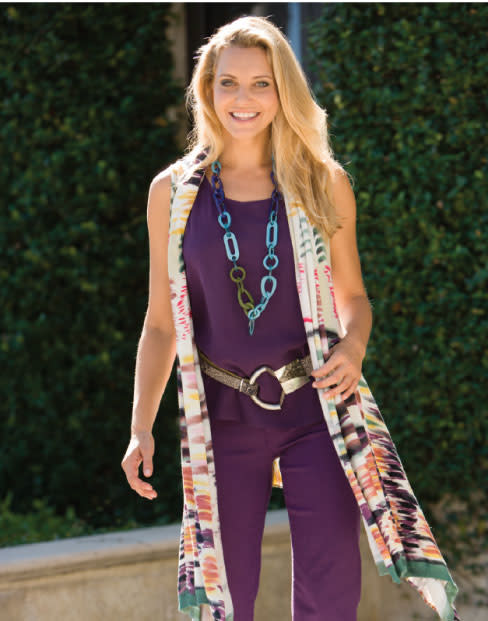 Resort Chic style is synonymous with Evelyn & Arthur, a Palm Beach brand that's breaking news on Main Street, Sarasota. With stores across Florida and contemporary clothes perfect for leisure and travel, fans are lining up for items like Bello Corlori ankle jeans ($108), silk tank ($68) and open vest cardigan ($138). Evelyn & Arthur, 1480 Main St., (941) 365-2210.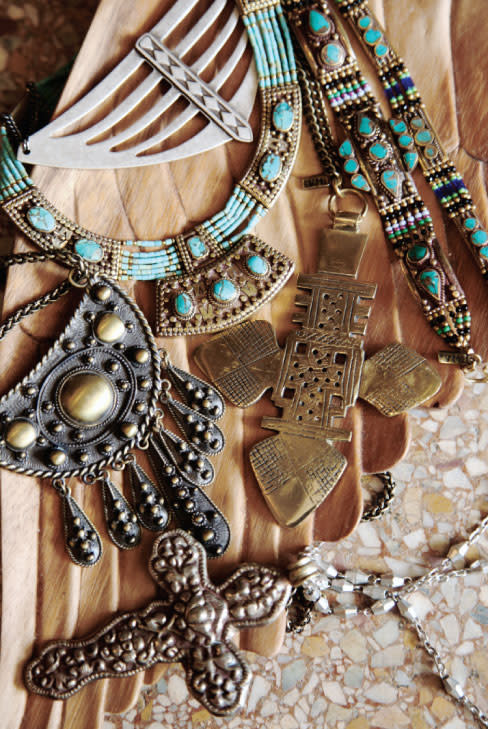 Hollywood Rebels circa 2013 adorn themselves in tribal jewelry with talismans, gemstones and turquoise rather than precious stones. At Lotus, check out a new Vanessa Mooney mixed metal collection straight from L.A. that appeals to celebs as diverse as Hayden Panettiere, Katie Holmes and Rachel Ray ($50 to $500). Lotus, 1451 Main St., (941) 906-7080.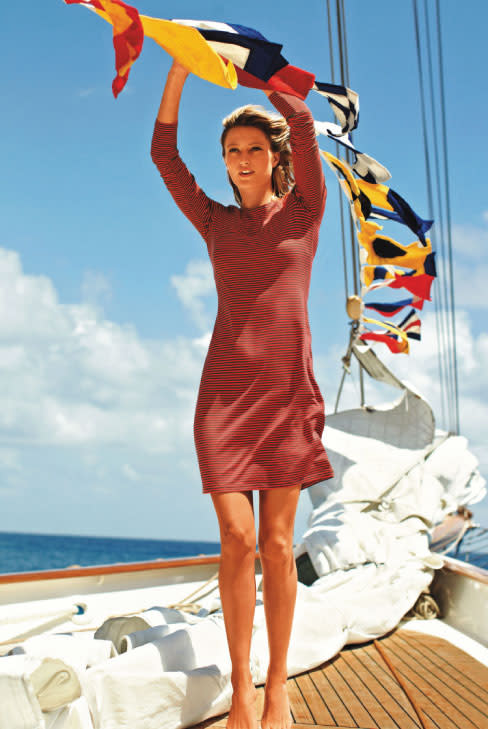 Tommy Bahama joins the throng of national fashion lifestyle brands now available in downtown stores. In addition to Tommy Bahama's St. Armands Circle Boutique, a full line of their women's clothes is set to be in store at Main Street Traders in January. Main Street Traders, 1468 Main St., (941) 373-0475.
Reasons Redux Leaving St. Armands Circle for luxurious new downtown digs, Reasons has tweaked its mix, keeping longtime faves like Donald Pliner shoes (copper platforms $325, booties $350 and equestrian boots, $395), while adding hip new lines, including handbags by Limon Piel (red leather with needlepoint,$325) and Oryany (black with red accents, $424). Reasons Shoes, 20 N. Lemon Ave., (941) 388-1602.
Swimsuit Issues? Sports Illustrated has nothing over the must-see South American and European brands (SABZ, Seafolly and Zeki) at the newly opened brick and mortar showroom of internet retailer Swimwear Boutique. 1415 First St., (941) 684-3620.
New Tastes Downtown
Artisan Cheese offers Cheese 101 classes, tastings, beautiful salads, sandwiches and this three-cheese plate adorned with raw honey, nuts, fruit, fig and black tea preserves and more ($16). 1310 Main St., (941) 951-7860. In Burns Court. Chef Diane Barragau presides over Salvatore's Italian Kitchen (pastas from $12; Veal Milanese $24.95) and Sal's Southern Grill (fried chicken $15.50; pulled pork $15). Sit in the new covered courtyard and build your meal with menu items from either restaurant. Salvatore's Italian Kitchen, 443 Burns Court, (941) 330-2811; Sal's Southern Grill, 437 Burns Court, (941) 362-0627. And taste test the amazing assortment of 100 percent extra virgin olive oils and balsamic vinegars at a new outpost of Venice Olive Oil Co., in a courtyard opposite Caragiulos. 53 S. Palm Ave., Suite B, (941) 331-1400.
DISCOVER OUR DOWNTOWNS:
VENICE
Shops and restaurants cluster on and just off West Venice Avenue, a beautiful, palm-lined boulevard that cuts down the center of the city's increasingly sophisticated downtown. Once pigeonholed as a staid retirement community, Venice now has trendy boutiques and new restaurants drawing clients to their tasteful wares and world-class cuisine. Spend a delightful day enjoying new eateries, wine bistros, gelateries and shops as you drink in Old Florida charm.
Arts & Crafts take center stage at this combination boutique and art gallery with exhibits of multimedia works by local artists, country furniture, bird houses and artisan-crafted cheese boards, this one shaped like a leaf that unfolds to reveal three knives ($59). CHC Home Décor & Gifts, 329 Venice Ave., (941) 488-3030.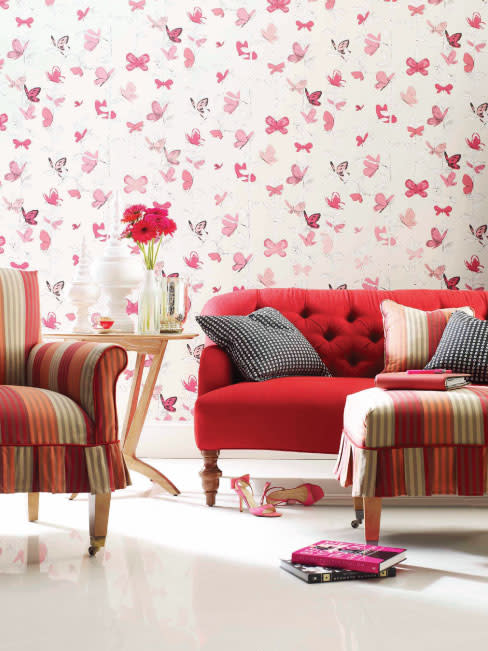 Sitting Pretty Some of the Gulf Coast's best-looking fashion upholstery can be ordered through this interior design studio and showroom brimming with sample swatch books from the best furniture names in the trade (Robin Bruce sofas from $1,100). Starfish Lane Interiors, 319 W. Venice Ave., (941) 445-5611.
Basket Weaving reaches new heights of chic with these Italian-made bowls of woven rubber (set of three, $245) that you can color coordinate to linen napkins (set of four, $89) and placemats ($25) in fashion's hottest tones of grape, yellow, stone and black. The Tabletop, 205 W. Venice Ave., (941) 485-0319.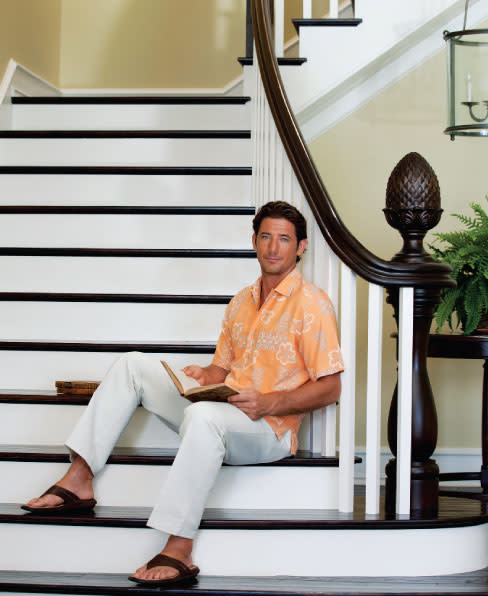 Island Style is universal, and proof is that Captain's Landing, a bastion of men's resort fashion, is expanding to include women's clothes in 2013. Look for comfortable cottons and island prints like those in the best-selling Tori Richard men's line (tropical Hawaiian print Tapa Lounge Camp shirt shown). Captain's Landing, 243 W. Venice Ave., (941) 485-2329.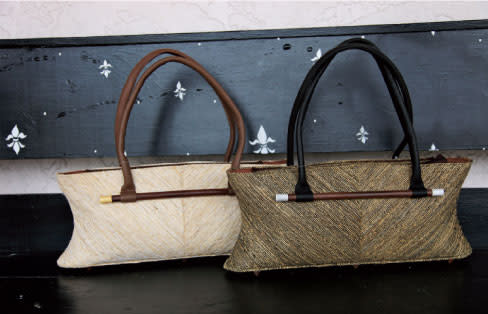 Miracle Bag? Follow your nose past racks of designer swimsuits and sportswear to sweet-smelling straw bags made from vetiver root fibers, used for calming aromatherapy and as an insect repellent. With rosewood handles and cowhide shoulder straps, the $82 price is a miracle, too. Sunbug, 141 W. Venice Ave., (941) 485-7946.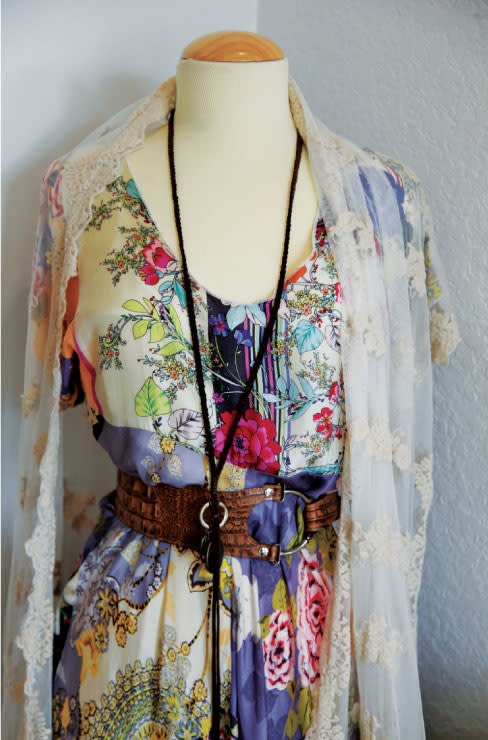 Shabby Chic fashionistas are bee-lining it to new apparel store Seaside Chic, where outfits like this Johnny Was dress are instant best sellers. Everything to complete your Bohemian look is on hand, including Angelic mesh scarf ($59), Antiquity necklace ($295) and Gator Palm belt ($84). Seaside Chic Boutique, 305A W. Venice Ave., (941) 484-1313.
Tour de France As quaint as any linen boutique in Provence, this newcomer specializes in iconic Jacquard print napkins ($18) and table linens ($88 for 63-inch square) and home accessories from France and Spain. French Linen Chest, 211 W. Miami Ave., (941) 451-9668.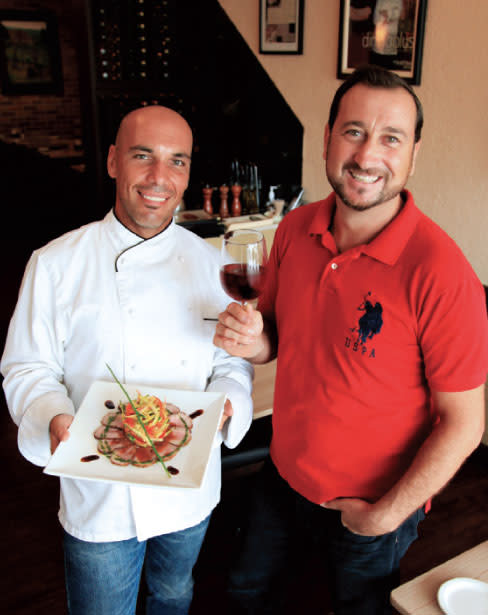 New Tastes Downtown
Bursting with pride over their first Zagat rating (28-28-28), Cassariano co-owners chef Antonio Pariano and manager Luca Cassani insist that every dish (like the veal tenderloin with juniper berry sauce, $24.95) is natural and organic. 305B W. Venice Ave., (941) 485-0507. Foodies swoon for the pizza at Made in Italy, which has a wood burning oven, classic Italian menu and a new backyard patio. 117 W. Venice Ave., (941) 488-8282. The secret ingredient in gelato made at Ciao Gelato is sweet milk from Daikin Dairy in Myakka. Aficionados come for ultra-fresh, creamy flavors ($4.50/four-ounce cup) and an addictive Affogato with espresso, two scoops of gelato and light whipped cream ($5.95). 317A W. Venice Ave., (941) 445-5840. Daiquiri Deck Venice promises fans of the decades-old Siesta Key (and St. Armands) restaurant-bar-nightspot the same menu and fun in a new building with patio overlooking Centennial Park. 304 W. Venice Ave., (941) 488-0649.
DISCOVER OUR DOWNTOWNS:
Bradenton
Bradenton's sprawling downtown is an eclectic mélange of shops and galleries, with a museum, theater, arts workshops and now a beautiful new Riverwalk. From the Village of the Arts' quirky studios to vintage shops and restaurants rivaling those in big metropolitan cities, there's so much to explore. Here are some must-see venues that are transforming the shopping and entertainment scenes downtown.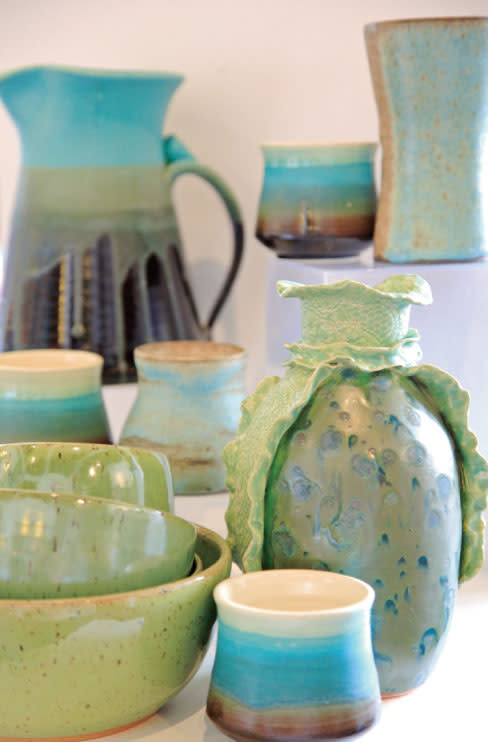 Pottery in Motion Beautiful ceramics by students, members and local artists sold at the Art Center Manatee's Artists Market Gallery Boutique may inspire you to sign up for workshops or classes. Works shown are by Marianela Borsten, Dorothy Domingo, Wilma Kroese and Debra Ridgdill (from $20). Arts Center Manatee, 209 Ninth St. W., (941) 746-2862.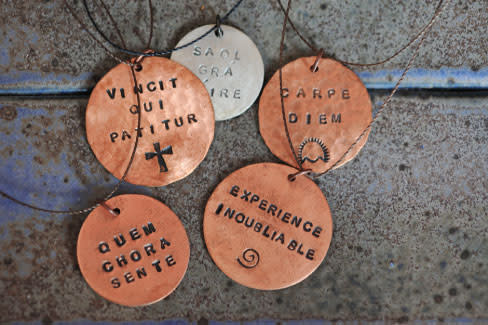 Text Message the old-fashioned way, with beautifully inscribed brass necklaces by local artisan Dean Western of Epernay Designs ($25) in his choice of verses and sayings from around the world, or order a custom inscription at intriguing gift and clothing boutique The Chameleon, 2801 Manatee Ave. W., (941) 747-4477.
Spot-on Vintage, in everything from home décor to bridal gowns, attracts a loyal following to Retro Rosie's and Cobweb, two delightful shops in one. We fell for this '60s pillbox hat and bag ($95 the set), shown with aurora borealis necklace of the period ($25). Retro Rosie's, 817 Manatee Ave. E., (941) 708-0913.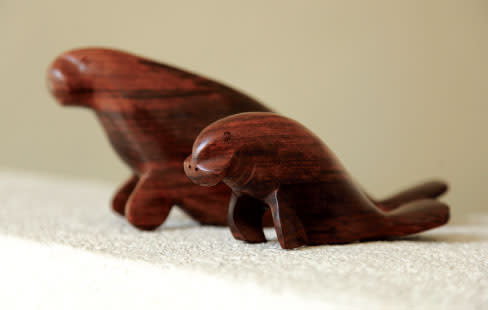 Celebrate Snooty, the oldest living manatee in captivity, with a hand-crafted desert ironwood sculpture ($6.99 and $14.99, shown) after visiting the iconic aquatic mammal at Parker Manatee Aquarium at the South Florida Museum. Museum Gift Shop, 201 10th St. W, (941) 746-4131.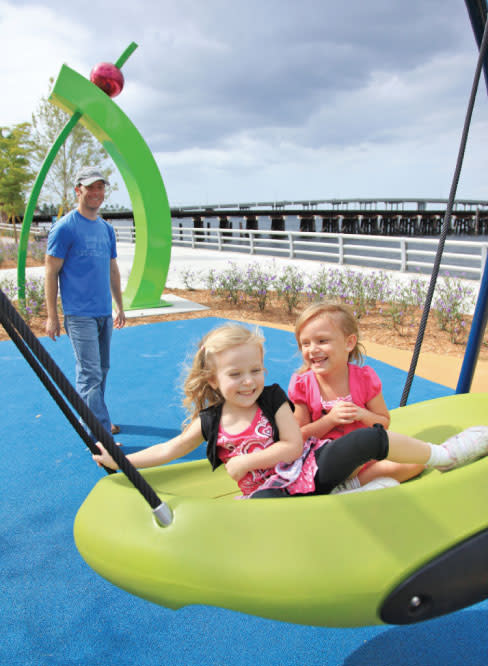 Family Affair The new Bradenton Riverwalk appeals to all ages with a 1.5-mile park that includes a great lawn for picnicking, skateboard park, fishing pier, boat dock, beach volleyball courts, a gallery of outdoor art and interactive splash fountain. Enjoying the family fun zone are Caleb Prochnow, daughter Joy and cousin Summer Galloway.
Browsers' Paradise Full to the rafters with intriguing antiques and vintage finds, Jess Sturtevant's shop has everything you need to create a witty and well-curated home. His gazing ball on a stand (actually a 1920s arms shell) is a steal at $45, as is the 1940s sunburst convex mirror, the height of chic in 2012. Braden River Antiques, 426 Ninth St. E., (941) 750-0707.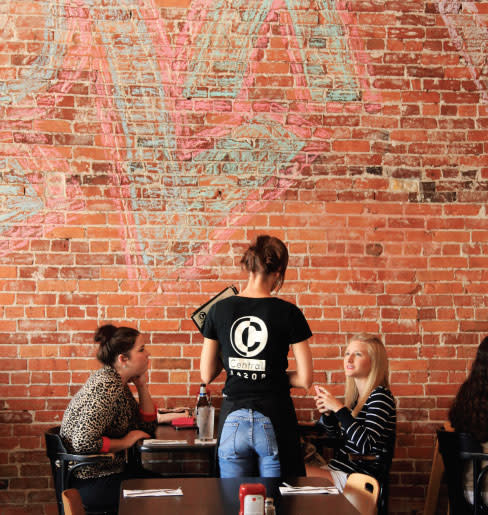 New Tastes Downtown
At Central Café (above), fans are abuzz over Lola wines produced by owner Mark Cripe's brother, Seth, in California and jalapeño pizza ($12), with pesto sauce, mozzarella and bottarga (a delicacy made by curing embryonic sacs of mullet roe, now produced in Cortez by Seth). 906 Manatee Ave. E., (941) 757-0050. Bradentown Scoop Ice Cream Parlor is set in the original 1903 Manatee Central Hotel, with onyx bar and soda fountain salvaged from the circa 1900s Arcade Building a block away. The salted caramel with real pralines is addictive. 904 Manatee Ave. E. (941) 757-0953. Don't miss the sushi at the newly renamed Pier 22, or the perfectly cooked tuna wasabi with mild wasabi crust, sesame peanut sauce and soy glaze served with wok veggies ($29). 1200 First Ave. W., (941) 748-8087. At Tarpon Pointe Grill & Tiki Bar, guests play beach volleyball, munch shrimp hush puppies and fresh grouper, and sip cocktails like the Sunset Sail with Sailor Jerry rum, mango purée, pineapple juice and grenadine ($7.50)., 801 Riverside Drive. E., (941) 720-3285.
DISCOVER OUR DOWNTOWNS:
OLDE ENGLEWOOD VILLAGE
Englewood's laid-back downtown is part quaint fishing village and part sultry beach town. A priority for residents and businesses alike is maintaining the village's historic core, centered on West Dearborn Street, with a mission to become the greenest Main Street in Florida. Fall in love with Englewood's unpretentious charms at shops brimming with fashions from resort classic to exotic, antiques both curious and refined, a booming new farmer's market and restaurants with an international vibe.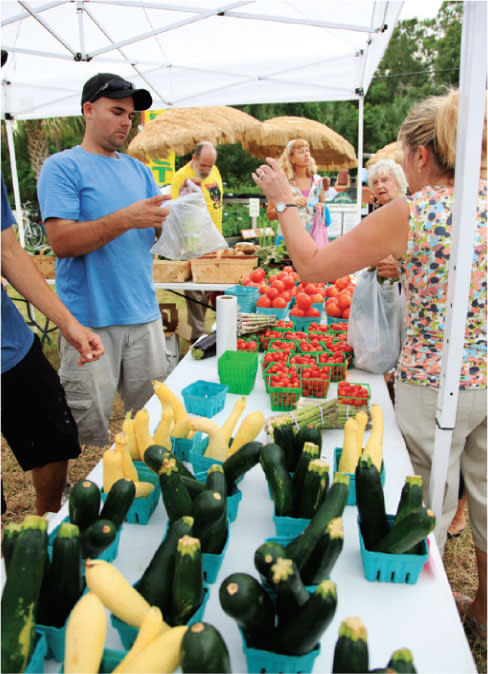 Country Fare The year-old Farmer's Market, attracting 4,000-plus shoppers every Thursday from 9 a.m. to 2 p.m., is more akin to an upbeat country fair than standard market. Check out 48 vendors and 52 booths featuring hand-crafted delicacies, organic veggies, wild-caught Florida seafood and artisanal baked goods, and keep your eyes peeled for yoga and Irish dance flash mob events. Englewood Farmer's Market, 300 Block, W. Dearborn St., (941) 548-7843.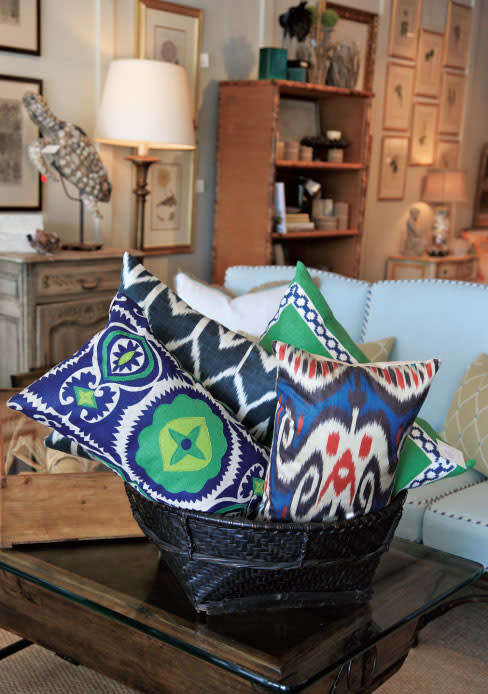 Global View Jett Thompson curates an intriguing international mélange of new and vintage furniture, accessories and a stunning collection of artful accent pillows, some covered in Uzbekistani ikat textiles and others appliqued (like the one lower left) in patterns of Jett's own design ($153-$265). Jett Thompson Antiques, 447 W. Dearborn St., (941) 460-2777.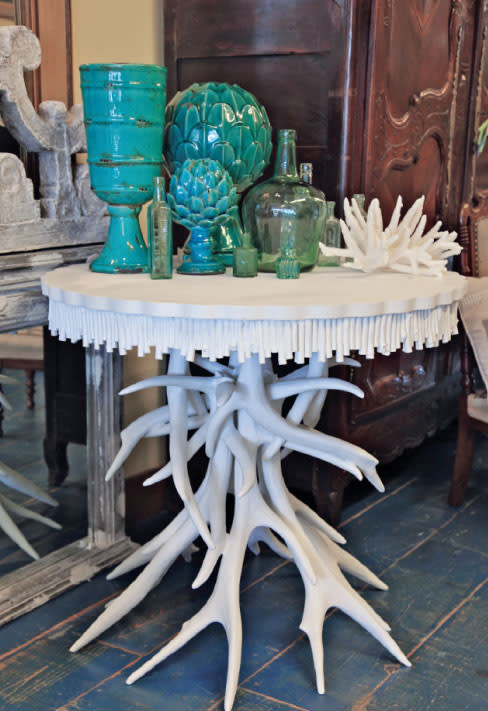 Happy Hunting at the Blue Pineapple yields unique discoveries like this antler base side table in matte white finish ($750) styled with antique French bottles, turquoise accessories (from $58) and an eclectic treasure trove of vintage pieces and pedigreed antiques hand-picked by Barbara and Peter Matson during buying trips abroad. Blue Pineapple, 445 W. Dearborn St., (941) 474-1504.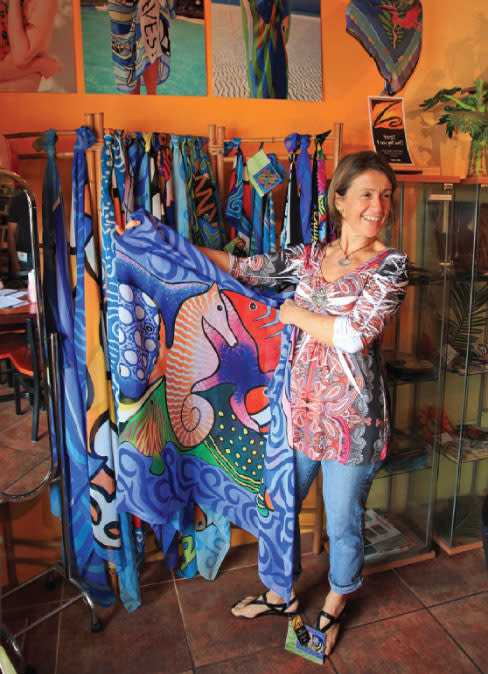 Beach Chic Wearable works of art, Marie Laforge's tropical drawings are printed on silk pareos and scarves ($32-59) the multi-talented artist and chef at Mango Bistro sells at the restaurant, where locals are buzzing about the lobster roll on grilled pineapple bread ($10.99). Mango Bistro, 301 W. Dearborn St., (941) 681-3500.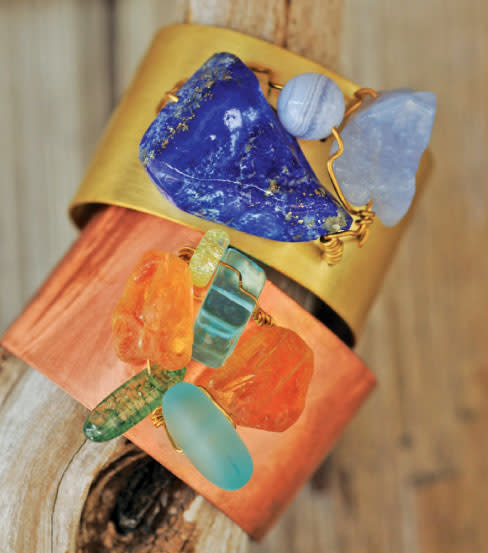 Elizabeth Bryant's gallery features her own jewelry creations and those of other artisans, like Melissa Erlenbach's copper cuffs adorned with gemstones and beach glass or blue lapis (each $98.95). Bryant Boutique, 200 W. Dearborn St., (941) 475-0785.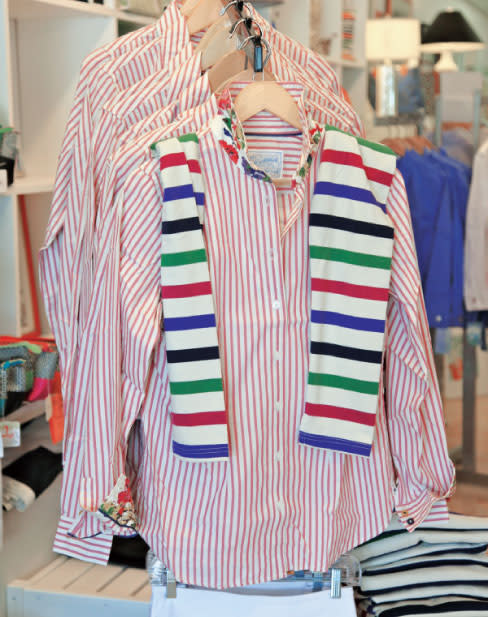 Change Your Stripes with soft, lightweight cotton pink-and-white striped shirts from England that update preppy style with pretty floral facings on collar and cuffs ($67). Shown with cotton knit sweater ($59). Basix on Dearborn, 449 W. Dearborn St., (941) 474-7111.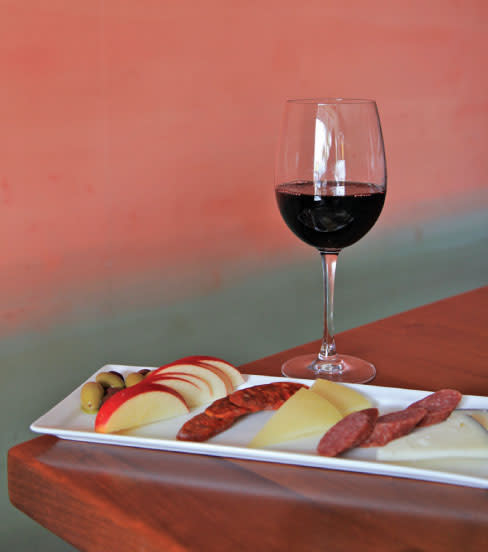 New Tastes Downtown
Vivo Loco Wine & Gourmet toasts Spain's contributions to viticulture with a wine bar and retail shop (with more than 300 bottles. Pick a bottle and for a $10 service fee, drink it with delectable tapas from a menu that changes weekly. 420 W. Dearborn St., (941) 473-8466. Bay City Grill is a new restaurant serving American cuisine such as steaks and seafood and open for three squares a day. 115 W. Dearborn St., Englewood. New French aperitifs (Kir and Kir Royal) and white mango sangria are not all that's shakin' at Mango Bistro, Dearborn Street's go-to weekend night spot. You'll find co-owner Ricardo Ruggiero dancing with guests on Friday and Saturday evenings to the beat of bossa nova, flamenco, rumba and more. 301 W. Dearborn St., (941) 681-3500.