Article
The Luxury Home: November 2012
On The Homefront
Charlene Neal on interiors that appeal to homebuyers.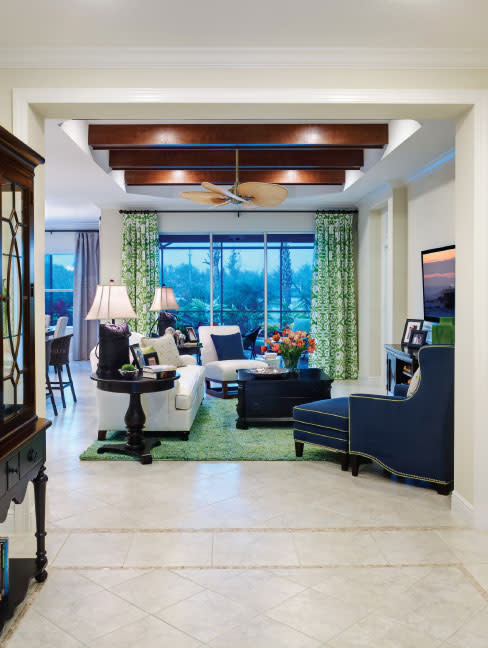 What pushes a prospective homebuyer's "buy" button when he or she tours a model home? We asked interior designer Charlene Neal of Charlene Neal PureStyle, who last summer bested other designers from 12 states to win a prestigious Southeast Building Conference Aurora Award.
Her winning design was for the 2,233-square-foot, single-family Starlight model in Neal Communities' Woodbrook development in east Sarasota County. If any company knows how to merchandise a model home for sale, we figure it's Neal Communities, which sold 373 homes in the first eight months of 2012—a 49 percent jump over the same period in 2011.
Today's buyers, Charlene Neal says, want their homes to be "lighter, brighter; to feel more like Florida—tropical but not cliché." She employs white in architectural details like crown moldings and wainscoting, "which pops colors on the wall," she says. Then she mixes in strong colors in fabrics and area rugs. The bright Florida sunshine, she says, can handle bold colors happily.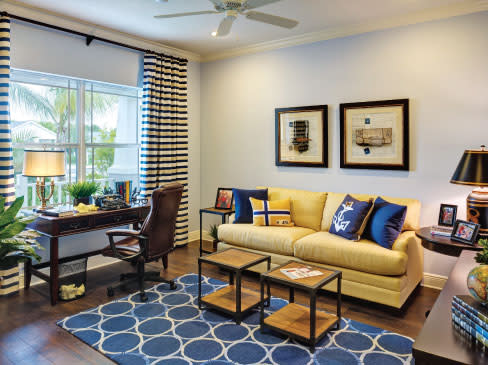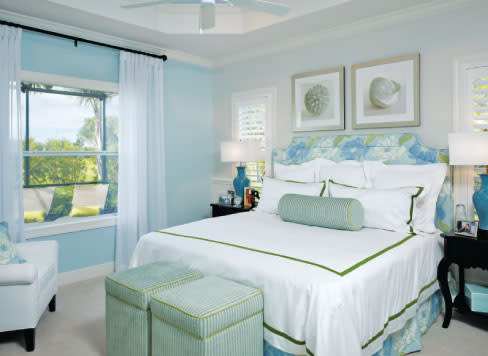 Neal and her team decorated the Starlight model in her signature blues and whites, mixing in splashes of fresh green in the living room via window treatments, area rug and pillows.
In the den, a neutral gold couch plays off the geometric-patterned blue area rug and striped navy, gold and cream window treatments. The bedrooms are reserved for softer, dreamier shades of blue.
"Blue and white happens to be a personal favorite of mine,' she says. 'Blue has so many ranges of color in Florida. It can be used in traditional and transitional décor, and it's familiar to people, which is why it feels good to them even though they don't really know why."
Plus, blue signifies a coastal lifestyle, and, "After all, that's why they're here."
Top Of The Market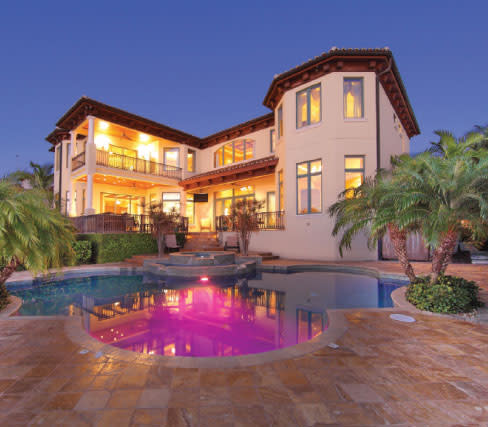 A 6,300-square-foot bayfront residence at 364 W. Royal Flamingo Drive sold for $4.7 million on July 31, making it Bird Key's largest sale of the year to date. The two-story home, built in 2007, has four en-suite bedrooms, media and billiards rooms and a 36-foot by 36-foot saltwater pool. Bernadette Caswell of Michael Saunders & Company was the listing agent; William Wu of Keller Williams Realty Manatee represented the buyers. Previous sale, before the home was built on this site, was $2,365,000 in 2004.
It's Showtime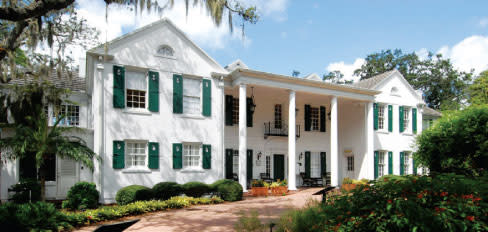 Showhouse time, that is, as the local ASID chapter prepares for its second annual "ASID Holiday Splendor at the Payne Mansion," which premieres Dec. 16 and runs through Jan. 3.
Eleven designers will transform 11 rooms in the stately 1930s-era Payne Mansion at Selby Gardens with the latest trends in home décor. This year's theme is the bromeliad—that fabulously spiky tropical plant that grows abundantly at Selby Gardens. Not just any bromeliad, mind you; it's the guzmania, whose range of colors—from yellow to intense pink, orange, red and light pink—will provide the design inspiration.
Sixteen thousand people toured the Payne Mansion last holiday season, says ASID chair Will Brown, the majority of them during Selby's Lights in Bloom celebration, which this year is Dec. 16-27. "We lost count after that; our clicker just froze," he says. Proceeds benefit Selby Gardens and the ASID chapter.
An opening cocktail reception at the Ritz-Carlton with a "Sarasota during the Elegant 1930s" theme is planned for Dec. 15, with antique cars, vintage clothing and a video and slide show of the construction of the Payne house that includes family photos of Christy and Anne Payne, the home's original occupants. Cocktail reception tickets can be purchased at paynemansionshowhouse.wordpress.com/.
The area's other big showhouse, Jewels on the Bay, is gearing up for a Jan. 20 opening. The 18th annual edition of this venerable showhouse focuses this year on St. Armands, with two homes on South Boulevard of Presidents within walking distance of each other. It runs through Feb. 17, and benefits the Boys and Girls Clubs of Sarasota and Manatee counties. Details to come at designershowhousesarasota.com.
And the Sarasota Orchestra Association will present its third annual Masterworks Tour of Homes Feb. 15 and 16. The theme this year is "A Symphony of Kitchens," featuring the fabulous kitchens of eight area homes. At press time, locations were still being selected. Visit sarasotaorchestra.org for details. Proceeds benefit the orchestra and its youth orchestra programs.
Neighborhood Watch
Location, location, location on Golden Gate Point.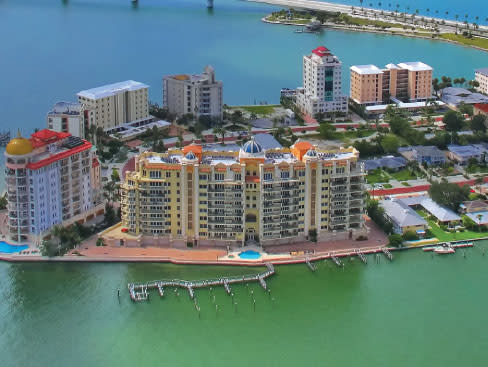 It's all about location on Golden Gate Point, the eclectic little neighborhood perfectly positioned between Bird Key and downtown Sarasota's Bayfront Park, just off the Ringling Causeway. A mix of swank high-rises built in the early to mid-2000s and casual '50s and '60s condos, many converted from old motels, the 22-acre community attracts people who crave the waterfront lifestyle and want to be close to downtown's cultural amenities. Real estate is kicking up again: 19 properties sold in the first eight months of 2012—primarily to empty nesters—compared to just 13 in all of 2011, says Sharon Chiodi of Premier Sotheby's International Real Estate. Chiodi, whose parents live on Golden Gate Point, currently has a condo listing at the elegant La Bellesara. The three-bedroom, 3,490-square-foot unit has a huge terrace with gas summer kitchen and its own 65-foot boat dock. List price is $2,495,000, but small, older Golden Gate Point condos can be found for $300,000.
BY THE NUMBERS
.......................................
290
Total number of golden gate properties
.......................................
26
Number of sales from August 2011 through August 2012
.......................................
$122,000 to $4.63 million
Range of sale prices
.......................................
529 to 5,585
Range of square footage
.......................................