Article
Restaurant Review: Selva Grill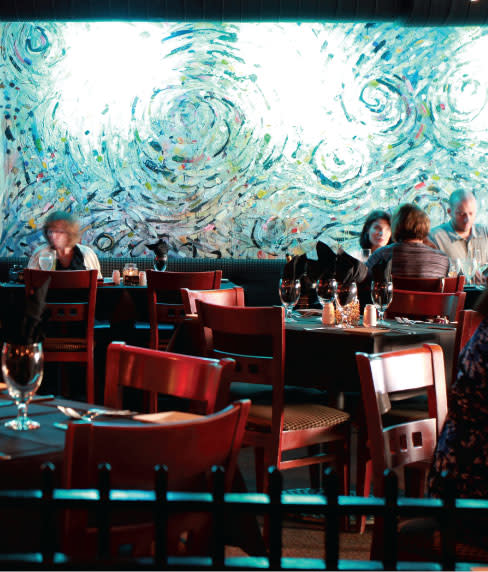 Founding chef Darwin Santa Maria established Selva Grill on Main Street as one of the hippest destinations on a street resplendent with good eats. Chef Darwin moved on to new ventures a while back, but Selva remains a culinary destination of distinction, its dining room still one of the coolest around with its color-swirled and artfully lighted east wall evoking Van Gogh's Starry Night and its menu offering a wealth of flawlessly executed Nuevo Latino dishes, which are inspired in large part by Peruvian cuisine.
The bar is no slouch, either, consistently turning out perfect cocktails in an atmosphere designed for seeing and being seen. Mojitos are big sellers, as are pisco sours and variations on the martini. One of the latter, called a pomegranate pointe-tini, I chose from a section of the drinks menu where $2 from the sale of each libation goes to Sarasota Ballet. The cause is good and the drink is better, not some pale pink imitation of the red superfruit but nicely chilled vodka fortified with a bit of full-flavored purée. The wine list likewise is right on the money, and service is informed and professional.
Ceviches have always been a staple of the menu and that hasn't changed. A nice way to get a sense of the full sumptuous list is to choose a trilogy of two-bite beauties as an appetizer ($13): firm white fish in a creamy aji amarillo (Peruvian yellow chile pepper sauce); little cubes of rosy red tuna in ginger sauce, and—our fave—Maya shrimp, which marinates tasty morsels of the pink crustacean in orange and lime juice, achiote (derived from the seeds of a tropical shrub) and tosses it with avocado, tomato, red onion and a bit of plump Cuzco corn. We paired this heavenly sampler in our first course with an Aji de Gallina spring roll ($9), a yummy wrap of creamy spiced pulled chicken and pecans with a decadent avocado aioli for dipping.
Fish is prominent on the main course menu, with Chilean sea bass on a corn flan and whole fried snapper being particular stars, but terrestrial goodies are winners, too.
Colette chose a house specialty and one of her perennial favorites, an intensely flavored grilled skirt steak ($27) served on a generous bed of sweet fried plantains with a toothsome beet relish and a splendid chimichurri, that aromatic Argentine sauce created especially to complement grilled meats.
I chose the arroz con pato ($29), or rice with duck, a dish in which billing order is a bit misleading. A gorgeous duck breast is the real headliner, sliced and fanned over a startlingly good risotto flavored with beer and green peas, the whole glorious dish surmounted by a mellow roasted red pepper salsa.
Have I mentioned that the kitchen likes to stack ingredients in mile-high towers? It does, and dessert is no exception. My El Rey brûlée ($9), a fine tall custard flavored with Venezuelan cacao, came encased in a tall spun sugar sail, while Colette's tres leches (three milks) cake (also $9) was a simple high, wide and handsome square of incredibly moist goodness.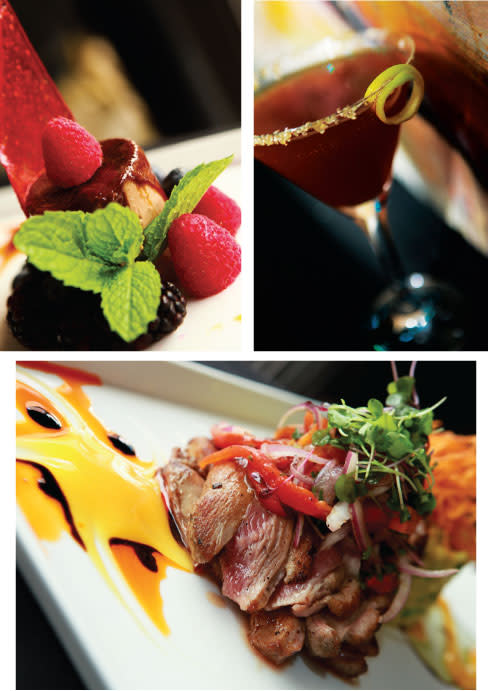 The Verdict
Long a Main Street superstar, Selva Grill is going strong, offering beautifully presented Nuevo Latino cuisine, exemplary cocktails and well-chosen wines in an urban chic space.
Selva Grill
1345 Main St., Sarasota
Reservations: (941) 362-4427
Hours: Dinner 5-11 p.m. Sunday-Thursday, until 1 a.m. Friday and Saturday
Cards: All Major
Parking: On street or nearby city garage
Handicapped Accessible: Yes
Read all our restaurant reviews.