Article
Get The Look: Mid-Century Modern
When Robert and Julie Garvin purchased the renowned Philip Hiss Studio on Lido Shore's Westway Drive, they set out to decorate the beautifully preserved library with furnishings worthy of its classic Sarasota School of Architecture style. Designed by Tim Seibert (then 25 years old and working in Paul Rudolph's architecture practice), the studio was built by Hiss in 1953 as his corporate headquarters and sales office. The grand library, used as a conference room as well as repository of Hiss's vast book collection, remains the home's crowning glory.
With original oak shelves pinned to green structural steel columns that run from grade level through to the roof and the original brass chandelier, acoustical ceiling tiles and natural cork flooring serving as the foundation for the décor, the Garvins created a conversational seating area with a mix of revered mid-century modern pieces. "The room deserves this furniture; it all goes together," Robert explains.
Here are some tips and sources to help you bring the mid-century modern look to your home.
Elements of Style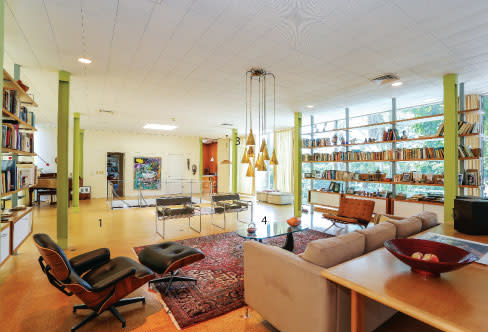 Popular in Sarasota School of Architecture homes for their resistance to molds, mildews and common pests in our semitropical climate, (1) cork floors are now experiencing renewed demand in both plank and parquet flooring for their environmentally friendly properties. Get the look from USFloorsllc.com, available at Lowe's.
The antique (2) Heriz Persian carpet anchoring the seating group is Robert's find. "It caught my eye at an auction in Venice, [pause] Florida," he jokes. According to rug expert Eileen Hampshire of Art to Walk On, Heriz rugs are "meaty" and were popular during the period, as were Serape and Kerman styles. She'll help you get the look with rugs like this.
Fresh and futuristic when introduced, Mid-Century Modern (3) chandeliers with clusters of cones are now hard to come by. Rejuvenation.com has the closest look we could find to the Hiss original in its Galaxy design based on the 1959 Stockholm series manufactured by EJS lighting.
Coveted by mid-century modern aficionados since its introduction in 1948, the ethereal (4) Noguchi coffee table balances a fine line between art and furniture. Sculptor Isamu Noguchi's distinctive table (from $1,499) with curved wood base and freeform glass top is produced by Herman Miller and available through Home Resource.
Take Your Seat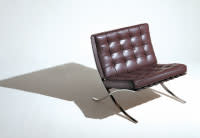 Though the Garvins' Barcelona chair by Ludwig Mies van der Rohe is a vintage piece, official reproductions are made to the architect's original specifications by Knoll Inc. These iconic chairs were designed originally as seating for the king and queen of Spain during their visit to the German Pavilion at the International Exhibition in Barcelona in 1929. (From $5,068)
Light and airy, side-by-side Wassily chairs with gray leather slings complement the strong, spare lines of the Hiss bookcases. Designed by Marcel Breuer in 1925 and named for abstract painter Wassily Kandinsky (Breuer's colleague at the Bauhaus), this chair is made by Knoll Studio. (from $2,264)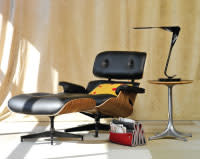 "The Eames lounge chair was a birthday present from my children," says Robert of the classic originally designed by Charles and Ray Eames in 1956. Available through Herman Miller, the chair and matching ottoman (from $4,499) are displayed at MOMA in New York and the Art Institute of Chicago.
All chairs available through Home Resource.
Sources: Furniture: Home Resource, 741 Central Ave., Sarasota (941) 366-6690; Persian Rugs: Art to Walk On, 16 & 18 S. Palm Ave., Sarasota (941) 951-5454; Chandelier: Rejuvenation.com; Cork Flooring: Lowes.com or USFloorsllc.com