Article
The Look of Now
From aqua hues to mid-sized modern, the top new Sarasota shopping and home trends in town.
From aqua hues to mid-sized modern, the top new trends in town.
Trend: Color it Aqua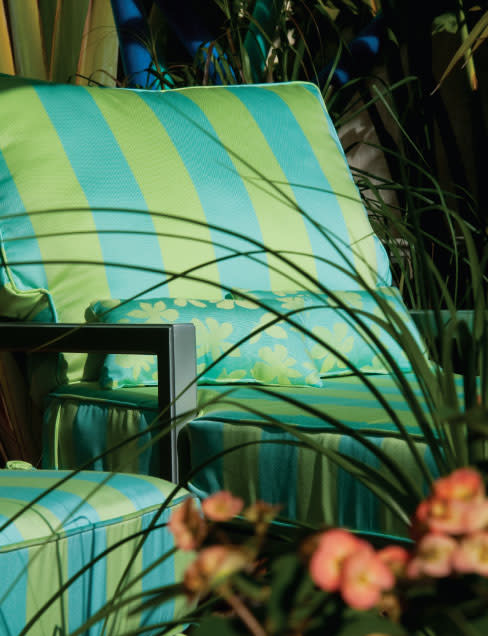 From fashion runways to designer homes, aqua is one of the "it" colors of 2013. But for Sarasota's own Laurie Jenkins, the textile chemist and designer behind the Laurie Bell brand of outdoor fabrics, aqua is much more than a fashion statement. "The aquamarine that's coming in strong is just like the aqua of the Gulf of Mexico," she says. "If you think about it, our pools are this color, too. It's so beautiful and soothing—not too bright, so it goes with the pool colors and the greenery in Sarasota." In her new Aquamarine Seas collection, Jenkins mixes aqua with chartreuse greens inspired by exotic palms in Selby Gardens; patterns have names like Lido Stripe. Along with textiles by the yard, Laurie Bell cushions, rugs, ottomans and umbrellas are sold in stores and on her website. In addition to being completely sun- and mildew-resistant, Jenkins' outdoor fabrics are at the forefront of two more trends: They're made in America and stylish enough to be used indoors. Photographed at the home of Dan Wiehler in Sarasota.
Trend: Classic and Contemporary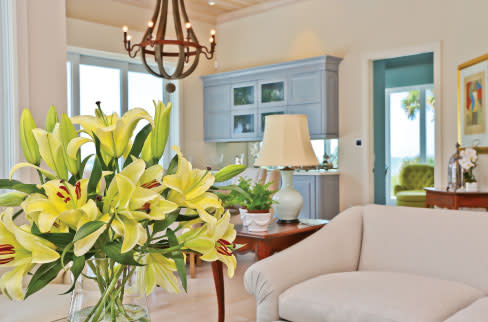 Those on the design cusp are mixing modern and traditional elements, and you can see how beautifully the two can exist in this airy beachfront residence on Casey Key, designed by architect Yehuda Inbar with interiors by Robert Neal. Homeowners Anita and Sidney Holec downsized from their 4,700-square-foot home further down the key and mandated to builder Steve Ellis of MyGreenBuildings that their cozy new, 3,200-square-foot abode incorporate planet-friendly materials. (Ellis achieved an impressive LEED Platinum rating.) Playing up the Gulf view was paramount, and Neal chose a monochromatic color scheme from the natural colors of the beach—off-white, light blue and gray. He repurposed most of their existing furniture, reupholstering the living room sofa, love seat and French chairs in off-white fabric, and fabricating a coffee table from pieces of an antique wood parquet floor. The antique French side table is also from their former home. The driftwood-finish dining room table chandelier and chairs upholstered in natural linen, all from Restoration Hardware, are new. The result: a fresh home, full of light, both stylish and comfortable, right on trend.
Trend: Sustainable Kitchen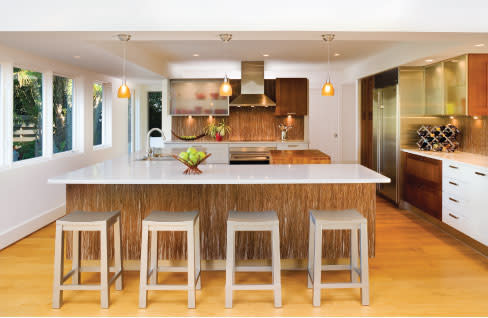 Sustainable architectural products are not just good for the environment: They're bringing warmth to contemporary kitchens, too. Jonathan Parks, AIA, of Jonathan Parks Architect (JPA ) in Sarasota was ahead of the trend curve when he eschewed predictable ceramic tile in this Longboat Key kitchen, opting instead for backsplashes and an island knee space surfaced with recycled glass panels by 3form that can be embedded with leaves, grasses, pebbles, or, in this case, bamboo.
"It's reflective, natural and organic," says Parks, who also specified wood cabinets by Lubé, an ecologically responsible company, and countertops of Silestone, a natural quartz surface. "In contemporary kitchens people are moving away from veined stones like granite or marble because they want less visual noise." The Silestone Parks chose is polished to a glass finish and has flakes of mother-of-pearl that make it sparkle. Innovative use of materials—that's the trend, especially sustainable materials, says Parks, who also points out the kitchen's vintage butcher block made from 100-year-old wood.
Trend: It's Easy Being Green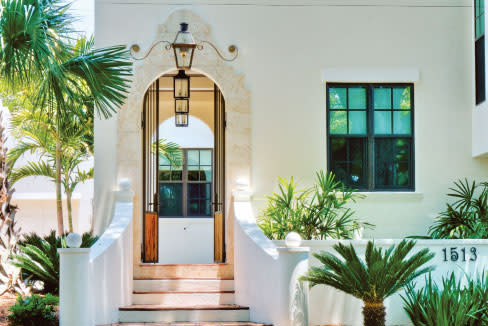 Homebuyers are choosing eco-friendly homes, says the National Association of Home Builders, if the green elements are "familiar, reduce operating costs and are easy to use." This handsome Harbor Acres home, built by Josh Wynne Construction, embodies that trend right down to its Energy Star appliances. "My client was very interested in building a healthy home with low energy costs and extended durability. He was not interested in an über-techno house," says Wynne. "It's kind of an elementary green home." That meant water-saving plumbing fixtures vs. advanced cisterns, and energy-efficient A/C systems and lighting vs. solar panels. And it meant returning to "the roots of architecture," Wynne says, with a primarily one-room-depth design to capture breezes. Michael Gilkey's landscape, which includes a pool and courtyard garden, complies with Florida Yard & Neighborhood standards. Elementary maybe, good-looking definitely, and energy efficient for sure: Even without new-fangled technology, the home is Platinum LEED-certified, Energy Star rated and Gold certified by the Florida Water Star program.
Trend: The Mid-Mod Home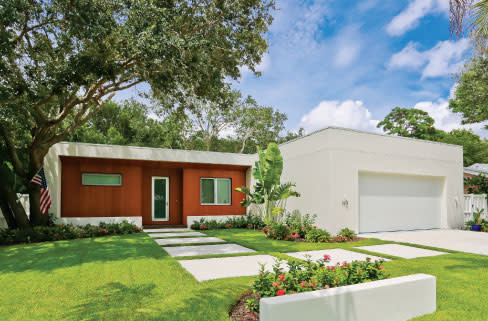 Mid-priced and mid-sized modern architecture, that is. DSDG principal architect Mark Sultana, who builds ultra-contemporary multimillion-dollar residences, set out to design and build his own house for under $100 per square foot on a small lot near Southside Village. "And we did it," he says. The single-story, 2,200-square-foot, four-bedroom home is modern but warm, thanks to its clear-cypress-clad exterior. ("My one splurge," he says.) Sultana economized by painting, hanging doors and installing the bamboo flooring and closet organizers, but anybody could follow his money-saving example by purchasing IKEA kitchen and bath cabinets as he did. (He even waited for IKEA's annual appliance sale.) We've spotted some other mid-mods around town, and Sultana says more are coming: He's designed a mid-mod residence like his own on Loma Linda Street that's now under construction (another on the same street is in design), and 19 similar homes starting at 1,500 square feet for an upcoming development called the Homes of Laurel Park.
RESOURCES
Jonathan Parks Architect, 1471 Fifth St., Sarasota. (941) 365-5721; jpa-architect.com
Laurie Bell, Inc., (336) 362-4133; lauriebell.com
Mark Sultana, DSDG, 1348 Fruitville Road, Suite 204, Sarasota. (941)955-5645; dsdginc.com
Robert Neal, designer, (941) 955-7400; [email protected]
Josh Wynne, Josh Wynne Construction, 1925 Barber Road, Sarasota. (941) 378-3377; joshwynneconstruction.com