Article
Hip to Be Square
Sarasota architecture: Guy Peterson transforms a series of cubes into a cool Casey Key getaway.
Guy Peterson transforms a series of cubes into a cool Casey Key getaway.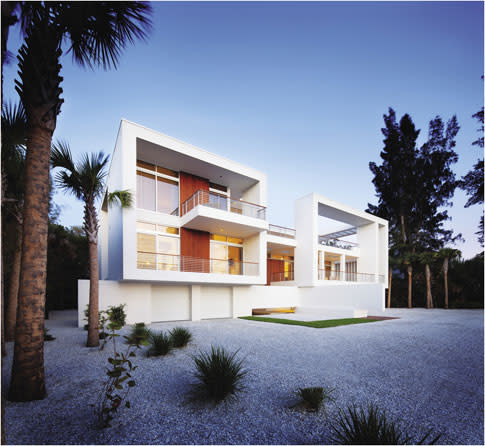 You wouldn't be insulting architect Guy Peterson if you tossed off adjectives like "square" to describe the Gulf-to-bay residence he recently completed for an Alabama businesswoman and her children.
A series of sophisticated, bright-white cubes is just what he had in mind when he designed the 6,000-square-foot weekend getaway. Ample use of natural finishes—mahogany-hued sipo, an African hardwood, as accents on exterior and interior walls; ipe wood from Brazil for the deck that leads to the Gulf; polished shell concrete interior floors that lead seamlessly to honed shell concrete floors on the home's many outdoor terraces—brings a welcome intimacy to the minimalist design.

In architect-speak, Peterson calls those cubes "interwoven volumes." "You start peeling pieces away and leaving parts of it," he says, "and you end up with this sculptural mass that frames views and provides overhangs for sun protection."
And what views. The north Casey Key setting, a wide Gulf-to-bayfront property of more than an acre, is spectacular. "It's incredibly lush, with old gnarled oaks and other foliage, very dense and beautiful," says Peterson. The charge to landscaper Grant's Gardens, he says, was to keep the one-plus-acre property as natural as possible. "The oaks [at the back of the property] have been swept by the sea breezes for years, and we left them natural and gnarled," he says. In the Gulf-facing front yard, beyond a brilliant blue swimming pool flanked by a tidy zoysia lawn, they planted boxwood, natal plum, seagrapes and clusia.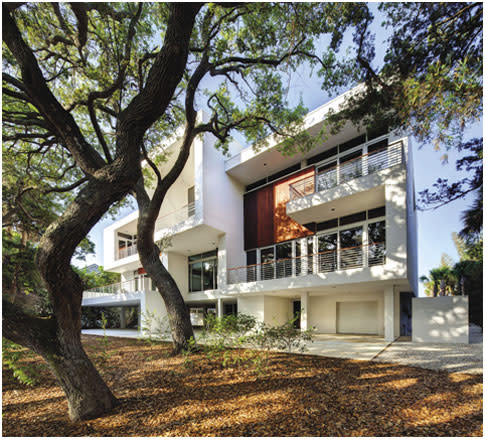 In order to avoid a "house on stilts" effect, Peterson created a ground-floor entryway that's basically a glass bridge over a pond to the front door. Random skylights on the roof terrace up above spill light onto it. In the entry foyer, a pool of water under the stair continues that inside-out effect.
The first occupied floor contains the living room, dining room and streamlined kitchen, with countertops and vertical surfaces made of white glass. (A big glass wall that separates the dining room turns translucent for privacy with the push of a button.)
The entire upper level is the master suite, with office, bedroom, a big Gulf-to-bay sitting room, and terrace with a frame of the view to the Gulf. There are three other guest bedrooms and a total of four full and two half-baths.

The homeowner brought in the New York-based firm of internationally renowned interior decorator Robert Couturier as a key member of the design team. Peterson credits Couturier with a lot of the interior detailing: the kitchen, the wood elements and all the sleek contemporary furnishings.
This summer, the home earned contractor Michael K. Walker an Aurora Award from the Southeast Building Conference in the Custom Homes over $3 million category.
Peterson calls the design process, which began in 2007, "an absolutely collaborative experience. She's a wonderful client; she was very sure of what she wanted in terms of her space requirements and how she wanted to live on the site—clean and minimal—but was flexible and had no preconceived ideas about the look except that she loves modern architecture and enjoys my work. It was more like, 'Let's see what you come up with.'"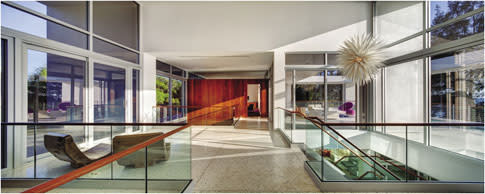 DESIGN TEAM
Architecture
Guy Peterson | OFA, Inc.
Principal architect
Guy W. Peterson, FAIA
Project manager
Joe Kelly, Associate AIA
Interior Design
Robert Couturier Inc. NYC
Robert Couturier
Landscape Design
Grant's Gardens
Contractor
Michael K. Walker