Article
Food & Wine: Shore Diner
Shore Diner on St. Armands Circle is the breath of culinary fresh air this venerable Sarasota dining and shopping district needed.
A Shore thing on St. Armands.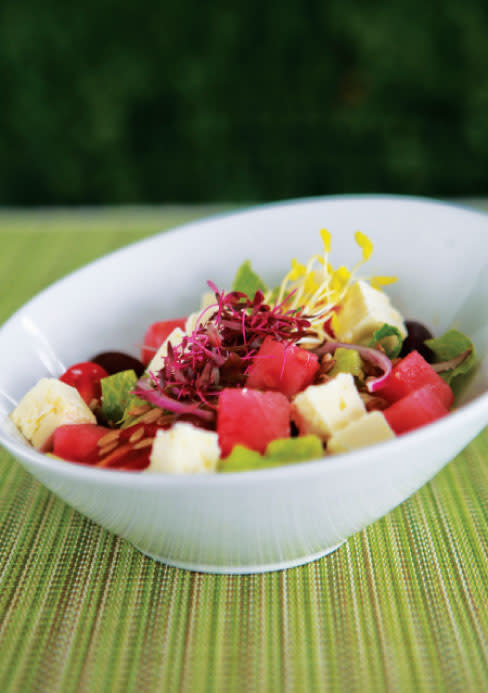 Open, airy and sleek as a seal, Shore Diner on St. Armands is just the breath of culinary fresh air this venerable dining and shopping district needed. Its space above a clothing store, also called Shore, is brilliantly designed, the staff well trained from day one, and the kitchen right on its game.
Shore Diner is the creation of longtime Sarasota restaurateur Mark Caragiulo and partner Tom Leonard, whose recent triumphs, Owen's Fish Camp and Nancy's Bar-B-Q, both in the Burns Square district, took local diners by storm. For the new venture, the partners added chef Mark Traugutt to the team, and he is a welcome, even essential addition to a restaurant with loftier ambitions than the previous two downhome hits.
The restaurant and bar opened soft this past summer, without advertising but the buzz spread like wildfire. Judging by our experience and the happy hum of a nearly full house when we visited, Shore Diner lived up to expectations.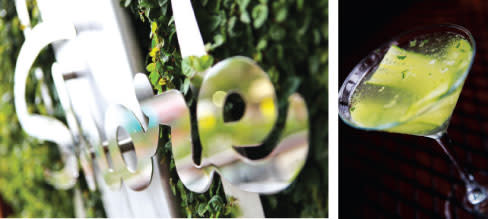 The space itself is stunning and energetic, relying on wide-open sight lines, lots of natural wood and stone, and an ultra-clean design paying pitch-perfect homage to the celebrated Sarasota School of Architecture.
Guests arrive via coquina stone stairs (there also is an elevator) in an open-air cocktail lounge overlooking a lively street scene. From there they are ushered to seats in a big, high-ceilinged main dining room ornamented by a handsome long bar or on an enclosed patio with a retractable roof for stargazing in fine weather. Everywhere are chic design elements, from chairs and banquettes to lighting. The result is that diners feel upbeat and ready for a good time even before the first cocktail arrives.
The bar has a fine list of specialty drinks, my immediate favorite being the Shore Cocktail, a refreshing sipper compounded of cucumber-infused Hendrick's Gin, the elder-flower liqueur St. Germain and mint garnished with a long thin swoosh of—what else?—cucumber ($10). Colette chose white wine as an aperitif, as is her habit, but she very nearly fell for the Shore Old Fashioned, which is anything but old-fashioned (Belle de Brillet Pear Liqueur, green pear and Balconus Baby Blue Corn Whiskey).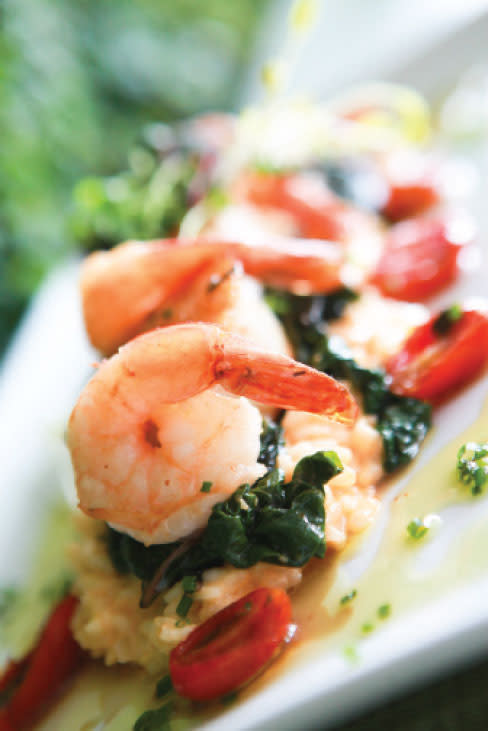 Next, the kitchen and chef Traugutt got to strut their stuff. My appetizer was chicken liver mousse ($8), a dish that used to be a staple on appetizer lists and then went out of style. Shore's version, a very creamy rendition served with grain mustard, croutons and housemade pickled veggies, may bring it back. Across the table, Colette's watermelon Greek salad ($9) combined fresh watermelon with tomato, feta cheese, sunflower seeds, olives and cukes under a lively mint-lime vinaigrette to delectable effect.
For main courses, the chef's penchant for elevating simple, even homey dishes to new heights is on display. A fine example is the Bell & Evans organic fried chicken ($17) that I knew Colette would order. Half a perfectly moist and plump bird, cut up in a way that will surprise you, was fried to a dark golden turn in a wonderfully understated breading that let the chicken take the spotlight. Mac and cheese under a crispy top layer was an admirable sidekick.
Constant readers will nod when I report that I opted for the Key West shrimp and scallops combo ($27), since the succulent bivalve mollusk is among my very favorite things. Again, the kitchen knew precisely what to do with the savory disks of sea scallops, flash browning them to lightly caramelize the surfaces and warming them through to preserve every juicy molecule of flavor. The shrimp benefited from similar treatment, achieving a nice light crust without a bit of breading. The lemon risotto intermingled with wilted greens and roasted cherry tomatoes and accented with lemon oil was as swoony as the shellfish. Perfect!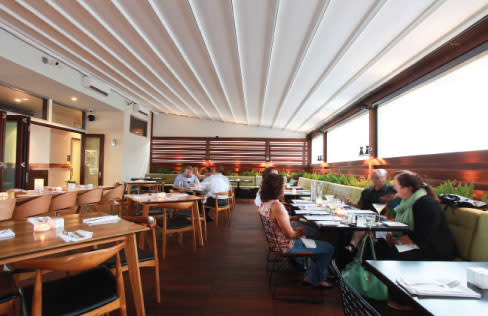 We drank wines by the glass from an admirable list, which allowed us to pair each according to his or her quirk.
For dessert, Colette continued her role as traditionalist and selected a yummy butterscotch pot de creme ($7), while I returned for more of the bar's innovative mixology, delighting myself with a frozen berry bramble ($10), a luscious whiskey slushy. Oh, my!
The Verdict
Shore Diner is another smash hit from the team that brought us Owen's Fish Camp and Nancy's Bar-B-Q, this one set in a breezy, high-design, high-energy nod to the Sarasota School of Architecture.
Shore Diner
465 John Ringling Blvd.
St. Armands, Sarasota
Reservations (for parties of eight or more): (941) 296-0301
Hours: Lunch 11 a.m.- 4 p.m. daily; dinner 4-10 p.m.
Sunday-Thursday, until 11 p.m. Friday and Saturday
Alcohol: Full bar and sassy, well-chosen wine list
Cards: All Major
Parking: On street or adjacent city lot
Handicapped Accessible: Yes (via elevator at rear)
Read all our restaurant reviews.