Article
For Sale: 50 Shades of Green in Laurel Park
Our Real Estate Junkie takes us inside an updated bungalow, complete with a stunning garden, in downtown Sarasota's Laurel Park.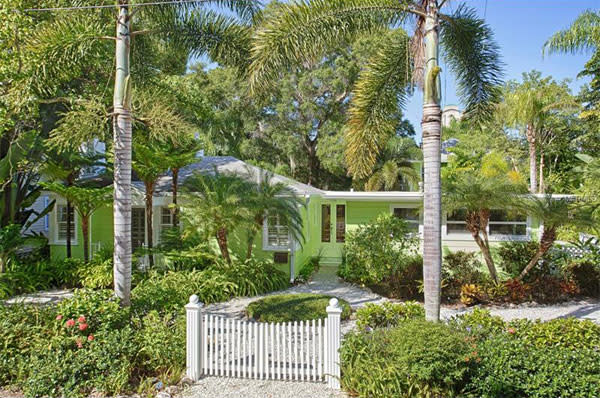 Laurel Park, that area directly to the east of the Women's Exchange, is the most quintessentially Sarasota of all the downtown neighborhoods, and this house is one its crown jewels. The home started out as a bungalow from the 1940s and has gradually transformed over the years into a mini-compound of a house and a garage, plus a guesthouse set in sensational Key West-style garden, where the plantings are separated not by grass but by shell.
The main cottage has 2 bedrooms, including a master with skylights and a fireplace, and the original wood floors. There is also a walk-in wine room. The guesthouse over the garage also has 2 bedrooms. There's also a small pool. The garden is beautifully done, with well-placed tropical plants in every conceivable shade of green. The fact that the house is also green—or is that chartreuse?—makes it even more unique.
I admit I was a little surprised at the price tag—$1,000,050—but the more I look over the competition, the more I realize that's what the nice houses are starting to go for in Laurel Park. And it's no wonder, as the neighborhood would be hard to improve upon. Located just several blocks from Main Street, it exudes charm and an informal, old fashioned Florida feeling. I lived there back in the '80s and '90s and rue the day I moved. Back then it was full of rednecks who parked on the lawn. It still probably has a few, which is what makes it so special.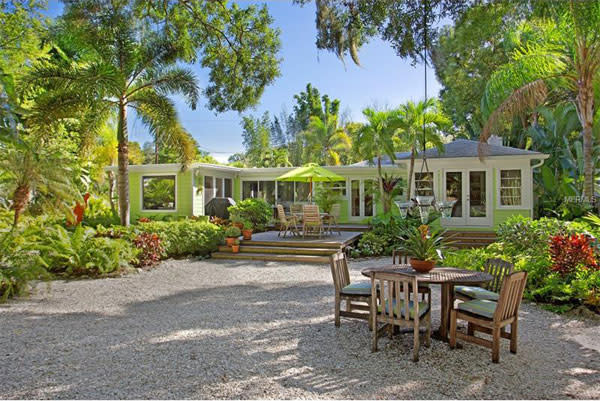 P.S.—why do think that extra $50 is tacked on at the end of the price tag?
542 Ohio Place is priced at $1,000,050. For more info call Dede Curran of Michael Saunders at (941) 928-3255.