Article
A Paul Rudolph-Designed Beach House Stays True to Its Heritage
The home is a tiny masterpiece.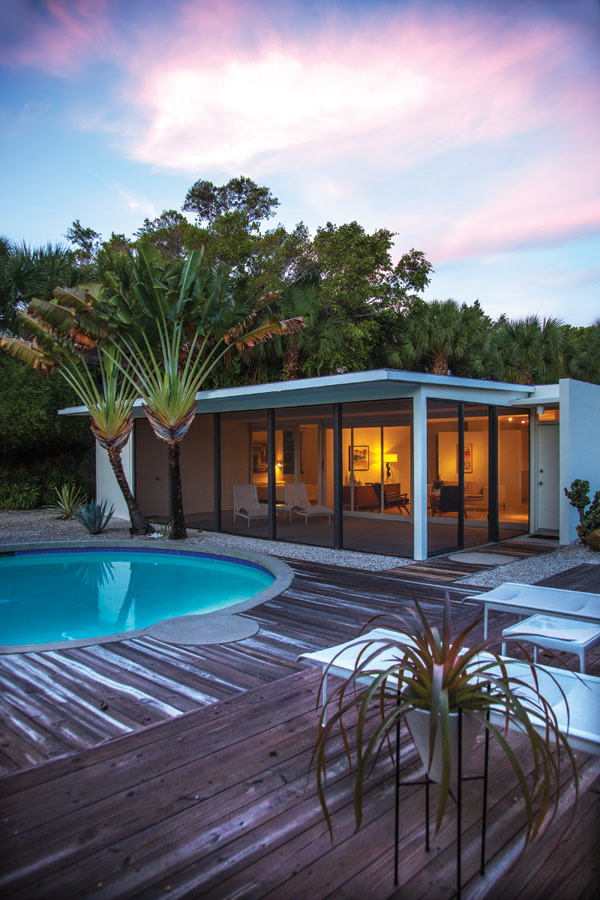 For 30 years Steve Tetreault was the owner—and curator—of a Sarasota classic. He brought a little Siesta Key beach house back from acute disrepair and nurtured it through several of his own lifestyle changes—it was once painted Miami Vice pink and turquoise, and yes, there was a hot tub on the lanai. Today the house is recognized as one of famed architect Paul Rudolph's early masterpieces.
To be accurate, it is designated a "Twitchell/Rudolph" design, Twitchell being Ralph Twitchell, Rudolph's boss at the time. But the house makes a clear statement about what the 29-year-old Rudolph was trying to do. All his signature motifs are there, plus his genius for proportion and space, making the tiny (1,003 square feet) house seem to occupy the entire lot.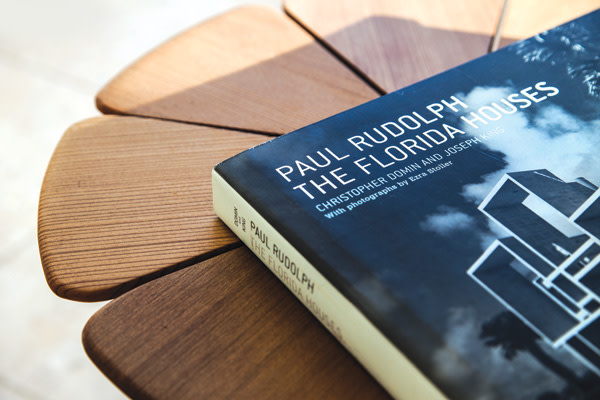 Best of all, it's a house that is quintessentially Sarasota. Just a block from our most famous beach, it's sleek and sophisticated, with the outdoors just as important as the indoors. And like many local residents, it may be 68 years old, but it has never looked better.
This is not to say it hasn't had some work done. A quick comparison with a 1948 story about the house in Architectural Forum shows several significant differences. A second bath has been added, the kitchen has been rearranged, air-conditioning has been installed, a pool has been put in, and the landscaping and exterior spaces have been rethought.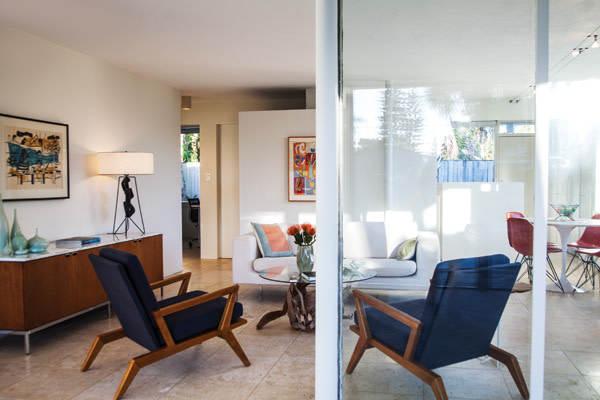 Tetreault first discovered the house when he was 25 years old and living in Siesta Village. It was 1985, and he was working as a hair stylist in his mother's salon on Main Street. The forlorn house had a "For Sale" sign in front. "It was totally overgrown and in bad repair," Tetreault recalls, "but it spoke to me on an unconscious level."
He scraped together enough money to buy the house—he paid $65,000—and did some research. It turned out to be one of the famous Lamolithic homes, a grouping of four beach cottages built as a collaboration between Rudolph, Twitchell and builder John Lambie. It was just after World War II; the Sarasota School of Architecture was finding its footing, and new ideas were everywhere.
John Lambie's contribution was a new form of construction—poured concrete, using metal molds. He also devised a unique cooling system. The flat roof had a layer of shell, which collected rainwater. The trapped water cooled the house. Both innovations have been overtaken by newer technology—wooden molds proved to be cheaper, and air-conditioning solved the cooling problem—but in its day, the Lamolithic method held great promise.
As a young new homeowner with limited funds, Tetreault set to work getting the place back into shape. "I had to take it one step at a time." he remembers. "Every time I got a tax refund check it went into the house."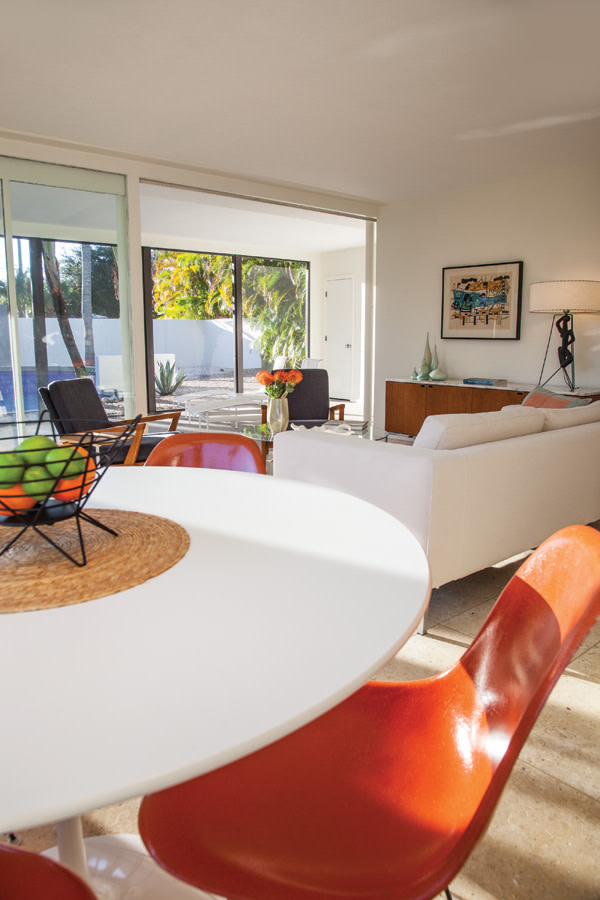 With the help of his friend, designer Norman Hervieux, the changes began. An elegant arrangement of masonry walls was added to shield the home from the street, and the entire property was fenced. The patchy lawn was replaced with shell and artfully arranged cactus plantings. Wooden decking enhanced the outdoor areas.
But when it came time to add a pool, there were problems. No design seemed to work. The geometry of the house was so perfect that to add more straight lines threw everything out of balance. Then one day Hervieux came running into the salon with a sketch. "I've figured it out!" he exclaimed. The solution? A circle.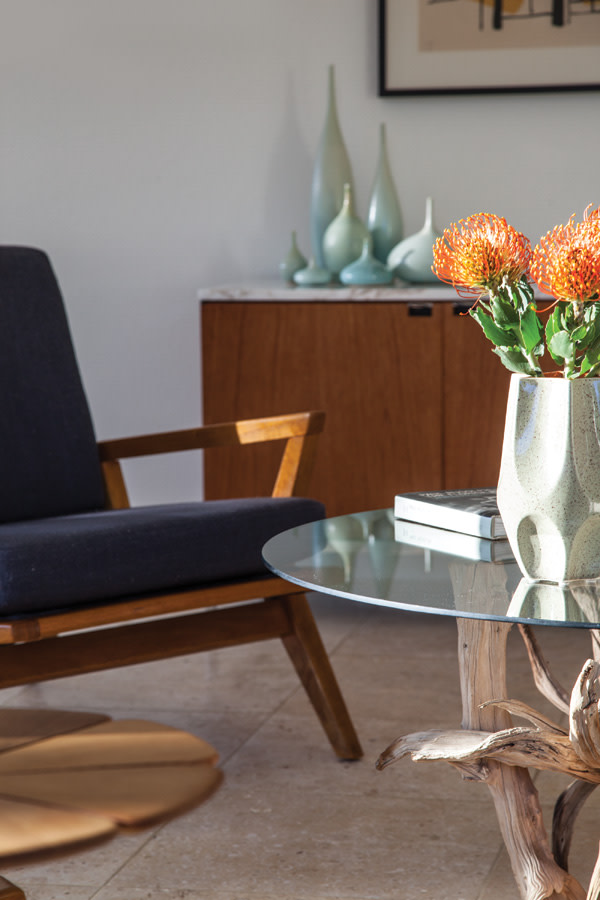 Around 1992, the home achieved its present form. It remains small. "Adding to it doesn't work," Tetreault explains. "The beauty is the simplicity." The living area has white walls and travertine floors. One wall still has the striated concrete effect that Rudolph also used in several other homes from this period. With the help of Hervieux, the kitchen was discreetly tweaked to feel more open and to provide a view out to the pool. Like the rest of the house, it is painted a tropical white.
The two bedrooms have always been simply furnished, as befits a simple beach house, though the closets have been enlarged. The original bath retains its gray and maroon tile, while the newer bath, added by a previous owner, is done in crisp white tile.
Tetreault's career led him to New York, where he works as one of the city's top hair stylists. But Sarasota remains home; he comes down several times a month. Recently he and his partner, illustrator John Pirman, built a new house in the Ringling Museum area. Designed by Michael Epstein of Seibert Architects, it's a grandchild of their Siesta Key Rudolph, with a modernist feeling of light and clean simple lines very much in evidence.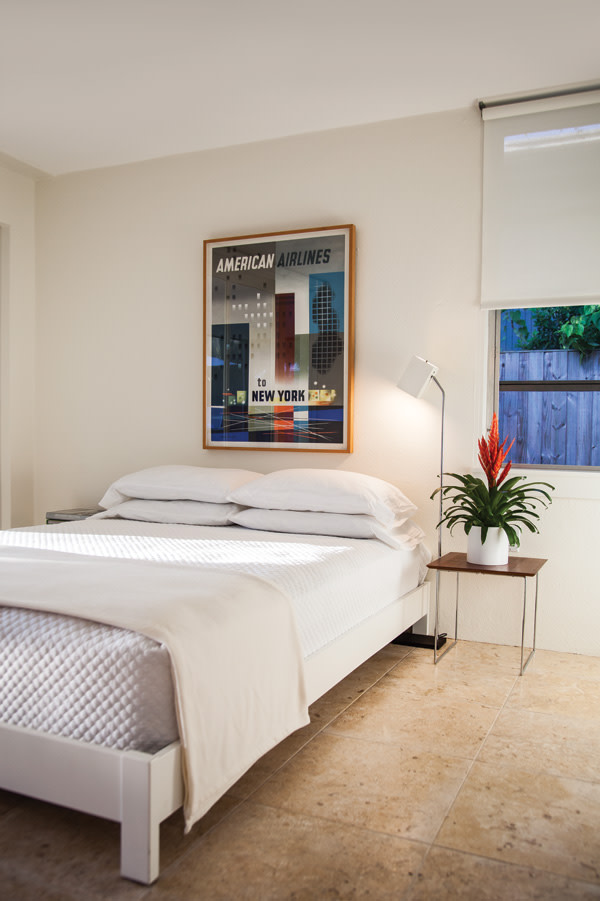 As an indication of the ever-growing respect for Sarasota's architectural heritage, the Lamolithic home, when recently placed on the market, sold in two days for well over its asking price of $800,000. Increasingly published in books and magazines, it's become an acknowledged classic, the manifestation of a key moment in Rudolph's career. Today, thanks to Tetreault and Hervieux, it's more glamorous than ever.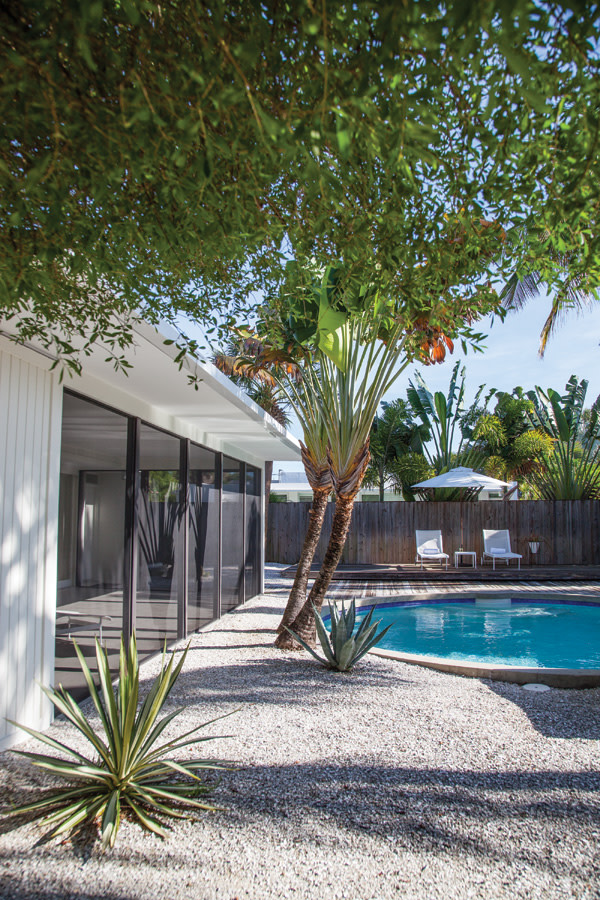 And those houses were not only about glamour. When a similarly constructed Lamolithic building in downtown Sarasota was demolished recently, the wrecking ball hit the concrete wall—and bounced right off it.
For more Sarasota real estate and design news, click here. >>