Article
Tour a Gorgeous Siesta Key Beachfront Estate
Aquadisia is an oasis of calm and beauty on the Gulf of Mexico.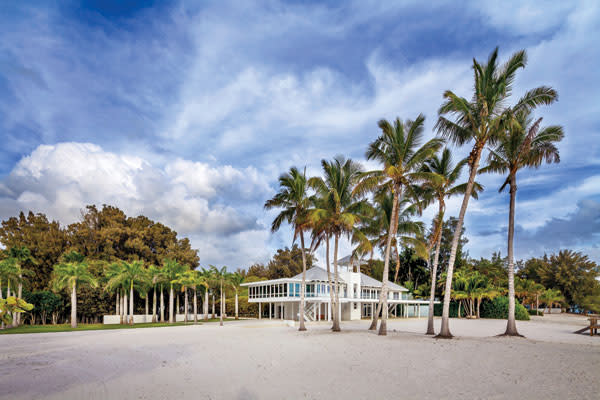 A well-ordered makeover of a modern waterfront estate in Siesta Key's very private Sanderling Club demonstrates the power of landscape architecture to create an atmosphere of contemplation and discovery.
Set on nearly four Gulf-front acres and designed in 1999 by architect Guy Peterson, Aquadisia was named by its owner for her love of the water. And water played a key role in the redesign that was developed by David Young of DWY Landscape Architects, from newly created water gardens to an enormous 40-foot by 30-foot swimming pool and a cascading glass-clad water wall, 30 feet long, that adjoins a spa and fire pit, all carefully placed so they can be seen from inside the home's new glass-walled office and massage room.
The owner had lived in Aquadisia for several years before turning to Young to impose order on its chaotic, if beautiful, natural surroundings. Young's aim, he says, was to unify the house and its landscape while honoring the modernist feel of the home—"these beachfront houses are often somewhat detached from the landscape by virtue of FEMA regulations," he says—and then to create a series of public and private spaces that provide a number of delightful experiences.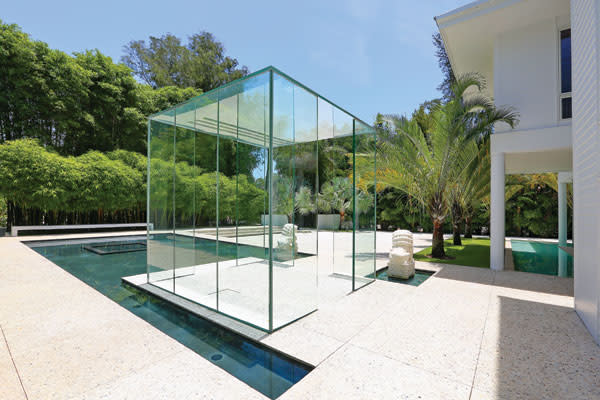 First to be tackled was the front yard, essentially a thicket of Australian pines that had grown to 20 feet wide. Because the pines had served as a privacy screen from Sanderling Road, "It was very shocking to remove them," says Young. "But once we did, the house could breathe." Now, a graceful wall of giant oldhamii bamboo provides that privacy.
The original driveway was just a cut through the Australian pines, and cars would park "within random slots that developed between the invasive trees," says Young. Now, there are two easily identifiable ways to access the residence. A formal allée of royal palms flanks the private owner's entry drive on the north side of the house. The handsome shellcrete drive stops at a grove of slender veitchia (also known as Montgomery) palms set at the Gulf's edge.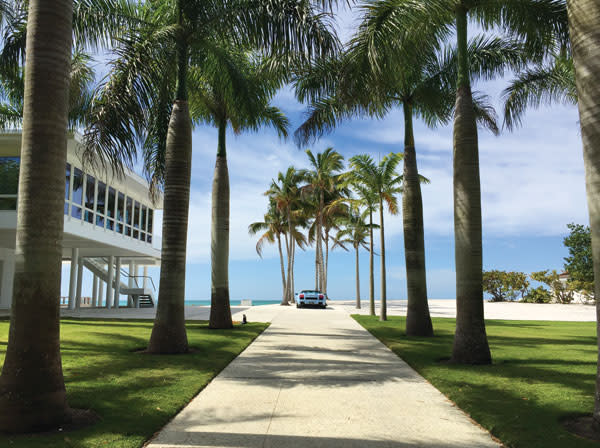 The other, public guest entry drive leads from Sanderling Road into a motor court flanked with Buddha belly bamboo and Bismarck, triangle and royal palms. After they park, guests traverse a concrete walkway set over a water garden to reach the front door. But first they must pass through a floating glass cube flanked by two Chinese marble foo dogs. "We wanted to create this contemplative space you come through before reaching the vestibule," says the landscape architect, "helping you readjust your thoughts after all the hectic aspects of the road and your life and arriving." Young likens the glass cube to passing through a small temple, "a doorway without a door. You come into the space and all of a sudden it's a quiet space. It screens noise and gives you respite from the weather, a moment to pause and reflect."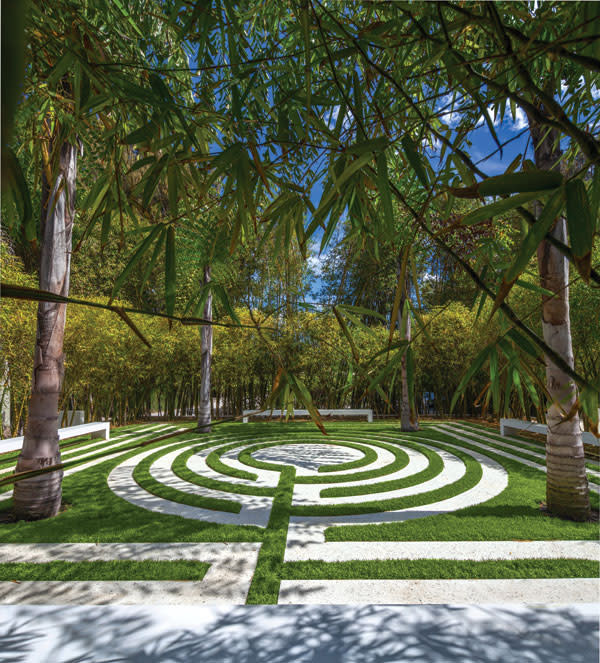 In another nod to the owner's desire for tranquility, a circular labyrinth, made of concrete and zoysia grass, lined with simple Parsons benches and enclosed by a hedge of Buddha belly bamboo, was installed near the downstairs glass massage room. "The idea was to create another private contemplative space," says Young. "As you're being massaged you can look out onto it, or you can walk it before or after.
"The success of the project is about the connection we made to the landscape," says Young. "The labyrinth, the motor court, the glass cube, the water gardens were all very meaningful to the owner, and privacy was key."
And more proof that the project was a success: The owner sold Aquadisia last fall for $11.85 million—the fifth-highest residential sale in Sarasota County history.
Global Garden Experiences
May 24-28, 2016: The Chelsea Flower Show, presented by the Royal Horticultural Society on the grounds of the Royal Hospital Chelsea, London, is considered the world's greatest flower show. It brings together more than 150,000 spectators each year to admire eye-popping botanical displays created by 500-plus exhibitors. rhs.org.uk
Late March-late May 2016: Keukenhof Gardens, near Amsterdam, Holland, is the world's largest garden park, with 7 million bulb flowers blooming within its 80 acres. It's only open for two months each spring to show off its breathtaking tulips, daffodils, crocuses and other bulb flowers. keukenhof.nl/en
March 4-13, 2016: The Philadelphia Flower Show, America's oldest and largest indoor flower show, transforms the Pennsylvania Convention Center into a floral wonderland. Attendance last year topped a quarter-million people. It is presented by the Philadelphia Horticultural Society. theflowershow.com
March 2-May 15, 2016: The ­EPCOT International Flower & Garden Festival, right in our own back yard, is a colorful riot of more than 100 clever topiaries, inspiring mini-gardens and lots of opportunities to connect with Disney horticulturists. disneyworld.disney.go.com/events-tours/epcot/epcot-international-flower-and-garden-festival
March 20-April 17, 2016: Washington, D.C. transforms into a delicate pink-and-white wonderland each spring thanks to the blooming of hundreds of Yoshino cherry trees gifted to the United States by the Japanese government. The National Cherry Blossom Festival includes many music and dance performances, a Japanese Street Festival and a lively parade down Constitution Avenue. nationalcherryblossomfestival.org
For more Sarasota home tours and real estate news, click here. >>