Article
Home Tour: A 1920s Cottage on Anna Maria Island
The home was originally the Anna Maria Island post office.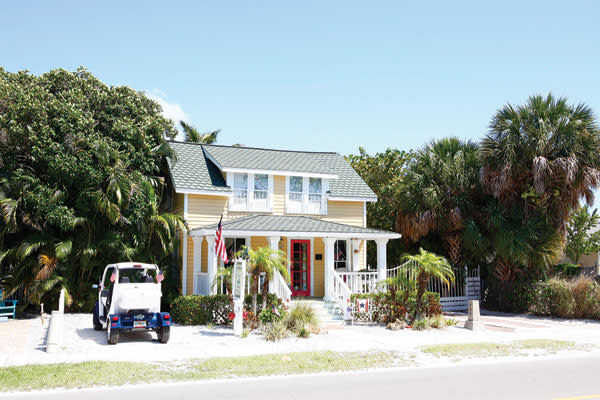 Seasonal residents usually head for cooler climes when summer hits Southwest Florida. Not Bradenton real estate broker Brenda Boyd May and her husband, Milt, the former Pittsburgh Pirates catcher and now Baltimore Orioles hitting coach. From Memorial Day to September and sometimes until late October, the Mays pack up and head instead to their cheery yellow cottage on Anna Maria's bustling Pine Avenue.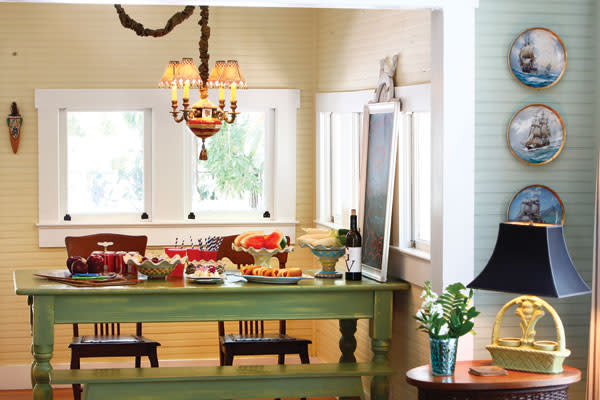 Lovingly restored by the couple over the past 15 years, the 86-year-old Pine Cottage is a delightful hodgepodge of found furniture, quirky knickknacks and family heirlooms. "I go out of my way to make it not look contrived," says Brenda. "My goal was to make it look like everybody in the family gave us something they didn't want."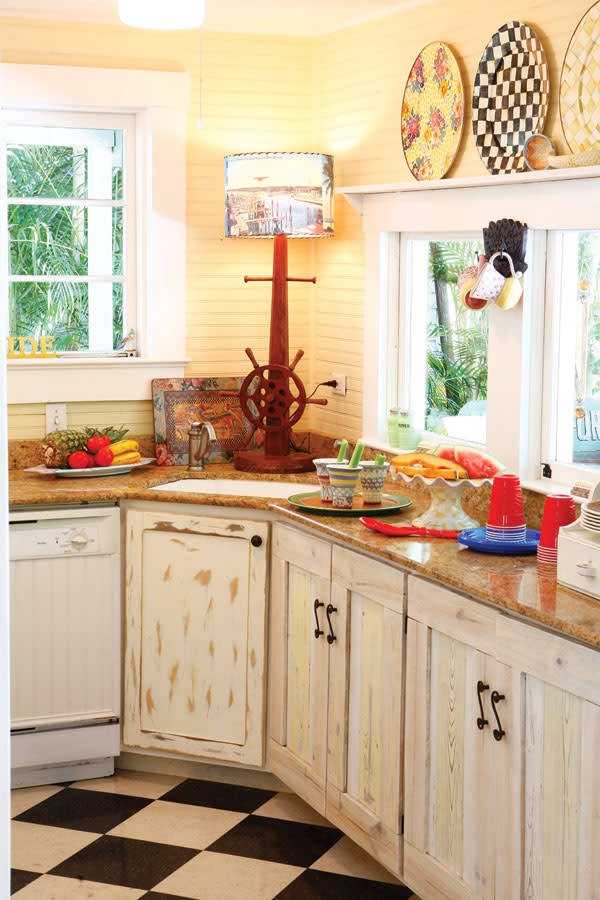 A plaque from the Anna Maria Historic Preservation Trust says the 1,600-square-foot cottage was built circa 1931, but Brenda has found old paperwork dating it back to 1929. It originally was the Anna Maria post office. There's a built-in cabinet now where the post office boxes used to be lined up under the stairs.
When the Mays bought the cottage, Brenda says "It was a mess; there was a dead cat in what was supposed to be the kitchen." They restored as much as they could, including the windows, wooden floors and original beadboard paneling on the interior walls. She uses a front room as her year-round office for Boyd Realty, and she and Milt live the rest of the year in a charming older home on a tree-lined street a block from the Manatee River, in a neighborhood Brenda has dubbed the River District.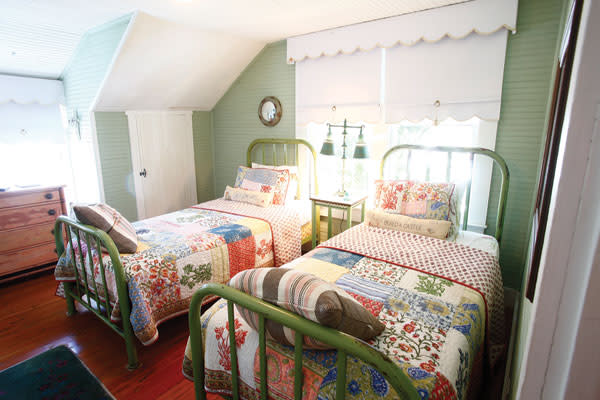 With four cozy bedrooms and three baths, Pine Cottage is summertime home base for their extended family of two children and six grandchildren, who visit often for sleepovers, play in the fish-shaped swimming pool and use the outdoor shower. ("The rule is, in the summer, the grandkids can't take a shower inside," says Brenda. "They love it.") The boys stay in the upstairs Ship's Room, with its old metal-framed twin beds; the girls are in the Shell Room, which is decorated with lots of seashells, of course, and also a quirky framed diorama of an underwater scene made completely of Play-Doh.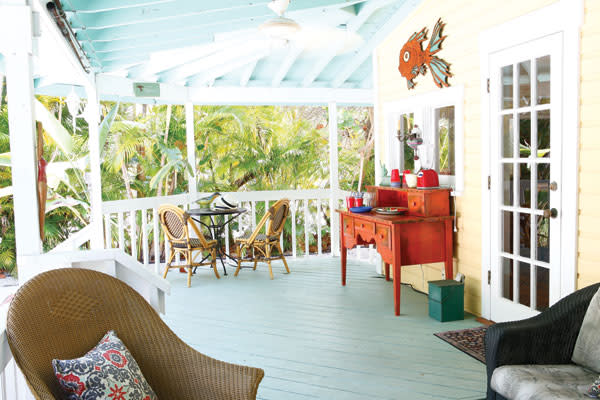 Leftover wallpaper from her home in Bradenton decorates a bathroom; in a lit nook off the kitchen, Brenda displays her mother's circa 1950s orange-patterned enamelware from the family's vacation house on Gamble Creek in Parrish. "I use it every day," she says. Her kitchen cabinets are made of old wood from a friend's beach house. In the corner is a tall standing lamp with lampshade that's decoupaged with a 1960s photo of Keyes Marina on Holmes Beach, which the Mays used to own and called Catchers Marina.
A green metal Hoods milk box, identical to the one Brenda's family had when she was a child, sits outside the back door. And a home base literally stands at the cottage's front entrance; it's a nod to Milt's career that's been a feature in every home they've owned together.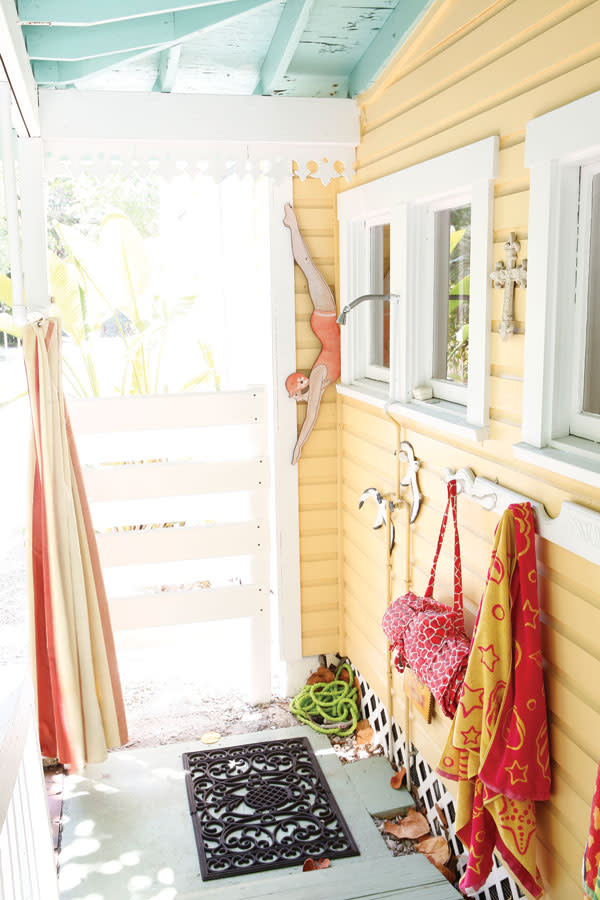 Brenda hails from a family that came to Manatee County in the late 1800s. Her father was Wilbur Boyd, a state senator and developer who built homes on Anna Maria Island and Longboat Key starting in the 1960s. She met Milt one spring training season when he was playing for the Pirates at McKechnie Field. The Mays deck out Pine Cottage each summer in red, white and blue bunting from the original Three Rivers Stadium in Pittsburgh, which they acquired before it was demolished in 2001.
Brenda, who likes to get around Anna Maria by foot, bike and electric cart, says she gets offers to buy Pine Cottage "all the time." But for now, she wouldn't dream of selling. "I'm so blessed," she says. "It's a great life out here, you know."