Island Time
Go Inside Siesta Key's White Sands Beach Cabanas
The cabanas are a piece of Sarasota architectural history.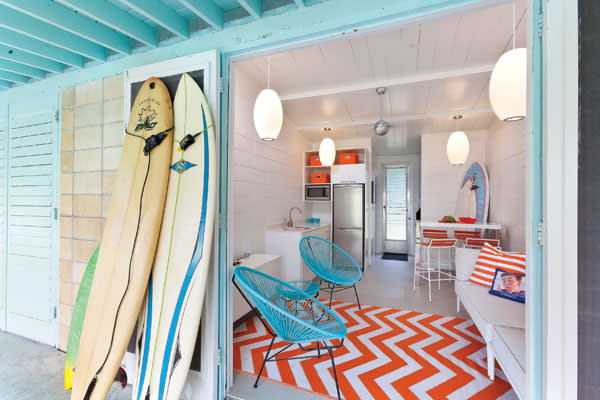 Oh, those lucky 60 families who've managed to snare a space at the White Sands beach cabanas. A quiet piece of Sarasota history, the Sarasota School of Architecture-designed cabana complex is set on seven beachfront acres behind a pair of gates off Midnight Pass Road, midway between Siesta Public Beach and Crescent Beach.
Two long, parallel rows of orangey-tan Ocala-block cabanas—60 total, each 12 or 14 feet by 22 feet—a covered picnic pavilion, community barbecue grills and an outdoor shower are the only things that occupy the otherwise undeveloped property. There's a long stretch of lawn for children to run around, and a sandy pathway lined with native vegetation leads directly to a particularly beautiful swath of beach.
One of architect Tim Seibert's earliest projects when he designed it in 1956, the cabanas ingeniously open up to deep covered walkways and the elements beyond via a pair of floor-to-ceiling louvered doors. Some owners have installed big hooks in the ceilings of the porches from which to hang hammocks. Concrete floors, tiny kitchens and infinitesimal baths are standard.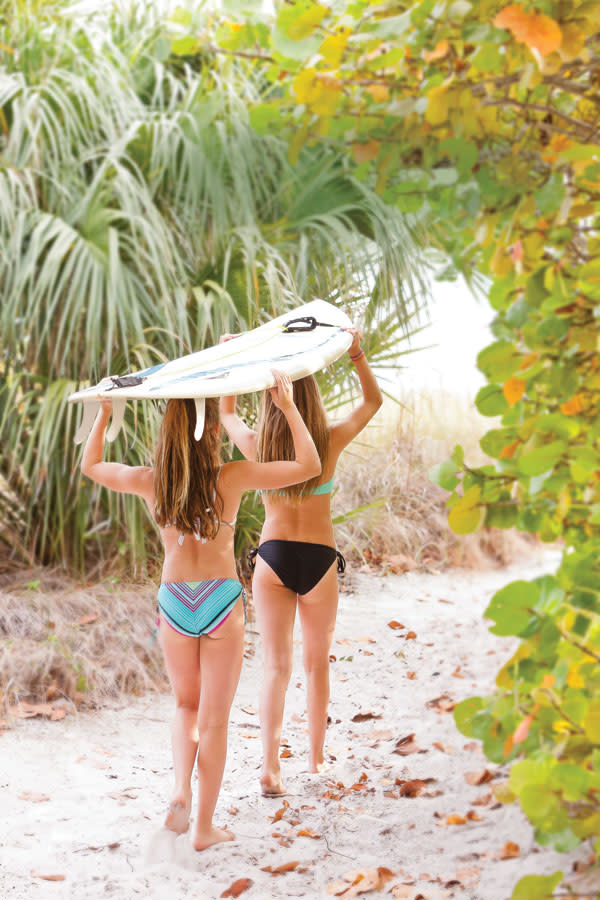 You either have to have inherited a cabana or get on the waiting list, which is always capped at 10 families, according to board president Russell Matthes. Nobody can quite remember what each cabana originally sold for, but these days, Matthew says, they've changed hands for $175,000 to $250,000 each.
Interior designer Jan Bullard recently redid a 250-square-foot cabana for one of those fortunate families, a single father who purchased a cabana so he could enjoy down time with his pre-teen daughters. The motif is Miami Beach circa 1960, with lots of turquoise and orange set against white walls, ceiling and cabinetry. A pair of George Nelson cigar-shaped bubble lamps sets the mod tone. There's a chaise lounge for napping, cool orange bar stools lined up at a white laminate and steel dining table, turquoise wire chairs, a white Ikea "locker" cabinet ("They needed someplace to lock away valuables while they're down at the beach," Bullard says) and a plastic orange-and-white zigzag rug. "There's no heat or air-conditioning, so every product we used is indoor-outdoor," the designer says.
Bullard's partner, Scott Williams, did all the woodworking—horizontal planking above the Ocala block to finish off the walls; a kitchen area with cabinets, microwave and miniature fridge; a tongue-in-groove ceiling with beams that hide the electrical work. He scraped away the glued-down carpet and laid 24-by-24-inch porcelain floor tiles that match the sand. He also built a dividing wall at the entry for a "garage" to hold the family's surfboards and beach equipment.
Several designers own cabanas here: Cameron Cox, Sally Trout, Joyce and Jeff Hart. "We've had ours since the 1970s," says Jeff Hart, who describes the décor as "almost funky, terribly informal, with wicker chairs, multicolored cabana stripes in the drapery and chair cushions—nothing serious at all."
Seibert says his original vision was "a curved design embracing the sea." But the cabana community's founders, led by a retired Col. Baer, "had a very firm idea of how big they wanted each unit and how they wanted it laid out. It was a very simple land plan. I had more complicated projects in mind, but Col. Baer wanted it simple, and he was the boss." Seibert concedes that the group had a point: "It would have been more expensive to build."