Article
Neighborhood Watch: Bradenton's Riverview Boulevard
Riverview Boulevard has been Bradenton's most exclusive address for nearly 100 years.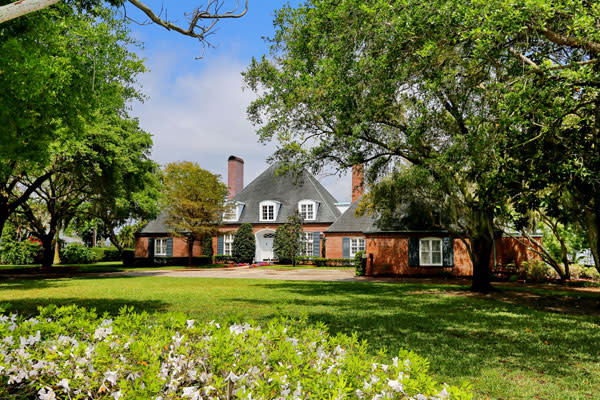 A gracious home for sale at 4422 Riverview Blvd.
Bradenton's most exclusive address for nearly 100 years, tree-lined Riverview Boulevard meanders along the mile-wide Manatee River from 19th Street Court West to 71st Street Northwest, with an eclectic mix of grand old waterfront estates, contemporary McMansions and charming old bungalows and ranch homes on the south, nonwaterfront, side of the street.
Despite its sleepy, meticulously groomed appearance, three new homes were built along Riverview Boulevard in 2014 and another eight are undergoing massive renovations or additions. "There's a lot of action," says Martha Marlar of Premier Sotheby's International Realty. "People are investing in their properties."
In late January, 14 homes were on the market, seven on the river and two on protected bayous, ranging from $525,000 to $2,695,000; and five non-riverfront homes were for sale at $595,000 to $699,000. Marlar's listing at 3812 Riverview Blvd. on McLewis Bayou, a rambling ranch house that accommodates a 60-foot vessel with no bridges to the Gulf or Intracoastal Waterway, went under contract in late January to a working baby-boomer couple new to Bradenton. "It's on a natural, deep bayou with manatees, and there's a real old Florida feeling," she says. It had been listed at $799,000.
Riverview Boulevard's buyer profile is varied. "[The private] St. Stephen's [Episcopal School] and IMG Academy parents tend to be the biggest draws; there are also retiring baby boomers from the Northeast, Illinois and California, and some recent sales from the Czech Republic, France and England," says Marlar. The neighborhood is also seeing buyers from Anna Maria Island and Longboat Key.
Unusual for the neighborhood, at the end of 2014 there were two vacant riverfront land sales, one for $760,500 for 175 feet along the river, and other for $1.5 million for 270 feet of riverfront. "We hadn't really turned vacant land for four or five years," Marlar says. "One is a local buyer; the other is a part-timer from Sarasota who wanted affordable, boatable waterfront."
Stats
Number of Riverview Boulevard homes: 254
Number of sales in 2014: 10 (4 of them on the river)
Range of sale prices: $550,000 to $1.75 million on the river; $270,000 to $649,500 non-riverside
Range of square footage: 3,051-8,467 on the river; 1,437 to 4,262 non-riverside