Article
How to Design the Perfect Outdoor Space
Jessica Napoli of Mark Dalton Custom Design shares the latest trends.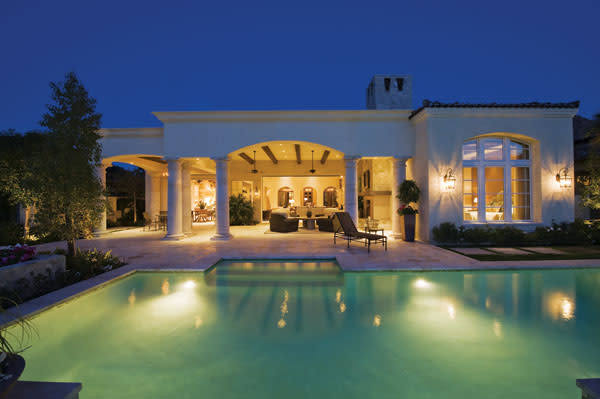 "In Florida, outdoor rooms are part of the way we entertain as well as for everyday living. In a home of about 5,000 square feet, expect to find an additional 2,000 square feet of outdoor living area including the swimming pool and a shaded area for grilling, dining and relaxing."
"In most outdoor spaces there are four zones: kitchen, dining area, lounging space and the pool. The trend today is not to cage the swimming pool, and the most popular pool shape is the square, followed by the rectangle. And the outdoor kitchen is beginning to shrink. Many of today's upscale outdoor kitchens are down to just a luxury built-in grill, ample counter space for serving and a sink. Outdoor kitchen real estate is yielding to larger and more comfortable eating and lounging areas."
"A lot of our clients still want a big, impressive fireplace on a feature wall, and those choosing a fire pit want it built into a glamorous coffee table or other piece of furniture. The rustic look for fire pits is out; a more streamlined contemporary style is in. Homeowners are tending toward powder-coated aluminum and synthetic woven furniture in contemporary styling. Sofas and chairs have cushions of Sunbrella or a similar textile that resists fading, mildew and moisture. The Lloyd Flanders company's Elements line and their Luna collection are typical. Dining tables are getting bigger, and tempered glass is the most popular tabletop."
"We're seeing tongue-and-groove hardwood ceilings stained to harmonize with the color scheme of the space. A wood
ceiling cozies up the space. The flooring should be consistent with the flooring inside; limestone or porcelain tile inside should continue outside. If inside floors are wood, choose a porcelain plank tile in the same color and grain for outdoors. The idea is to make inside and outside look like one continuous space. We truly do live in both places, and it should be hard to tell them apart in terms of quality, styling and beauty."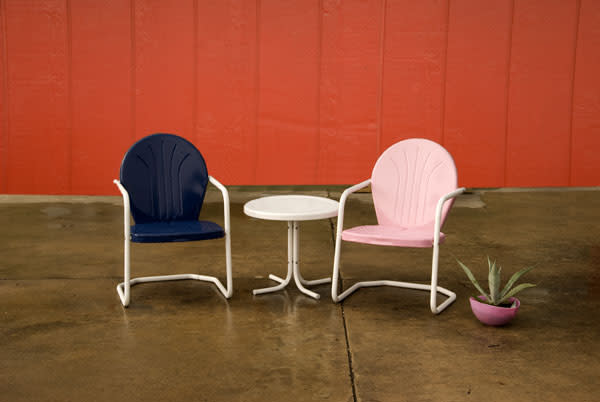 It's a Classic: The Motel Chair
Sit down and savor the memories.
In the 1950s, this simple and inexpensive chair was everywhere. If you traveled Route 66 on your family vacation, you'd see one every time you got a room.
The iconic motel chair (also called the bouncer) was the 1946 invention of sheet metal fabricator Ed Warmack. Made of steel and designed with a curve so that the chair had some give to it (hence the bouncer name), the simple construction featured a wide seat and shield-style back. The original model was stamped with an Art Deco linear design. That chair and other variations sold in the thousands in the postwar years, with motel and hotel owners buying them in bulk.
Production continued until 1996, when bigger, more luxurious homes demanded fancier outdoor-living furniture. But in 2002, fueled by a growing demand for retro products, the Torrans Company began producing the chair again under the name of the Bellaire. It costs about $80 and comes in a dozen colors. And you can still find 1950s originals online. It's a piece of iconic Americana that's become synonymous with the concepts of vacation and the open road.
For more Sarasota home and interior design news, click here. >>