Article
Exactly How to Incorporate the Color Gray Into Your Home
This year's Jewels on the Bay Designer Showhouse reflects the passion for the color gray.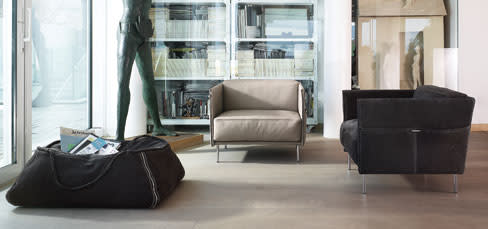 We are now into the third year of a home decor trend that shows no signs of fading. It's the color gray. You can't watch an HGTV show on a home renovation without seeing gray on cabinets, flooring, walls and furniture. Magazines, charity showhouses, model homes, museums, restaurants, furniture stores and our favorite interior designer's gallery—gray, gray, gray. Where did all this gray matter come from, and why are we all so in love with a color that used to be synonymous with a drab day in London?
Designer Eric Cross of Home Resource in Sarasota has observed the arc of gray, and his style background, which includes 25 years in fashion merchandising, gives him the edge in understanding this trend.
"Interior design follows the fashion runway," says Cross. "Influential fashion designers such as Giorgio Armani, Tom Ford and especially Michael Kors caused us to fall in love with gray. That impacted the carpet industry, furniture manufacturers, textile designers, paint palettes, wallcoverings, you name it. Fashion leaders made us see the possibilities of all the wonderful gray tones out there. Gray truly is the new neutral. I don't think it's a fad; gray is here to stay."
Cross adds, "There are warm grays and cool grays. Warm grays have undertones of brown, ivory, caramel, yellow and beige, which has given rise to the color now called greige, a mix of gray and beige. With the warm grays you'd have metallic accents in gold, copper, bronze, brushed steel and brass. Then bring in supporting colors of soft yellow, olive green, tangerine, muted pinks and camel. That gray-and-camel Michael Kors look is really appealing."
Then, the designer says, there's the other gray range. "Cool grays have undertones of blue, purple and greens, and typically the metallics that pair well with the cooler gray tones are brushed steel, chrome, nickel, silver, pewter or smoky mirror," he says. "For accent colors with cool grays I like to see purple and lavender, peacock blue and emerald green. Of course, white and black go with all shades of gray and can be brought in for both cool and warm grays. And don't forget iridescent finishes because they provide subtle glamour."
Cross is one of the dozen or so design professionals showcasing rooms in the Jewels on the Bay charity Designer Showhouse, open to the public from Jan. 19 through Feb. 15. This year's showhouse, on Siesta Key's Midnight Pass Road, belongs to a British couple who has fallen for gray in a monumental way. They painted the outside of the house in gray, and inside they've used a hue of the same color for the walls, ceiling, flooring and trim. Designers installing furniture and accessories in the various rooms of this three-story contemporary home have found creative ways of using gray and supporting colors to make the rooms a chic and stylish study in modern gray.
"If you're thinking of introducing a palette of grays into your own home soon, a tour through the Designer Showhouse will be useful," says Cross, who is doing the game room in the home. "You'll see how the designers layer different shades of gray and introduce a lot of texture to make the spaces inviting and lively. Layering is key when doing a gray scheme."
In his own home, Cross says there is very little gray. "I have an Asian sofa with a black lattice back in my living room that's a family heirloom covered in a red paisley fabric. That pattern determines my accent colors in that part of the house. The rest of the rooms express a palette of creams, beige and caramel with warm wood furniture. I've got leather nightstands in the bedroom and alligator-skin print upholstered chairs in the dining room. But if I were going to do a remodel, I'd choose that Michael Kors camel and gray color scheme with white, ivory and black. It's my favorite way to use gray."
20th Anniversary Jewels on the Bay Showhouse
To benefit the Boys & Girls Clubs of Sarasota County
Jan. 19-Feb. 15
8319 Midnight Pass Road,Siesta Key
Monday-Saturday 10 a.m.-4 p.m.; Sunday noon-4 p.m.
Admission $25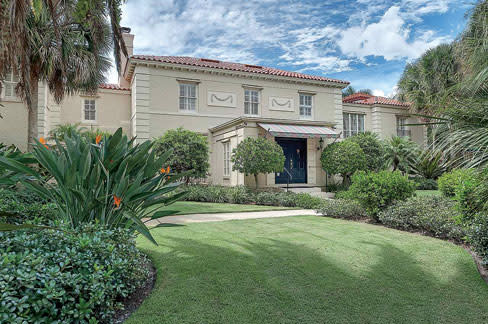 It's a Classic: The Chesterfield Sofa
Comfort and style in a historic piece of furniture.
Few items of furniture are as recognizable as the Chesterfield sofa, named for Philip Stanhope (1694-1773), the Fourth Earl of Chesterfield, who was a British diplomat, writer and expert on fashion and furniture. He supposedly commissioned the first Chesterfield for his home. In classic Chesterfield styling, the back of the sofa is the same height as the rolled arms, giving the piece a wraparound cocoon feeling when you nestle in. The back features snowball tufting, and the sofa usually sits on bun feet. When you see one in a design magazine, you envision the library in a British country home, the common room at a men's club or the family room in your contemporary home. New Chesterfield versions that are particularly fetching are by Mitchell Gold + Bob Williams (about $3,500) and the version that RH produces called Kensington (about $4,000). Many makers of modern-day Chesterfields offer them in velvet, linen and a variety of easy-care fabrics. But tobacco-hued leather rules if you're strict about wanting the classic look.
For more Sarasota real estate and interior design news, click here. >>
This article appears in the January 2015 issue of Sarasota Magazine. Click here to subscribe. >>