Article
Holiday Gift Guide 2014: Christmas Tree Decorating Ideas
Today's Christmas trees come in a world of different themes. Here are four of the best.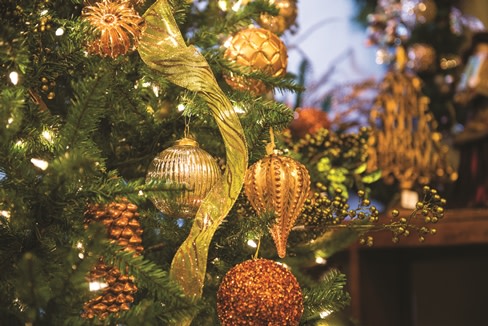 Long ago, in another America, most holiday trees looked pretty much the same. No longer. Holiday trees have become personal and decorating statements as well as celebrations of the season, and no one knows this better than Scott Brann, owner of Christmas Traditions by Lux-Art Silks. Brann's Sarasota-based company sells wholesale to catalogs such as Gump's, to Internet buyers and to commercial establishments all over the world, thanks to his presence at the world's furniture market in High Point, N.C. But at his huge design gallery (30,000 square feet) just off U.S. 301, room after gloriously decorated room is devoted to fully decorated Christmas trees and holiday accessories of all kinds, from sequined reindeer and flameless candles to Byers Collectibles, wreaths and garlands, mantel decor and dining table centerpieces. It's a wonderful place to browse for inspiration for your holiday tree, whether that tree is cut from Northern woods or an artificial creation.
"Every year there are new tree trends," says Brann. "And these color and design stories are established about a year and a half in advance of the public ever seeing them. Many times the inspiration is the fashion runway and popular architectural styles. But tradition often conquers trends at holiday time, so there's room for all kinds of expressions."
The most popular holiday tree in the Christmas traditions inventory is the highland fir in medium green. Brann says that ornaments show up best against a medium green background; you need more lights for darker trees. Fortunately, today's permanent trees come pre-lit. For toppers, a huge, lush bow made of French-wired ribbon is the biggest seller. Then comes a holiday angel followed by the traditional star.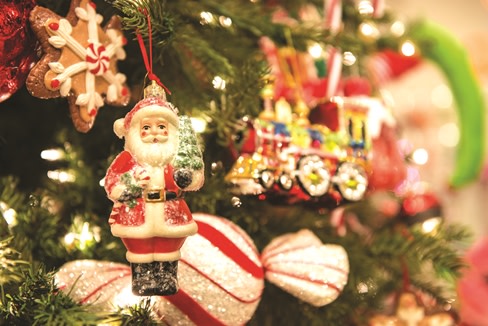 In terms of décor, the tree expert says that in this part of Southwest Florida, the four most popular styles are Traditional, Mediterranean, Sea-side and Champagne. "The traditional is what we grew up with," says Brann. "Red and green for the colors with ornaments that reference Santa, reindeer, elves, candy canes and icicles, along with collected handmade family things passed down through the years. In Florida, homeowners will add whimsical touches to this kind of tree with ornaments that depict Santa on water skis or North Pole elves relaxing in a beach chair. Plaid and paisley wide wired ribbons in deep reds and greens can make this tree look sophisticated. And, of course, garlands that look like strung popcorn, berries or pine cones help tell the story of the traditional tree."
The Mediterranean tree is inspired by one of the region's popular housing styles. This tree is tall and full (to take advantage of high ceilings), and the color scheme is played out in olive green, terra cotta and russet, copper, bronze and burnished gold. Think golden ornaments, gold ribbon, hand-painted glass pine cones and berries, Renaissance angels or musical instruments. Glittery sprays of "sugared" berries and leaves are tucked in branches from top to bottom. Big bow on the top, and miles of copper or gold ribbon woven through the tree.
"The Mediterranean is anything but a casual tree," says Brann. "It's elegant, Old World European and can be quite a statement in a large home." Depending upon how lavish you want to make this tree, it can also be one of the most expensive to do.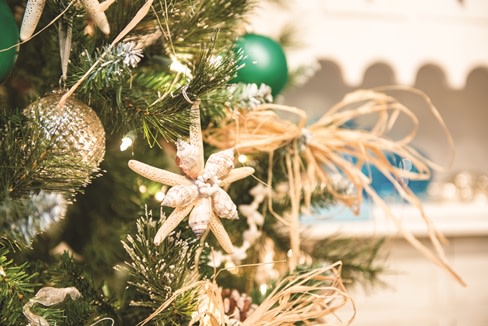 The Seaside tree is highly popular locally in the foyer of country clubs, restaurants, hotels and homes where occupants want to reference why they live in Florida. "This tree can be casual or more sophisticated," says Brann, "but it has essentials such as shells, sea fans, garlands of starfish and ornaments that can include mermaids, turtles, fish, sand castles, seahorses and such. On the casual tree we see raffia as the ribbon, and on the more sophisticated ones maybe wide, white, glittery ribbon or ribbon in aqua or beach-glass green."
Brann says this tree is a popular choice for snowbirds spending part of the holiday season in Florida because they want something totally different from the kind of decorating they do "up North." It's also a great second tree to put on the lanai or covered patio or the room that has the water view.
A newer style tree, dubbed Champagne, has zoomed in popularity and expresses a chic and modern aesthetic. This fashionable tree would work in pricey high-rise condominiums on the water or in the loft of a young professional couple who want a holiday centerpiece that's sleek, urban and basically monochrome.
"The tree itself is the color of champagne," says Brann. "And all the ornaments are in the subtle shades of sparkling wine. This tree is about texture and the kind of sophisticated modern glow it casts in a room. Ornaments tend to be champagne-colored glass, copper, gold and platinum. The finished tree is stunning, and people who always thought they'd have to have a green tree are still drawn to this one." The Champagne tree is probably the least "seasonal" of the quartet of currently most popular holiday trees, but its fresh, modern and grown-up urban attitude makes it right for the times and tastes of people decking their halls and walls this time of year in Florida. •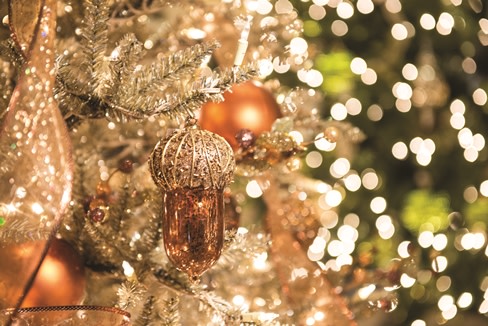 Photography by Barbara Banks