Article
Home Tour: Lido Beach Vacation Cottages
Jenny Acheson and Dale Rieke turn a Lido Beach triplex into ultra-cool cottages.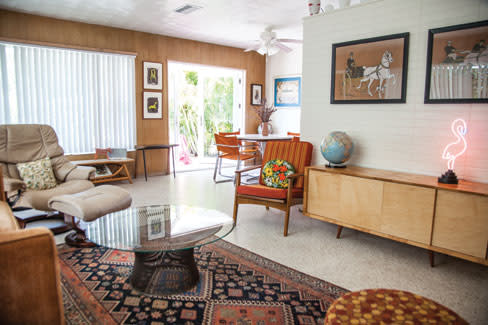 Free-spirited professional photographer Jenny Acheson, born in Zambia to British parents and reared all over the world, and custom furniture maker Dale Rieke, a near Sarasota native (and "mad surfer," Acheson says; "he's just obsessed") bought a triplex a half-block from Lido Beach two years ago and rehabbed it into a complex of three vacation cottages they call the Lido Beach House. Fresh and bright, with a midcentury modern vibe, the Lido Beach House (lidobeachhouse.com) welcomes guests from all over the world, and offers a refreshing design alternative to the shell-and-fish décor of so many coastal cottages. Oh, yes, the new innkeepers also got married during the project.
Why Lido Beach?
"Dale has loved Lido since he was a child. He calls it his Hundred Acre Wood. We saw that the building was for sale in 2012, and every time we drove past, it became more obvious that it had our names written all over it. We patiently waited six or seven months and got it for the price we wanted. Now I [jokingly] think of myself as Sybil, the wife of the innkeeper on [the BBC comedy], Fawlty Towers."
What attracted you to this property?
"The complex was built in 1960, and the bones were good. We could see it had a lot of potential. We love the terrazzo flooring, and I fell in love with those [original] bathrooms—the bright blue tiles, the pink—it was all new to me. I honestly think the bathrooms and the terrazzo were what sold me."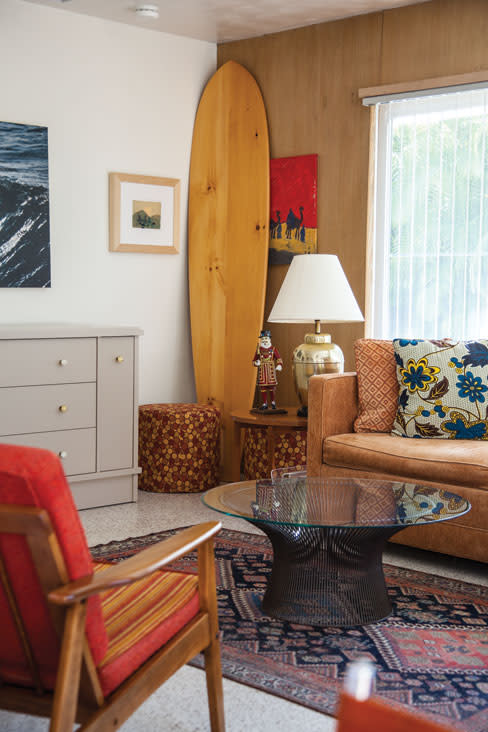 You've veered from the usual coastal cottage décor. Why?
"The cottages were Florida kitschy and worn. We found after a couple of days we couldn't live with any of the stuff, so we had it all picked up by the Pines. Then we started filling it with modern furniture both that Dale has made and that we'd acquired over the years from the Elliot Bernstein auction house. As for the knickknacks, Dale and I are well-traveled, and I'm a ridiculous collector of all sorts of things—globes, African sculpture and masks, blankets from a company in Cape Town called Shine Shine that we lugged on and off several flights. Then when I got to Florida, all this '50s stuff presented itself—bowls, lamps, artwork. There's so much stuff, it's almost nutty. But when you're in there, somehow, it's kind of fun. Guests love staying there for a holiday because it's cheerful and a bit kooky."
Where do your guests come from?
"All over. In season, they come from cold-weather locales, the Northeast, Midwest. We've already had several return visitors from New York City and Boston. And we've had guests from Germany, France, England. They book through Airbnb."
What special amenities and touches do your guests enjoy?
"I often put out hand-made soaps, coffee beans from Java Dawg and local honey, all from the downtown farmers market. I put out PG Tips tea bags from the U.K. and am quite proud of my queen mug collection in the one-bed unit. All the kitchens are stocked with olive oils, balsamic and other essentials for cooking. We also provide a collection of vintage and new bikes, including a crazy Schwinn tandem bike. We also provide surfboards—Dale has been known to give a lesson or two—snorkels and flippers, beach umbrellas and chairs, and we are planning to buy a kayak in the near future."
What local attractions and experiences do guests like?
"We always recommend that guests visit the downtown Sarasota farmer's market; people enjoy walking around that on a Saturday morning. The Van Wezel for shows, the Ringling Museum. Dale and I go to the opera, and we tell guests that here you can get a ticket for $35 and see the most amazing production. We also suggest they visit Lido Shores and other areas to have a look at all the Sarasota School of Architecture houses because I'm fascinated with that."
Do you mingle with your guests?
"Dale and I are friendly. I like to leave a bottle of wine along with a list of restaurants and places we like to go to, and we often hang out and enjoy wine with our guests. That's what we like when we go overseas, someone to show us the local flavor. We really, really enjoy being there. It's so easy to share that with our guests."
What's your next project?
"Our friend, landscape architect John Wheeler, recently landscaped the courtyards in exchange for Dale building him a kitchen. John added traveler palms and a row of areca palms, and pitch apple out front. We added subtle lighting for nighttime. It changed the dynamics of the place. People from the three cottages often hang out together in the courtyard. We have plans in the future to put in a deck so we'd be able to have yoga retreats."
Glad you did it?
"It's totally wonderful. The only thing I say is, you do have to realize it's always going to be a work in progress. Dale has rebuilt the kitchen in the studio, but I want a new kitchen in the front unit, cabinets in the middle unit. Sometimes I get my knickers in a twist because it's not going fast enough. But we're getting there, we're getting there. You have to just love every part of the process."