Article
The Best Sarasota Real Estate Listings of 2014
From celebrity buyers to tony teardowns, Bob Plunket dishes on the deals, steals and scoops of the year.
It's been an exciting year for the Real Estate Junkie. Some wonderful houses have come on the market, true, but my big scoop was the news that fashion mogul Michael Kors bought a 2.25-acre piece of beachfront land on Longboat Key—for $6 million. That story even made the national news. That it took six months of rumors to finally come to the surface only goes to show you how discreet Sarasota realtors are. They really do keep their mouths shut, and getting that story was like meeting Deep Throat in the parking garage. And there were a few other transactions that involved celebrities.
From celebrity buyers to tony teardown, our Real Estate Junkie dishes on the deals, steals and scoops of the year.
Michael Kors' Longboat Key property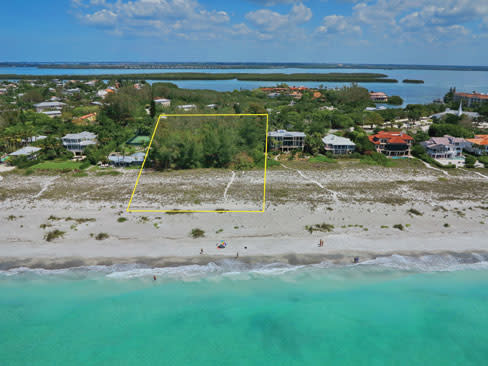 Kors and his husband, Lance LaPere had been looking around for quite some time, sneaking into town to check out property and test our beaches.  I do know they looked at the Melk house on Siesta Key. They didn't buy it, but somebody else soon did. It sold in May for $10.25 million, thus becoming The Biggest Sale of the Year.
The Melk House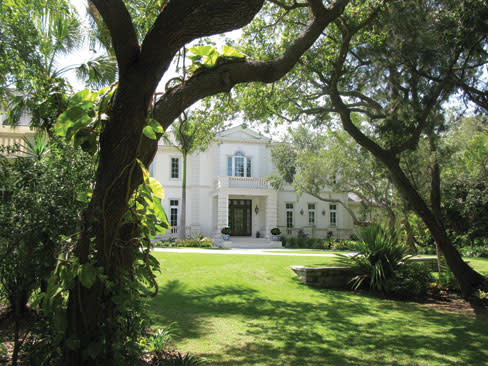 The Melk house was built by John and Karen Melk, who made a fortune with Blockbuster Video. It's both walled and gated, and it can't be seen from the road. There's even a little private beach. Clifford Scholz designed it (he's the guy you go to when you want something traditional but very high-end), and it's done in the Colonial/Coastal style, which mixes Charleston, Barbados, Palladio and Georgian. It's a timeless, elegant look, and everyone agrees it has firmly supplanted Med Rev as the new look of Florida.
Seles' Laurel Oak Home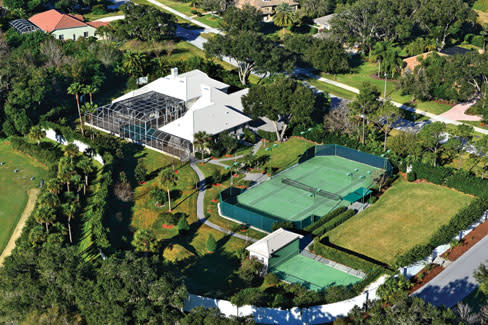 The other celebrity news is that Monica Seles is selling her home in Laurel Oak, which she built in 1993 and has lived in ever since. One look at the pictures and you can tell that this is the home of—and I mean this in a good way—a control freak. Not one thing is out of place, there's nothing to get in the way and distract, and the tennis court, basketball court, pool and exercise building are clearly the focus of the lifestyle. Monica is asking $1.85 million.
By the way, check out the state-of-the-art drone tour of the Seles home on YouTube. The camera swoops up and over the home like special effects in a Hollywood movie. It's like a preview of the future of real estate advertising.
Homes for the Hipsters
But no time to linger in the world of the rich and famous. Let's move on to Bradenton, which, as you read in our May issue, is fast becoming the new hipster hotspot for the young creatives, plus some creatives not so young. Where do these people live? Hipsters need lofts, which Bradenton really doesn't have. But it does have some nice old picturesque houses that are perfect for the artistic spirit, particularly the spirit without a lot of money to spend.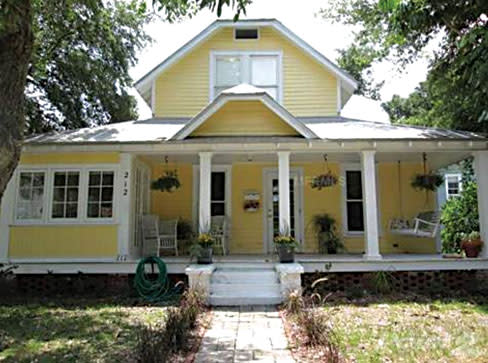 212 28th St. W.
Here's a vintage two-story home that dates from 1920, with a Norman Rockwell front porch, a fireplace, the original wood floors and an old-fashioned sunroom. It's got three bedrooms, one-and-a-half baths, and is located in a terrific neighborhood north of Manatee Avenue near the Garden Club. Priced at $169,900.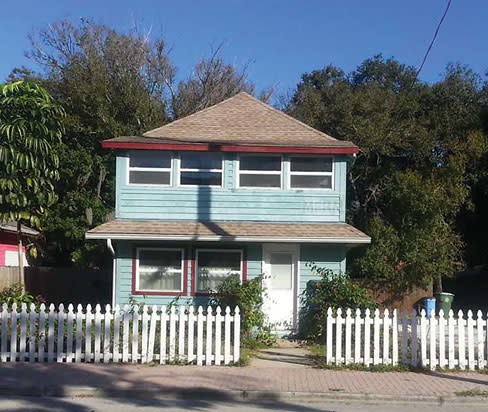 1302 13th Ave. W.
If you want to sell your artwork right in your living room, here's a nice old house (built in 1920) in the Village of the Arts. It has special live/work zoning and is surrounded by other artistic enterprises and hip restaurants. They're asking $110,000.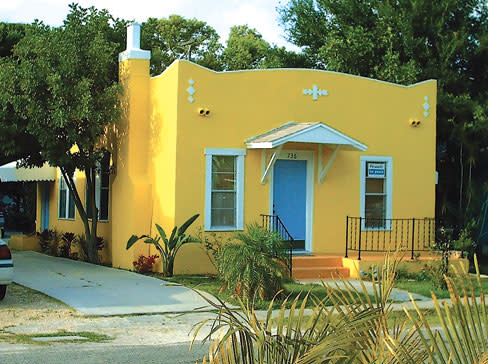 736 27th Ave. W.
And if your artwork really isn't selling, here's an old 1920s Spanish cottage in a scruffy neighborhood near the Village of the Arts. It has a new roof and a certain funky charm. Anyway, the price is right: $39,900, with as little as 5 percent down.
Design Standouts
If you're looking for a slightly purer architectural statement, there are plenty of good ones closer to home.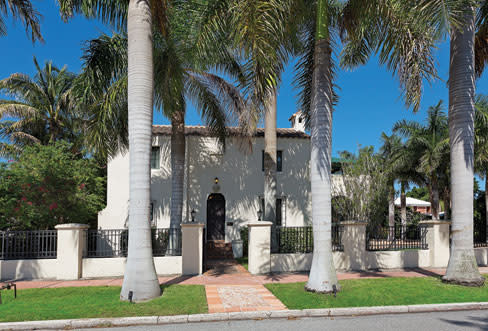 76 S. Washington Drive
Dwight James Baum was Sarasota's premier architect in the 1920s, responsible for the Cà d'Zan and the Sarasota County courthouse. For his patron, John Ringling, he also designed three "model homes" on St. Armands, two of which survive, including this Med Rev classic that just came on the market. They say Mable Ringling's sister used to live here and there was once a circus mural in the dining room. The house has been beautifully updated; it's priced at $1,499,000.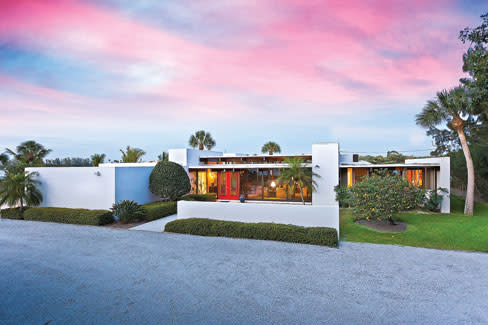 3727 Sandspur Lane
Tim Seibert of Sarasota School fame designed this sleek, classic mid-century home in 1965. It's been owned by the same family ever since, until it finally came on the market in April. Tucked away on a cul-de sac on Casey Key and set on three-quarters of an acre, it's got 150 feet of bayfront, three bedrooms, two baths and lots of original features. It's listed at $1,985,000.
4548 Camino Real
Modern-day heir to the Sarasota School, Guy Peterson designed this home near the Field Club in 1990. Very geometrical and beautifully proportioned, it features many variations on his famous grid pattern, with glass block and windows in unexpected places. A freestanding wall by the pool, painted a deep rose pink, pays homage to the Mexican architect Luis Barragan. Priced at $2,495,000.
The South Rises
If you're starting to hear real estate rumblings from down south, so am I. Now pretty much recovered from the double whammy of Hurricane Charley and the recession, Port Charlotte and Punta Gorda are finally crossing over from unhip and out of the way to perfectly acceptable. The proof? Harold Bubil moved there. Yes, the real estate editor of the Herald-Tribune, the guy who knows more about real estate in Sarasota than just about anybody else, now lives in an old house in the historic downtown of Punta Gorda. And have you noticed all the Port Charlotte segments on House Hunters on HGTV? It's the up-and-coming place on the west coast of Florida.
The big appeal of the area is the Charlotte Harbor estuary, the second largest in the state. Water is everywhere, and along with it, waterfront property, much of it still at very reasonable prices. True, the arts, restaurants, and sophistication of Sarasota have yet to appear, but for many newcomers, the superior boating, fishing, swimming and golf more than make up for it. Those are the reasons people move to Florida.
Port Charlotte is on the northern side of the estuary. I've never quite figured out where the downtown is, but driving around you'll find mile after mile of pleasant, mostly newish, ranch and Spanish-style homes. Canals are everywhere, and you can easily find a nice place on the water for under $300,000. Here's an example: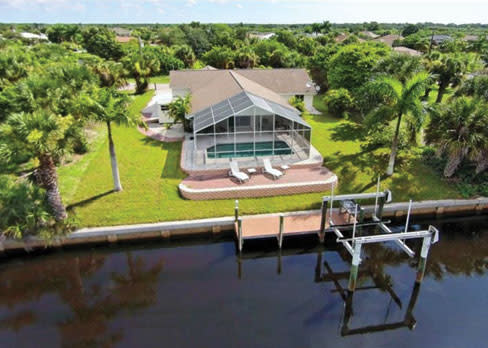 17155 Horizon Lane, Port Charlotte
This home is archetypal Port Charlotte. It's got three bedrooms, two baths, a pool, and a quarter-acre of land. It's on a canal, with a dock, a boat lift, and the all-important fish station. It's listed at $239,000.
Punta Gorda, just across the bridge to the south, is the real find down here. It's a cute little town with a historic downtown that boasts some nice shops and restaurants. Again, you'll find miles and miles of homes on canals—particularly in upscale Punta Gorda Isles—but the most interesting real estate can be found downtown. Like this beauty:
401 W. Retta Esplanade
Built in 1893 by one of the original settlers, this four-bedroom, 5,600-square-foot home is about as elaborate as it gets in Punta Gorda. Enlarged and completely renovated in 2008, it has top-of-the-line everything—even a FEMA hurricane room. From the wraparound porch you have full views of the harbor. There's a price tag to match: $1,199,000.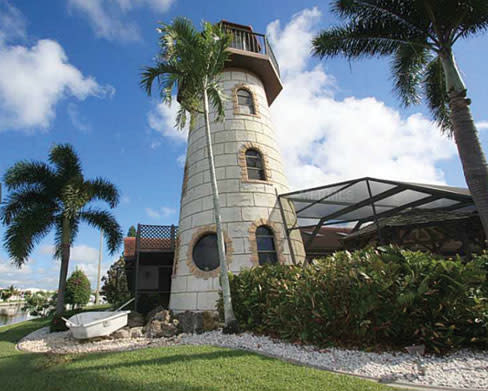 1151 Treasure Cay Court
Still, I think I'd go with the Lighthouse House in Punta Gorda Isles. Built in 1985, it's enormous—almost 5,000 square feet—with five bedrooms, two kitchens, 290 feet of water frontage, three docks, and of course, that famous lighthouse—which contains, not surprisingly, a bar. It's listed at $769,900.
The Magnificent Teardown
The "teardown" issue is a big deal in Sarasota real estate. So many older homes are sitting on the best lots in town. Economics dictate that they be replaced with something more fitting for a trophy piece of land.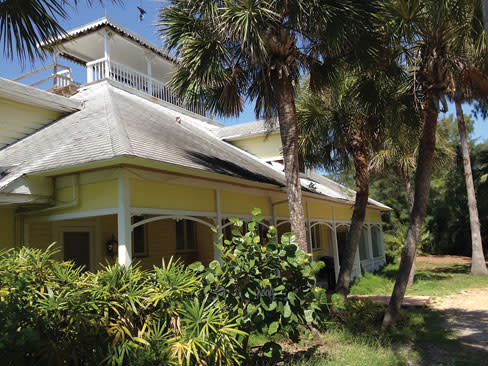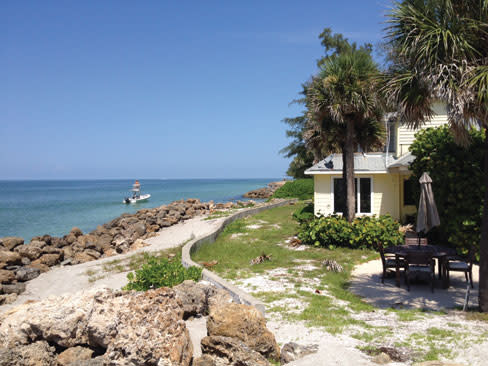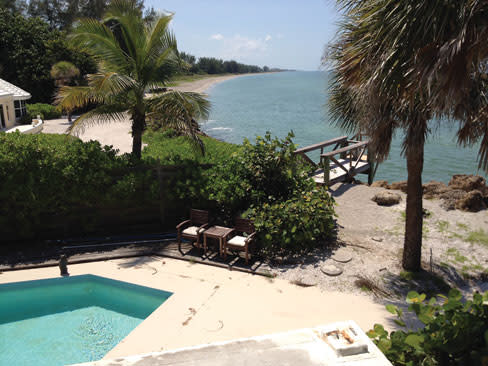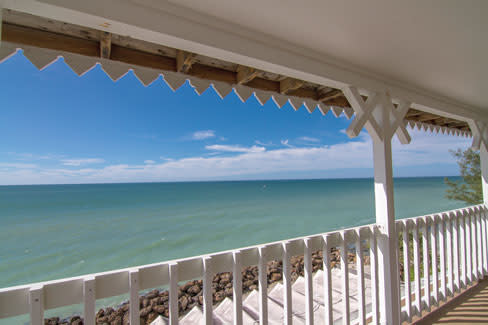 7808 Sanderling Road
A case in point: This spectacular setting in Sanderling, the ultra-tony gated community on Siesta Key, has a jaw-dropping view that stretches up and down the coast. And there, barely 20 feet from the water itself, on a piece of land worth $3 million, sits an old shack.
But what a shack. For all its rickety woodwork and handmade feeling, this must be one of the most movie-set-worthy homes in town. In fact, it was recently up for a starring role in a major Hollywood production.
No one is quite sure when it was built—probably the 1950s, although over the years it's acquired a certain Key West gingerbread patina that makes it look like a timeless piece of Americana.
Inside it's surprisingly upscale, although still a little more shabby than chic. The view from the living room is a bit startling—you're so close to the water you're afraid you might get splashed. There's a nice pool off to one side, and a guest house/garage behind it. But the perfect little beach shack's days are numbered. It's currently on the market for $2,995,000, and no one seriously believes it has a future other than demolition. All the more reason to take some pictures before we say the final goodbye.
The New Downtown Condos
What about the future? Big changes are coming to downtown Sarasota. A new wave of condos is under construction, and when they are finally completed in a year or so, we will have a new skyline. Most of the buildings will be "boutique" style, meaning they are rather smallish and will fit right into the existing cityscape.
The big difference? They are "modern" as opposed to "Mediterranean." Gone are the arches, quoins, cupolas and stucco in various shades of beige. The new buildings are all glass and steel, with sleek, crisp lines and angles. It's like the Sarasota School of Architecture is finally winning out, after all these years.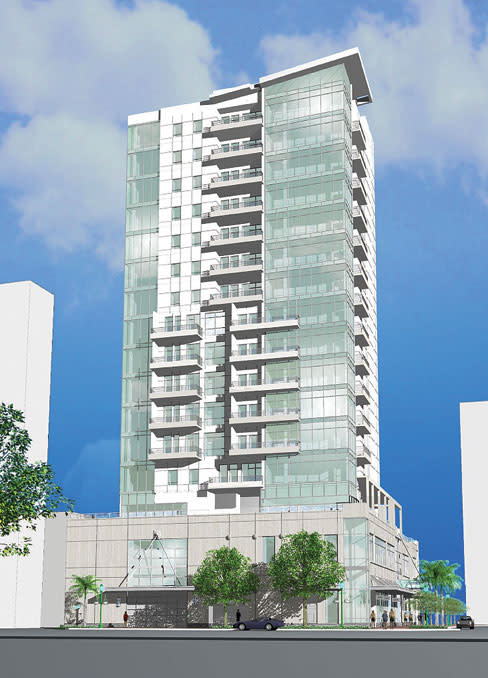 The Jewel
One of the most noticeable will be The Jewel, right at the foot of Main Street. Designed by local architect Gary Hoyt, the 17-story building is—according to its website—already sold out, except for one apartment on the 10th floor priced at $3,295,000. The Jewel has all the usual amenities (pool, gym, open-concept floorplans)—even a coffee-table book about itself.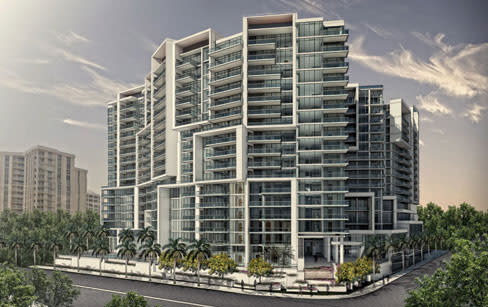 The Vue
One building that will definitely not blend in is The Vue, at the corner of U.S. 41 and Gulfstream Avenue. This behemoth will dominate the city as no other building before it—it's got two 18-story towers, with 144 condos and a Westin Hotel. Here, many of the apartments are smaller—several floor plans start at around 1,700 square feet and will go for under a million—but the cumulative effect of all that activity at what is already the busiest intersection in town is yet to be determined.
And the Listing I love Most...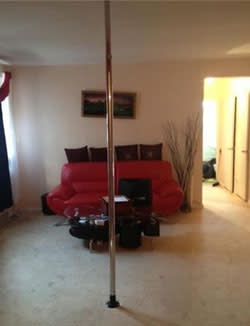 Yes, we had some spectacular properties on the market this year, but the MLS listing I may remember longest was this nice middle-class house in the north part of town. At first I thought there was some structural support holding up the ceiling. But the closer I looked at the mirrors and strategically placed sofa, I realized—stripper pole. Say what you will, the proper staging really can sell a house.
For more from our Real Estate Junkie, click here to read his weekly blog. >>
This article appears in the October 2014 issue of Sarasota Magazine. Click here to subscribe. >>