Article
Go Inside a Guy Peterson-Designed, Island-Inspired Modern Home
A Guy Peterson-designed modern home salutes its Sarasota roots and island setting.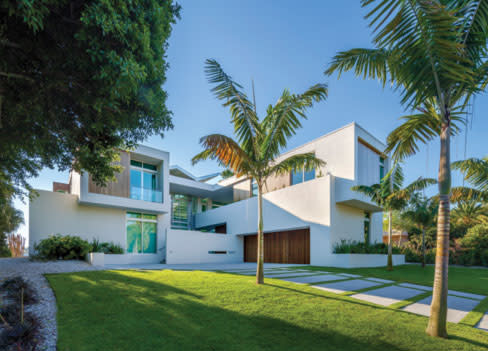 A client's unconventional request provided the design inspiration for architect Guy Peterson's new Ashridge House, located in a small gated community on one of the area's barrier islands. "The homeowner told me, 'I don't want anything weird, but I do want something that refers to birds in flight,'" Peterson says. (Could it be her nesting impulse?) His solution—a distinctive V-shaped roof with upturned "wings"—also satisfied the community's deed restriction that all homes must have pitched roofs.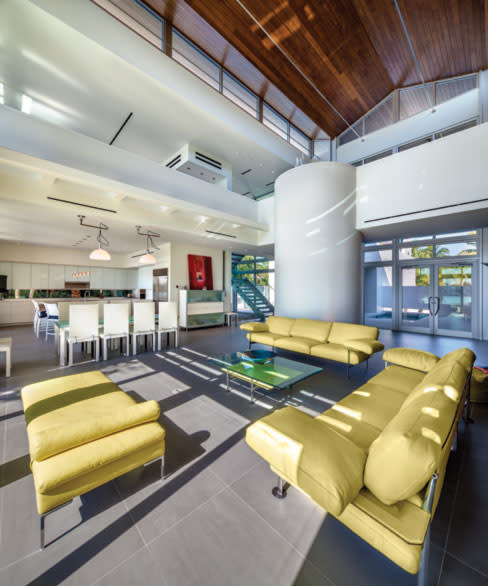 At just over 6,000 square feet, the Ashridge House is out-of-the-ordinary in other ways, too. Because it's very much a multigenerational getaway home, there is no master bedroom; rather, there are four bedroom suites of equal size for the homeowner and her grown children, and two smaller bedrooms for the grandchildren. A second-story guesthouse above the garage, separated from the main house by a covered bridge, has an office, bedroom and bath.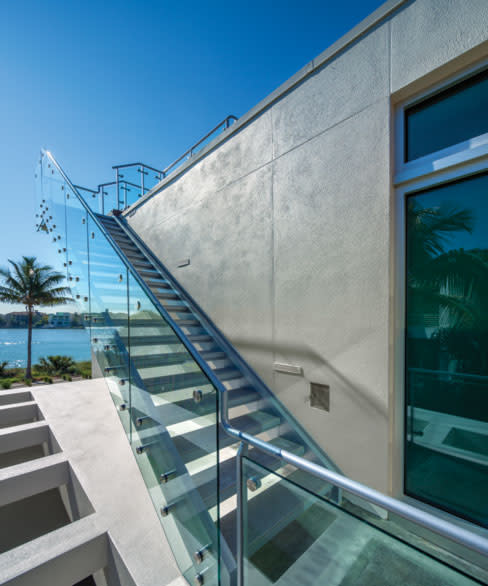 Peterson describes the house as "basically two horizontal tubes connected by a glass box." The left side is the bedroom wing; the right side is the kitchen and other public spaces; the middle is the living-dining room, which opens up to a lofty 28-foot ceiling clad in handsome carbonized ash. (Select interior and exterior walls made of carbonized ash throughout the home warm the spaces beautifully.) Strung across the open space at near-ceiling height are three delicate stainless steel rods that contain LED lights.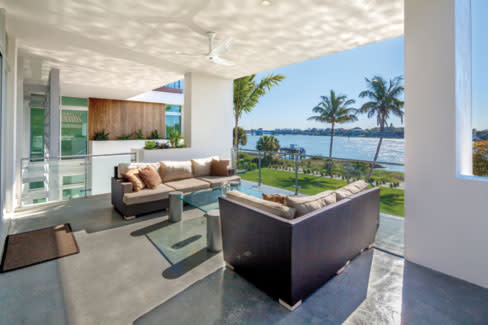 A space-age white, floor-to-ceiling cylinder opposite the front door is actually a cleverly concealed powder room. The all-white kitchen has white-glass cabinets, a huge, 12-and-a-half-foot-long Corian bar, and, instead of a backsplash, clear glass cutouts that bring in views of the tropical landscape.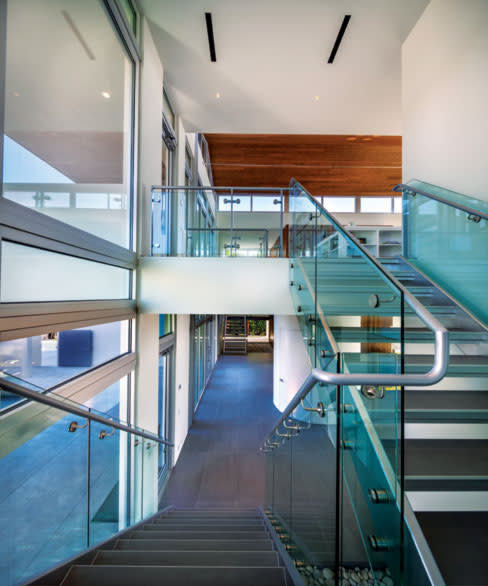 Peterson designed an imposing grid of aluminum screens on both the north and south side of the house to provide sun protection and privacy, with custom-made louvers that filter both views of the neighborhood and the reflected light off the entry courtyard pavement. Floating stairs, custom-made by the same company that manufactured the aluminum louvers, are an engineering marvel. "They're beautifully done," says Peterson.

The minimalistic landscaping—papyrus-like umbrella palms, Fakahatchee grass and a striking poolside bamboo "sculpture" and second-story planters filled with easy-care succulents—reinforces the home's well-ordered feel.
"A mutual friend asked the homeowner what she liked most about the house," says Peterson. "She said she didn't have any particular thing because she loves everything about it. The friend told me that whenever she visits, they sit on the patio outside the upstairs gathering room and watch all the birds. It's a great place to just relax, watch the sunset and have a quiet conversation—except, of course, when the grandchildren are around!"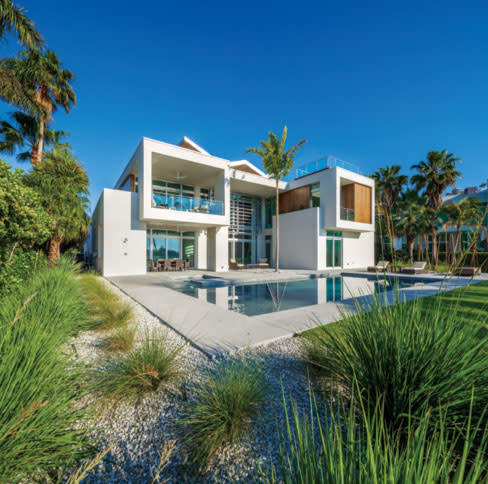 Design Team
Architect
Guy Peterson | OFA (Office for Architecture)
Guy W. Peterson, FAIA
Joe Kelly, Associate AIA - Project Manager
Interior and Lighting Design
Guy Peterson | OFA
Joe Kelly, Associate AIA
Structural Engineer
Wilson Structural
Richard Wilson, PE
Cord Van Nostrand, PE
Contractor
Michael Walker and Associates
Michael K. Walker
Kevin Stone - Project Manager
Landscape Designer and Contractor
Grants Gardens
Grant Beatt
Click here to go inside Guy Peterson's Spencer House, which was the cover story of our October 2013 Home and Garden issue. >>
This article appears in the October 2014 issue of Sarasota Magazine. Click here to subscribe. >>