Article
How to: Decorate the Perfect Beach Cottage
How to create the perfect seaside cottage.
Who can resist the romance of a simple little place on the beach, where the living seems as effortless and charming as the décor? Coastal cottages are wildly popular right now, popping up on the mainland as well as on the beach. But creating a beach cottage isn't as simple as it seems; it's easy to make it too contrived or kitschy. We asked Tracey Rapisardi, a New England transplant whose cottage interiors up and down the Eastern Seaboard have been featured in many national design magazines, to share her top design do's and don'ts.
THE RIGHT WHITES
"A successful beach cottage is about 60 percent white and 40 percent other colors and patterns and textures. You need at least four colors of white going from bright to ivory to cream and some other off-whites." A high-gloss finish makes things look more modern, but vary the finishes from flat to eggshell to semi-gloss (for woodwork) to high-gloss for some pieces of furniture."
CRISP AND COMFY
"Rooms should look crisp and comfortable. Don't go overboard with distressed furniture—one or two pieces in each room is plenty. The kitchen can be a bit busier than other rooms with open shelving full of colorful plateware. "Lately, I'm doing galvanized metal counters as well as metal cupboards. They look just rustic enough and are easy to maintain. Wood cabinets in a Shaker style work, and so does beadboard. And I love some of the cabinets to have glass doors."
SCREEN DOOR CHARM
"The best thing a beach cottage can have is a screen door, with an ornamental painted wood frame. If you can't use a screen door at the entrance, use one as a pantry or laundry room door. We custom make screen doors for clients who can't resist that nostalgic touch."
KEEP IT CALM
"The most common mistake is overdoing the accessories. Let a relaxed look evolve over time. A bowl of found shells and sand dollars on a table, fresh flowers, books, a sculptural piece of driftwood or a bowl of fresh fruit make a more welcoming statement than a shopping cart full of stuff you buy in one trip. Look for that one soft beautiful throw and a few cushy throw pillows. Slip covers for your upholstered pieces, because you want easy living. Spend time choosing beach towels and dish towels because they are always in plain sight. They might just as well support the color and design theme you've chosen for the rest of the cottage."
WATER COLORS
"Use colors of the local waters and shore: aquas, shades of turquoise, sand colors, driftwood gray, watery greens, some pink, yellow and coral. Navy, browns and all the earth tones are more appropriate to Midwest cabins by the lake or Northeast vacation cottages."
SIMPLE WINDOWS AND FLOORS
"Window treatments should be minimal—plantation shutters, gauzy white curtains, soft linen side panels or Roman shades. A beadboard or beam ceiling is appropriate. Floors should be wood, painted with a light wash or stained."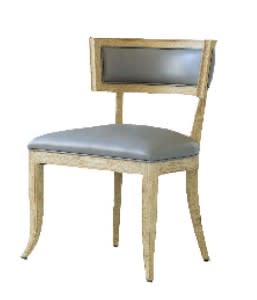 It's a Classic: Klismos Chair
Lightweight and elegant, it's been a design staple since ancient Greece.
The klismos chair is so classic it appears on ancient Grecian urns. Dating back to the 5th century B.C., this elegant wooden chair has a gracious concave back and signature saber legs. Lightweight, comfortable and beautifully balanced, it plays well with other periods and styles of furniture. Paris embraced the chair in the 18th century, and soon the klismos crossed the Channel to the drawing rooms of London and then traveled on to the grand townhouses of Boston, Philadelphia and Baltimore. I always picture Jane Austen sitting in a Regency klismos chair. Some are painted and embellished with upholstered seats; the pure form is plain. Buy a pair and use your klismos side chairs for extra seating, desk chairs, or invest in six or more for your dining room. They will never go out of style.
For more Sarasota real estate and interior design news, click here to read our Real Estate Junkie blog. >> 
This article appears in the July 2014 issue of Sarasota Magazine. Like what you read? Click here to subscribe. >>