Article
Your Dream Home
Advice from the experts on creating a custom plan.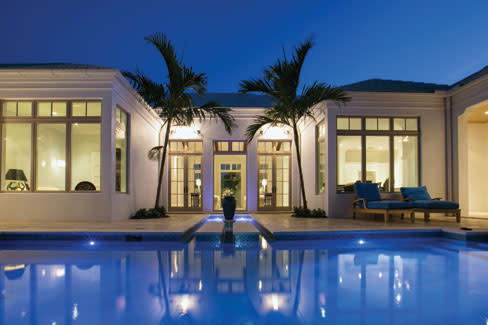 Custom home building, shaking off the last remaining remnants of the Great Recession, is on the upswing again. With the stock market at record levels and the economy further strengthening, home buyers who for five years had been putting off building that dream home are getting back in the game.
London Bay Homes, for example, is building four luxury homes on one street in The Lake Club in Lakewood Ranch that together total more than 63,000 square feet—including one home for a couple and their teenagers that tops out at more than 28,000 square feet, with indoor and outdoor swimming pools and an indoor half-court basketball court as well.
The difference this time around, says London Bay Homes president Mark Wilson, is that, "At the top of the market, when it got very frothy, money was easy to come by, therefore people were reasonably relaxed with their budgets. Today, the banks are not lending like they used to, and value is very important to these buyers; they are prepared to spend the money when they see the value in it."
Here, then, are some value-laden questions commonly asked by buyers and answers from the experts.
All right, I'd love to build a custom home, but don't they cost a lot of money compared to a production home?
Many, but not all, custom homes cost from the high six figures to more than $1 million, in large part because they're larger and feature upscale finishes and leading-edge technology. Also, custom builders may build only a handful of homes each year, lavishing many months of attention on every project, while production builders make their money on volume and replication.
But don't be afraid of the word "custom," says John Cannon, of John Cannon Homes, who is on track to close 60 new homes throughout Sarasota and Manatee counties in 2014. Cannon, and many other builders like him, have systemized the custom home building process by providing the building efficiencies of a production home in a custom home.
"Fifty percent of my business is people who say, 'I like your model home, but I want to do this, this and this,'" he says. "The other 50 percent is people who say, 'I have a unique home site on the water or golf course and none of your models will take advantage of the views. Then we start from scratch and design a home for them."
Cannon Homes offers a "soup to nuts" operation, with an in-house architectural designer, engineering department, interior decorators and a stable, reliable group of contractors and vendors who give them preferred pricing because of the overall volume of work.
"We provide people an economical way to build a custom home where they might not have thought they had that opportunity," he says.
After all, he says, "A production home is designed for the broadest possible reach, so why spend money on things you don't want? Why buy a suit off the rack when you can have one tailored to all your needs?"
Should I or shouldn't I work with an architect?
If you're concerned that an architect will deliver a set of plans that costs far more to build than you wished to spend, it doesn't have to be that way, says Joe Jannopoulo of Sarasota-based Synergy Building Corp. "There's a great resource of architects here who understand how the economy has changed. They're re-establishing good design with good cost controls, and that's a turn for the better."
And creating a design-build team is critical to avoiding expensive mid-project changes and to ensuring that the home will be value designed quickly and efficiently, says Jannopoulo. "Architects always add more value [to a custom home project]," he says. "The architect brings broad-brush design, and we, the builders, are generally more finite—how many nails, how many screws, how many pieces of lumber.
"You shortchange yourself when you limit yourself to a small design team," he says. "During design, the client tends to have big eyes. The builder says it's going to cost more, the architect says it's going to look better. It's always a compromise."
Of course, many area custom builders do have in-house architects or building designers as part of their team, making it
(A building designer, by the way, is not an architect, but has been certified to design single-family homes).
I've got a set of plans I like, but my lot is kind of vertical and the house is kind of horizontal. Can we move a few walls around and make it fit?
Drawing up plans before you have a specific lot in mind is often futile. Not all homes fit on all lots for a variety of reasons. And one great advantage of a custom home is that it is designed to maximize views. "Request a meeting with your builder and look at the lots you have in mind before buying one," author Konkol cautions.
Some neighborhoods and municipalities have size restrictions, setback requirements and even tree ordinances that can impact what kind of home you're able to build. You may find you need to spend thousands of dollars, for example, to remove a tree. Some lots may require thousands of dollars of fill dirt to make them buildable. You'll also need to know whether you can connect to a sewer system or if you'll have to install a septic tank.
John Neal of John Neal Homes, who was the largest custom home builder in the master-planned community of Lakewood Ranch in 2012, weighs in on this particular situation. "In the simplest terms and the most convenient definitions, I would have to say that moving walls would not help in this particular situation," he says. "The customer needs a new lot."
My brother-in-law is a cabinet-maker and my sister is an interior designer. Can I use them for my project?
It's not uncommon for home buyers to have family or friends in the construction industry who are willing to save them some money.
"It's a question I get on occasion, and I've always had the same policy," says luxury custom home builder Bruce Saba of B.W. Saba Construction, "If it's a primary structural subcontractor—framing, engineering—I work with the same team because they know exactly what I want.
"If it's a secondary subcontractor where there's no chance of a major problem—cabinets, countertops, possibly tile and wood floor installers—I will entertain the idea of using a client's preference. However, I will check the subcontractor's references carefully, like I would do with anyone."
Saba does have a caveat: If a client has a relative who happens to be a mechanical sub, and his is a substantial company that's very experienced in doing residential work versus commercial, "then I would not have a problem interviewing them to see it they would fit," he says. "If their references and proposals are good, I'd consider using them."
Speaking of interior designers, when do they get involved? How about kitchen designers?
"The sooner the better," says kitchen and bath designer Carmen Christensen, ASID, of Time2Design. "In most cases, if a homeowner gets fixed on an idea, a kitchen designer can tell them if it will work or not. It's always easier to make modifications on paper."
Lighting, plumbing, ventilation, appliance placement and storage accommodations are all space-planning issues best addressed before you even have a floorplan, Christensen says. "Colors, finishes, materials—these can be figured out much later," she says. "It's the function that needs to be considered first."