Article
How to Create the Perfect Master Bath
Tips from designer Brigid Saah of Tile Market.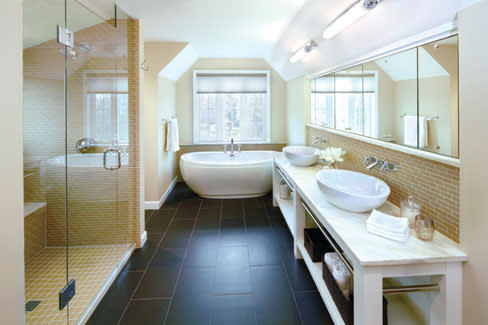 Tips from designer Brigid Saah of Tile Market.
"Even [as many homes get] smaller, the master bath continues to grow. Homeowners are willing to invest considerable time and budget to get their ideal room just right.
"The essentials are a huge walk-in shower with jets in the shower walls, and multiple shower heads, including a rain shower head. The trend is the curbless shower entry, meaning the shower and the bathroom floor are on the same level. Then there's a free-standing soaking tub—the egg shape is the most popular. There should be a chandelier as well as recessed ceiling lighting, sconces and make-up lighting, with everything on dimmers. A separate toilet room for sure. Separate vanities or a long vanity with separate basins. Many homeowners want a television built into the vanity mirror and surround-sound music, too.
"White marble reigns supreme. Homeowners are asking for white Calacotta marble because it is very white and can look warm or cool, depending on whether the veining is gold or gray. Owners want marble on the walls going from the countertops to the ceiling. Then we hang a beautiful framed mirror on the marble. In high-end installations, my clients are trending away from granite. If not marble, they choose quartz.
"For the floor tiles I'm seeing large format, 36 by 36 inches. Rectangular tiles on the floor and shower walls are becoming more common. These big tiles are inset with design accents made up of smaller and different-shaped tiles, some of them glass. But even the glass mosaic tiles are going larger. Custom tile murals that look like wallpaper or fabric are popular and pricey; the finished product is unique to each bathroom.
"White is the color of choice. Generally, we bring accent colors in from the bedroom to create continuity. But sometimes clients want a little touch of watery blue or green accents, especially if their property is on water. And gray has been a huge accent lately."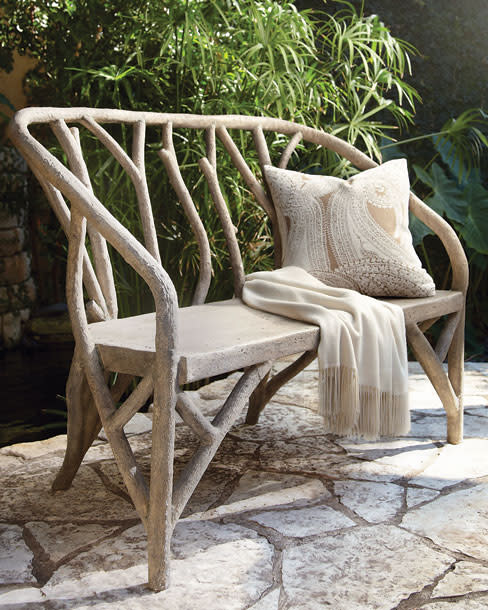 It's a Classic: Faux Bois
New uses abound for this age-old technique.
The French have always loved to manipulate designs so that one thing looks like another. A classic example is faux bois, or false wood. Furniture, planters, wall coverings, doors, fireplace surrounds and even flooring are skillfully crafted to look like wood with realistic graining, leaves and branches, even though no wood is actually involved.
Faux bois techniques are ancient, but the trend became popular in 1875 when Joseph Monier designed a decorative bridge with faux timbers and logs. Designers knew a cool thing when they saw it, and faux bois became the rage. It still is, with picture and mirror frames in faux bois available at every price point.
Lately, we're seeing faux bois in garden furniture—benches, chairs, birdbaths, tables and even fire pits. And many homeowners are choosing to do a whole room in a wall covering that approximates antique wood paneling. One of the newer looks is faux bois porcelain flooring and wall tiles that look like driftwood or cherry or pine planks. Once you start recognizing faux bois and are able to discern the mundane from the extraordinary, you'll covet a piece or two. But be careful, because collecting faux bois objects can be addictive. —Marsha Fottler
For more Sarasota home and real estate news, click here to read Bob Plunket's Real Estate Junkie blog. >>
This article appears in the June 2014 issue of Sarasota Magazine. Like what you read? Click here to subscribe. >>