Article
News and Notes from the Top of the Sarasota Real Estate Market: April 2014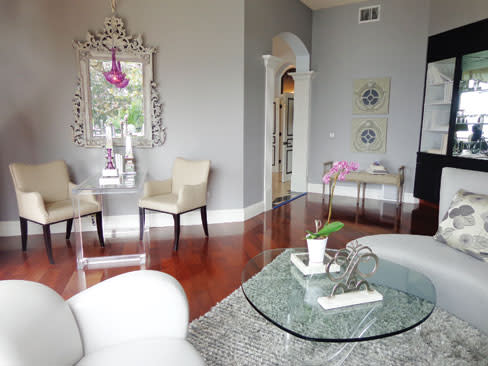 Design duo Joyce and Jeff Hart's modern take on the home library was a standout at this winter's Jewels on the Bay Showhouse. No mahogany paneling and camel-colored leather club chairs here, and nary an Oriental rug in sight. Rather, the room was soft, spare and calming, the better to showcase the showhouse's gorgeous, wide Sarasota Bay views and let the natural light spill in.
Pearl gray walls—"Fusion," No. AF-675, by Benjamin Moore—set the tone. "They have that wonderful illusion of being pale lavender somehow, which is very soothing, and which comes all over the room like an atmosphere," says Jeff Hart. The design team hung a lovely petite chandelier in amethyst Murano glass, like a jewel-toned exclamation point, against a rococo gold- and silver-leafed mirror to catch the sunlight.
The Harts chose fabrics for the couches (curvilinear to create an illusion of more space in the angular room) that are almost identical in color to the paint, and covered two curvy swivel chairs in complementary faux leather. They created depth with a multicolor area rug and throw pillows with purple accents.
Since the room has incredible views and so much natural light, they framed the window openings with simple linen fabric treatments woven in gray and beige. They almost take on an iridescent quality because of the contrast of colors.
The two chairs at the Lucite writing table are also linen. "We liked playing with the whitewashed linen-covered pieces," Hart says. "They're Old World references but in a New World way, playing against the very contemporary lines of the main upholstery."
Tying the room together is an original painting in gray, teal, fuschia and white, custom created for the showhouse by David Steiner of State of the Arts Gallery. "How many ways can I praise David? He's brilliant," says Jeff Hart. "It looks like we built the room around the painting, but it was completely the opposite."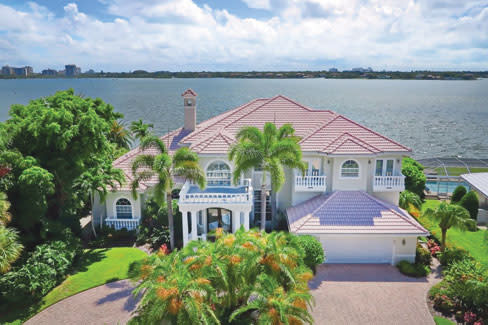 Top Sale
A two-story Bird Key bayfront home at 447 Meadow Lark Drive that sold for $3.4 million was the highest-priced residential sale in January in Sarasota County. The four-bedroom, 4,778-square-foot residence, built in 1997, has an open floor plan and 22-foot ceilings in the formal living and dining rooms to take advantage of the stand-out city skyline and Harbor Acres views. Kere Lewis was the listing agent, Brooke O'Malley was the selling agent; both are with Michael Saunders & Company. The home last sold in 1998 for $1,859,500. Sales information provided by Kim Ogilvie of Michael Saunders & Company.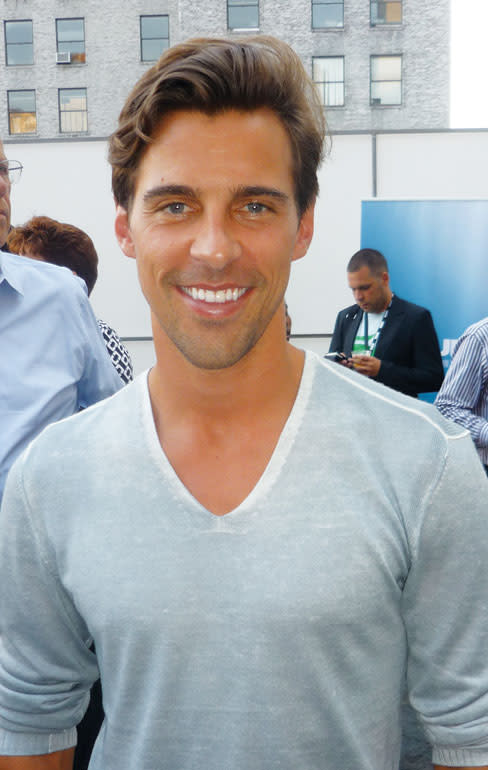 Million-Dollar Advice
Million-dollar listings, while not a dime a dozen, are so prevalent in Sarasota that they don't raise many eyebrows. But movie-star-handsome Madison Hildebrand, a star of Bravo TV's reality series, Million Dollar Listing L.A., certainly caused a stir when he visited the area this winter to appear at the Sarasota-Bradenton Spring Home Show and at a reception at a Gulf-front Longboat Key estate on the market for $4.5 million.
Listing agent Richard Perlman of Michael Saunders & Company, whose son is a friend of Hildebrand's, says the Los Angeles real estate broker tweeted about the 5030 Gulf of Mexico Drive estate to his 85,000 followers before, during and after the party, "and I got an offer in two days." Unfortunately, it was a low-ball one. "It's not under contract," said Perlman at press time. "That only happens in Malibu."
At the home show, Hildebrand fielded questions about kitchen remodeling, curb appeal and wallpaper. "Carpet is out," he said dramatically, and so is the trend of completely open kitchens. But you don't want to completely segregate them, either, he said with a laugh, "so good luck finding that balance."
Hildebrand admitted he's become a bit jaded about escorting clients through mega-mansions with spectacular coastal views. "During the first year, I'd call my mother every week and say, 'You won't believe the house I was in today.' But I don't do that now."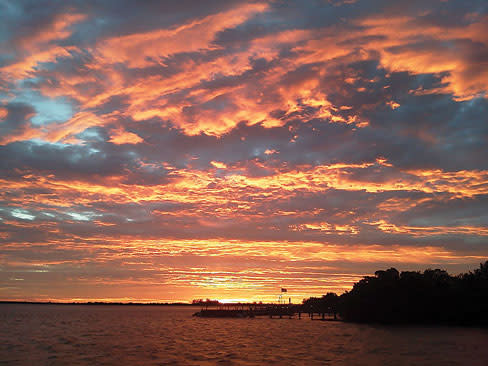 Neighborhood Watch: Little Gasparilla Island
A large, vacant Gulf-front lot for $345,000? Yes, but there's a happy catch: It's on Little Gasparilla Island, a true island getaway, with no paved roads, no restaurants and no stores except for a golf cart rental and repair shop. You can only reach it by private boat or the Pirate's Water Taxi that runs from Eldred's Marina near the Boca Grande Causeway on the mainland.
About 60 people live year-round on the island, which is set between Placida Harbor and the Gulf of Mexico. Many Sarasotans, and folks from Winter Haven and Lakeland, too, have weekend homes, says Barbara Pendergrass of Tarpon Real Estate, herself a full-timer for seven years. (Her husband's family, true pioneers, moved here in 1959.) There's a small lending library, and an islandwide Fourth of July party with a decorated golf cart parade. "It's not for everybody," she admits. "Some people feel too isolated; others just can't wait to buy something to get in. We fish, we lie on the beach, swim, just get away from the craziness. There are lots of kids running around. It's like living on Gilligan's Island."
The island is about halfway developed, mostly with tin-roofed wooden homes in pretty tropical colors. Two condo communities, Placida Beach Condos and Hideaway Bay, are also here. "The real estate market is not robust, but it's alive," says Pendergrass. "Prices dropped considerably since 2008, but I see them stabilizing and wanting to inch back up."
Number of Little Gasparilla Island properties: 507 (375 single-family homes, 132 condos)
Number of sales in 2013: 12 single-family homes, 6 condos, 3 vacant lots
Range of sale prices: Single-family $223,000-$799,000; condos $110,000-$218,000; lots $51,000-$345,000
Range of square footage: Single-family 1,800-2,128; condos 768-980
For more Sarasota home and real estate news, click here. >>
This article appears in the April 2014 issue of Sarasota Magazine. Like what you read? Click here to subscribe. >>