Article
What Do Billionaires Really Want in a Home?
Since he can't ask Freud, our Real Estate Junkie asks the agents who deal with this increasing slice of our housing market.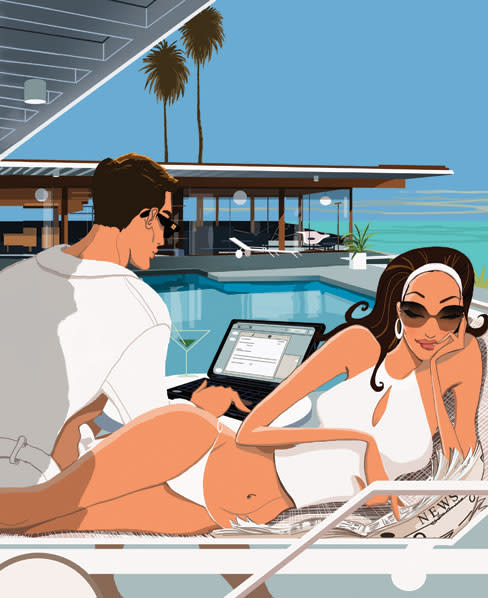 The world's super-rich, that lucky 1 percent who control most of the globe's wealth, are finally discovering Sarasota. "We're now on their radar," as Michael Saunders recently put it. They fly in for a day or two, check into the Ritz, and check out what's available. And as we keep reading in the papers and online, many are taking the bait. CEOs, hedge fund managers, a celebrity or two, even Power Ball winners—they've all purchased property here recently.
And why not? It's a truth pretty universally acknowledged that a rich man—or woman—needs a house in Florida. It's something that fits in perfectly with their lifestyle, like a private jet or lower taxes. This past winter alone was enough to convince any Northerner, rich or poor, that he needed an escape from the unrelenting cold.
And Sarasota is one of a handful of towns in the Sunshine State that have the necessary cachet to attract the wealthiest of these escapees. In addition to warm winter weather, we have beautiful beaches, sophisticated residents and all the accouterments of gracious living. Just about our only competition among Florida's smaller cities are Naples and Palm Beach.
But what do the super-rich find when they get here? Is Sarasota what they're looking for? Do the homes on the market in their price range excite them? Or are we facing yet another housing crisis—not enough housing for billionaires?
We talked to several local realtors who specialize in luxury properties and asked them: "What's on the ultra-wealthy's wish list?"
Here's what they said.
Waterfront. Everybody wants a house on the water. Gulf-front is best, right on the beach. (It turns out that a walk on the beach is one of those pleasures that even the 1 percent crave.) But the bay is perfectly acceptable, particularly if the would-be buyers are boaters. Several of our realtors agreed that there may be some golf fanatics—like Kevin Daves, the Kansas entrepreneur who fell in love with The Concession Golf Club and ended up buying the place—who would rather be inland, literally on the links. But they're the eccentrics in this group. Waterfront is No. 1.
A great view. This is crucial, and this is what they're paying the big money for. "Thank God Sarasota is full of beautiful views," says Kim Ogilvie of Michael Saunders. "In these properties you should see the water from all major rooms," adds her husband, Michael. Again, the Gulf is the best thing to look at from your Sarasota mansion; you'll get beautiful blue-green water and the sunset. But a pretty composition of nature, bay, sailboats and maybe the distant skyline is fine. What you can't see is just as important. "You do not want to see—or hear—the neighbors," says Linda Dickinson, also of Michael Saunders. "Landscape them out of your life," she frequently tells sellers with expensive homes. Bamboo groves are particularly effective, she notes.
No building from scratch, no tear downs. "These people don't want to supervise a two-year building project from somewhere else," says Joel Schemmel of Premier Sotheby's. "The newer the better," agrees Roger Pettingell of Coldwell Banker. "They don't want to walk on a carpet somebody else has walked on." Yes, they realize the home may need some renovations—i.e., luxury upgrades—but they will be done quickly—and expensively. "Time is very important to these buyers," Dickinson says. "They don't want problems or complications." But if they're leery of renovations, they're fine with additions. "They'll add a wing, a pool house, a tennis court—features directly tied to their pleasures and interests," Dickinson says.
No Med Rev unless it's been simplified and toned down. Elaborate ornamentation is out. Modern is certainly a possibility—these people are individualists who haven't arrived where they are by following the crowd. Still, as Roger Pettingell points out, "People build modern for themselves. They don't buy somebody else's modern." The super-rich style of the moment is a sort of Coastal/Low Country/Bermudian Transitional. "No volume ceiling, except maybe the living room," says Michael Ogilvie. "What they're looking for is an architect-designed house, finely done," adds Dickinson.
The kitchen isn't particularly important. Two of the most expensive homes currently on the market have surprisingly small kitchens, very much designed to blend in rather than dominate. One reason? There are often enormous catering kitchens elsewhere in the building—I mean, home.
Outdoor living rooms. If the kitchen isn't the heart of these homes, the outdoor living area sure is. "They are here for the weather and they want to enjoy it," says Pettingell. This outdoor space should have a view, a beautiful pool (hopefully infinity), a spa, summer kitchen, fireplace and both sunny and shady lounging areas.
Private areas for the owners, where they can retreat from family and guests. This is usually the master suite, and nowadays they have his and hers everything—not just baths and closets but offices, too.
No gated communities, with two exceptions—Sanderling on Siesta Key and the Longboat Key Club. Most gated communities, ironically, aren't private enough, and have restrictions on what you can build and lot size. Besides, most of the homes of the super-rich have their own gates.
Garage parking for four to 10 cars. "These people don't have a car. They have a fleet of cars," says Michael Ogilvie. In the more expensive homes the garage is air-conditioned, with its own sound system and special bays for stretch vehicles.
Elevator. This is a must in a home of two or more stories. "If it isn't there, that's an issue that must be addressed," says Schemmel. The larger, more expensive homes will have two elevators, the second one adjacent to the master suite.
Other amenities. Some amenities are important, others not so much. Tennis court? Only if they're players. Gym or exercise room? If there isn't already one, there should be an easy way to add one. Wine cellar? Definitely. Home theater? They are expected in these homes—but hardly crucial. There is a general feeling that the elaborate home theater of a few years ago has peaked. "A comfortable gathering space is much more important," says Dickinson. "They still watch movies," says Pettingell, "But now it's on a giant flat-screen in the family room. No more of those cute popcorn machines."
Staff quarters. These homes have a room or apartment located away from the action for staff, but that room also has other potential uses—extra guests, an office. In general, the 1 percent doesn't have servants in the traditional Downton Abbey sense. More typically, they have someone to manage the house. That person will hire local vendors as needed for cleaning, maintenance, car detailing, landscaping, special events, etc. He or she will not sleep in. One estate on Casey Key has a separate building for the property manager's office—but no sleeping quarters. (The exceptions are nannies—very important to families with children—and perhaps a nurse for Granny.)
But wait, there's more! Linda Dickinson has had several inquiries about homes with heliports. At the moment there don't seem to be any, thank God. Roger Pettingell had one woman ask him about a "wrapping room." For a moment I puzzled over this, picturing an aesthetician coming in and wrapping the lady of the house in herbal swaddling to squeeze out toxins and excess pounds, but it turned out that what she wanted was a room to wrap presents in.
And finally, price. The super-rich do exactly the opposite of what everybody else does. We pick a number we can go as high as. For instance, we can afford up to $500,000. With the super-rich, the important number is what number not to go below. In Sarasota that number is $5 million—although several of our realtors winced a bit at that figure. "The good stuff starts at $7.5 million," was how one of them put it.
And as for an upper limit, at the moment the highest-priced home in Sarasota is a new beachfront estate toward the north end of Longboat Key. It was designed by local architect Guy Peterson and contains 11,000 square feet.
The price? $22 million.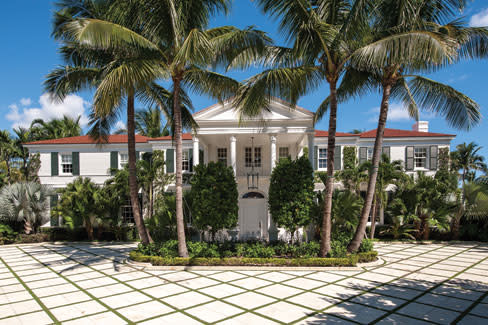 A Tale of Two Cities
Why Naples is winning the battle for billionaires.
In the battle for the billionaires, everyone agrees that Round One went to Palm Beach. The iconic resort on the Atlantic coast is synonymous with unbridled wealth and has been for almost 100 years. But it's also become a little hidebound and intimidating. How embarrassing it would be to move there and not be socially accepted because your money was too new or because your lifestyle wasn't glamorous enough.
That's why Naples won Round Two. When the big money started coming in from Wall Street and tech companies in the 1990s, Naples was sitting there, waiting. It had always been an established resort for Northern WASPs, but the new money soon took it over and made it their own.
Even a casual visitor can see why. The atmosphere is that of a Ralph Lauren advertisement come to life, with elegant shops and restaurants, and one version of the super-rich's "wish list" house after another, after another, and another. Port Royal, Naples' prettiest—and most expensive—area can hold its own with any neighborhood in the world. Streets with names like Gin Lane and Rum Row meander past enormous homes set on waterfront lots. Everything is perfectly manicured and in the best possible taste. Two Naples homes sold recently for $40 million each, and they weren't even officially on the market.
Many potential buyers look at both towns before deciding, and in the rarefied circles of the super-rich, Naples seems the more obvious choice. For many it is more than just a place to live—it is their spiritual home, a place where their values are celebrated and their accomplishments are truly appreciated. Florida's Gov. Rick Scott is a Naples resident and he is emblematic of the town: a venture capitalist, deeply conservative, a self-made man from a middle-class background. In 2010 he was worth $218 million. These days it's a bit less, mostly because of the $70 million he spent on his own political campaign.
Sarasota attracts a different crowd. A quick look at our celebrity home owners is revealing. We've got Stephen King, Rosie O'Donnell, Jerry Springer, Monica Seles and –until recently—Martina Navratilova. Rugged individualists all, who made it to the top through their wits and talent rather than any financial expertise.
This is increasingly becoming Sarasota's niche. Though, like Naples, we still attract plenty of corporate executives who hit it big and entrepreneurs flush from selling their companies, we're now also getting some creative and artistic superstars who appreciate our town's lack of pretension, its livability, its creative atmosphere and its diversity.
But there is one problem real estate agents keep mentioning. We just don't have enough housing to give the ultra-wealthy a decent choice. At the moment Naples has 26 homes listed for sale at $10 million or more. Palm Beach has 38. Sarasota? A mere seven.
Time to start building.
Click here to read Bob Plunket's "Real Estate Junkie" blog. >>
This article appears in the April 2014 issue of Sarasota Magazine. Like what you read? Click here to subscribe. >>