Article
How to Design the Perfect Guest Suite
Design advice from Holly Dennis.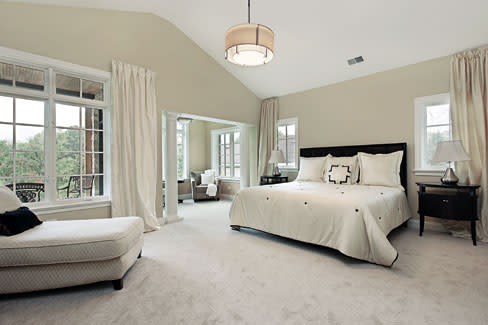 "Many clients are asking for a big guest suite that's actually a second master. Sometimes it's on the opposite end of the house or on another floor, and often a terrace is part of the design. This space is meant for the guest staying longer than a few days.
"The ideal suite is a spacious bedroom and adjoining bath. The bedroom should have a king-size bed and headboard (for reading) and two sets of pillows, a pair of foam and a pair of feather pillows. One additional toss pillow is enough for decor. The sheets should be Egyptian cotton or linen of 400 thread count. Good reading lights and night stands reinforce comfort and convenience. Also you want to have a separate seating area.
"My clients tell me their guests expect a TV, and they also want a desktop for their electronics. I'd put a note pad, pens and even stationery on the desk. As for color, I always advise a calming and soothing shade—gray or blue, no red or yellow.
"The guest bath is the place to pile on the little luxuries—a basket of quality soaps or shower gels, shampoo and lotions. Piles of fluffy towels and a vanity lighted mirror for putting on make-up are musts. The bath usually has a walk-in shower, and it should have multiple shower heads and a hand-held shower. For fixtures, oil-rubbed bronze seems to be out. Clients are asking for chrome or polished nickel.
"Consider storage. Guests appreciate an empty closet with quality hangers that match. I don't think guests care about drawers, but they like shelves and baskets. I always put out small trays or little shallow baskets for jewelry, change or keys.
"It used to be trendy to include a breakfast bar or mini-fridge in the guest suite. I want my guests to join me for breakfast. But it's thoughtful to have bottled water there. You want to balance providing your guests with privacy and community."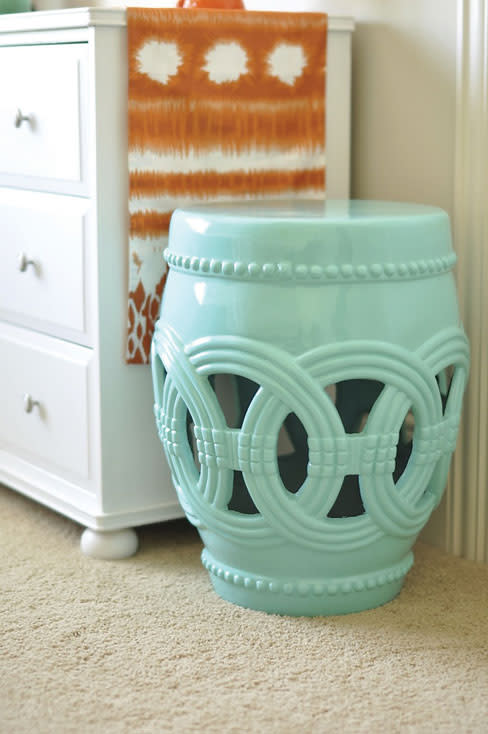 It's a Classic: Chinese Garden Seat
Attractive and adaptable, this ancient piece is still hot.
The Chinese garden seat has been around for 1,000 years and became a popular part of the American design scheme in the 1950s. It still remains one of the most popular, useful and versatile pieces of indoor/outdoor furniture around. Once made almost exclusively of glazed stoneware or porcelain and painted with feminine floral patterns on a white ground, the seat has kept pace with modern times. Today you can find ceramic garden seats sheathed in shimmering gold or silver metallic paint, but a consistent design feature is the fretwork or pierced motif. Colors, patterns and price points are wide-ranging. Use one as a plant stand, another as a side table for drinks. A pair on the patio is always nice; one in the guest bath will hold a short stack of fluffy towels, or put a round glass top on it to create a table big enough for canapés and champagne. And of course, you can sit on one, too!
For more Sarasota design and real estate news, click here to read Bob Plunket's Real Estate Junkie blog. >>
This article appears in the March 2014 issue of Sarasota Magazine. Like what you read? Click here to susbcribe. >>