Article
For Rent: Vogue Regency Home in the Uplands
Bob Plunket takes us inside a rare Vogue Regency-style home in the Uplands neighborhood.
[caption id="attachment_1200" align="alignnone" width="488"]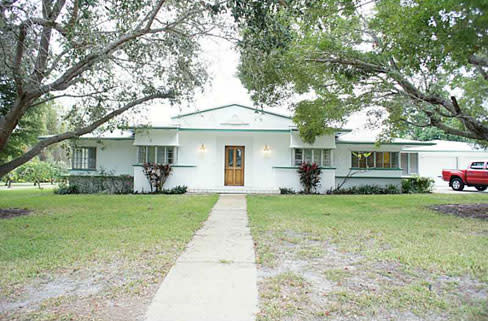 455 Poinciana Drive: A rare example of the Vogue Regency style.[/caption]
Here's something you don't see every day—a house built in the Vogue Regency style that was the chic-est thing going in England back in the late 1930s. Records say this home was built in 1950, but the Sarasota version nevertheless contains all the elements of the glamorous style associated with the great tastemakers of the day, people like Syrie Maugham, Henry "Chips" Channon, and Wallis Simpson.
[caption id="attachment_1201" align="alignnone" width="488"]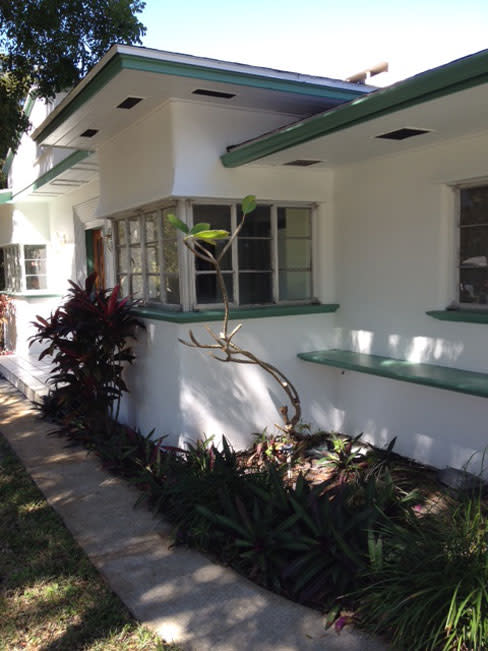 Exterior windows. Note concrete "shelf" and "awning."[/caption]
[caption id="attachment_1202" align="alignnone" width="488"]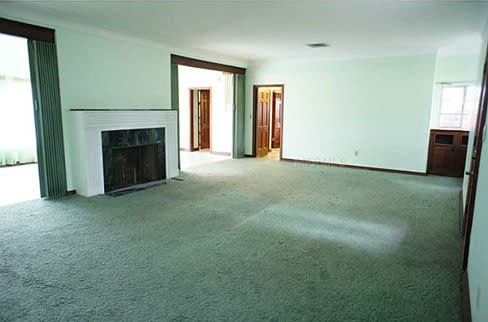 Large formal living room. Note the ribbed fireplace surround.[/caption]
Vogue Regency has elements of Art Deco but it follows the more symmetrical rules of Regency architecture from the 1820s. You'll find large, rather formal rooms, not much ornamentation (except for the doo-dad over the front door) and a general feeling of light and space. Note the ribbed borders around the front door and the living room fireplace—they are pure Vogue Regency.
Other touches to check out: the living room has little wood insets in the south corners that are topped with the original grid patterned windows. And outside there are shelf-like protrusions under the windows that add to the strong horizontal lines. Above the windows, notice the graceful "awnings" of concrete. The front door and matching lanterns were added later but looking at the façade you still get a very strong impression of the style. It's painted white with green trim—very period-appropriate colors.
[caption id="attachment_1203" align="alignnone" width="488"]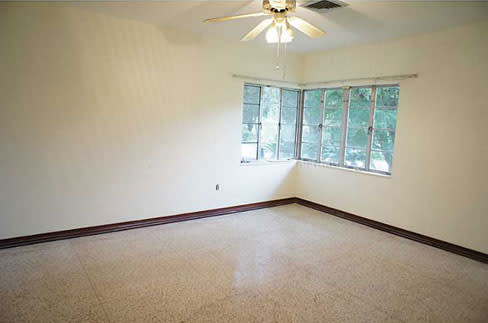 Large master bedroom with period corner windows.[/caption]
The house isn't for sale but it is for rent, at $1,800 a month. It's located just north of the Museum in a little neighborhood called Uplands. The bay is half a block away, and the home backs on to a pretty little pond. It has three bedrooms, two great period baths, and big kitchen, about half of which is original. There is also another bedroom and bath behind the semi-attached garage.
[caption id="attachment_1204" align="alignnone" width="488"]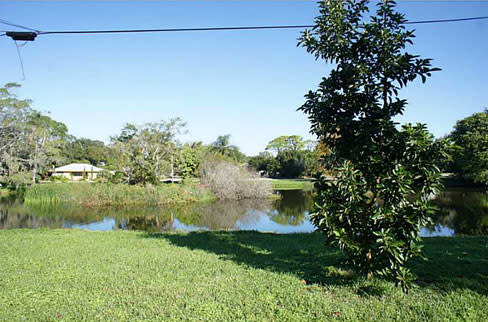 Backyard[/caption]
If Downton Abbey continues into the 1930s, I guarantee we'll see Lady Cora aging gracefully in such surroundings, with the Dowager Countess being wheeled in, at 90 plus, looking around and rolling her eyes at this new fangled modernism. Although how they're going to cram all those servants into that little tiny room behind the garage is beyond me.
455 Poinciana Dr. For more info, call Tony Andrews at 921-5999.