Article
House Tour: An Award-Winning Sarasota Green Home
Go inside Josh Wynne's award-winning green home: The Pearl in Sarasota's Oyster Bay neighborhood.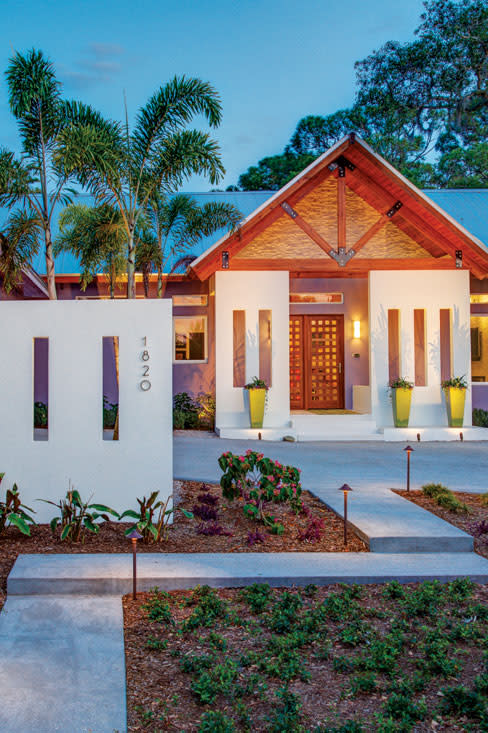 How can a home with no solar panels, no cisterns, no system for collecting and reusing gray water—in other words, no typical trappings of the eco-building movement—earn LEED Platinum certification, the best of the very best, from the U.S. Green Building Council?
It's all in the design, says contractor Josh Wynne, whose latest single-family custom project, cleverly named The Pearl in tribute to its Oyster Bay location, earned him nine Aurora Awards in August from the Southeast Building Conference against competition from builders in 11 Southeastern states and the eastern Caribbean.
"Instead of focusing on supplementary systems that often add cost and complexity—and, frankly, things the homeowner wasn't interested in in terms of cost and upkeep—we focused on design," Wynne says.
That means everything from the way the 4,200-square-foot home is situated on its pie-shaped lot to ensuring passive lighting and cooling by way of energy-efficient windows that allow cross-ventilation and let in breezes. Virtually all of those windows open to courtyards with over-sized eaves. "There's very little direct sunlight," says Wynne. But there's plenty of natural light. "If the homeowner had any lights on while you were touring the house, she was just showing off."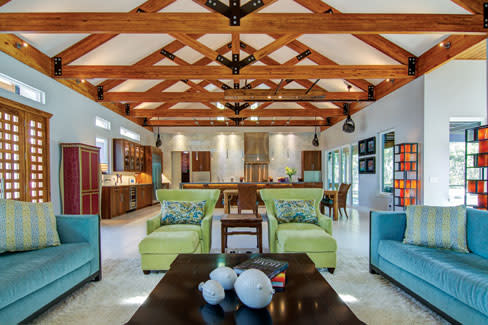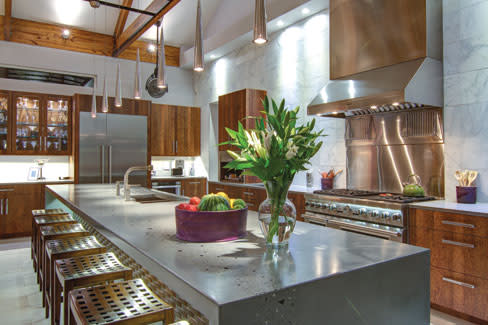 Of course, LEED (Leadership in Energy & Environmental Design) certification involves a lot more, as Wynne well knows, since two of his other custom single-family projects, Codding Cottage in downtown Sarasota's Laurel Park and Powerhaus in the Polo Club at Lakewood Ranch, also have earned LEED Platinum status.
For The Pearl, as for his other LEED-certified houses, Wynne chose building products that are low-VOC. (Volatile organic compounds emit unhealthy gases indoors). As much as possible, those materials were manufactured in this area to cut down on the carbon footprint generated by long-distance transportation.
Ceiling trusses that span the entire length of the combination open living-dining-kitchen—and provide a striking design focal point—were made of locally harvested pine. "The beams were made locally and I framed those timbers myself on-site," says Wynne. "Every one of those would have taken three massive trees if we had used center-cut timber. Seconds in lumber don't require center cutting."
Hallway ceilings are made of locally harvested cypress, and so are the handsome front door and the entire 12-foot-deep back porch. "We wanted the light and breeze, but we didn't want tons of direct sun pouring in on that east side. [When the interior windows are open to the porch] we can really move some air through the house," says Wynne.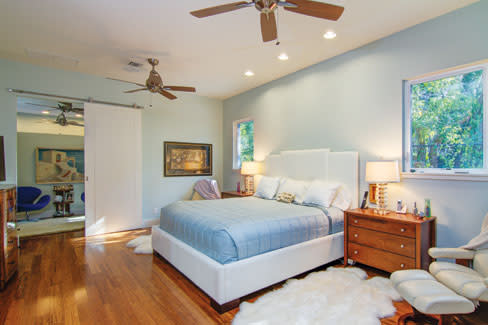 Concrete bathroom countertops embedded with locally recycled glass were created by Jake Brady of Concrete Countertops Etc. in Sarasota. Brady also made the kitchen island—an amazing 18-foot continuous sweep of gray concrete inset with a band of aggregate that sparkles with bits of teal and purple, homeowner Peg Varner's favorite color. (She drew those colors into the upholstered sofa and chairs in the adjoining living room.)
Even the coconut palm-husk kitchen cabinets—chosen, along with a bamboo dining table and woven leather chairs, to help achieve Varner's Pan-Asian design directive—were built with coco-nut palms sustainably grown and harvested in Florida. (The kitchen, designed by Billue Guignard of Metro Cabinet Company, won one of Wynne's three Grand Aurora Awards.)
In the living room, the stone fireplace-TV wall, made of quartz mined in Florida and cut as a ledge stone, also sparkles at night. It sets off Varner's art glass collection on floating glass shelves.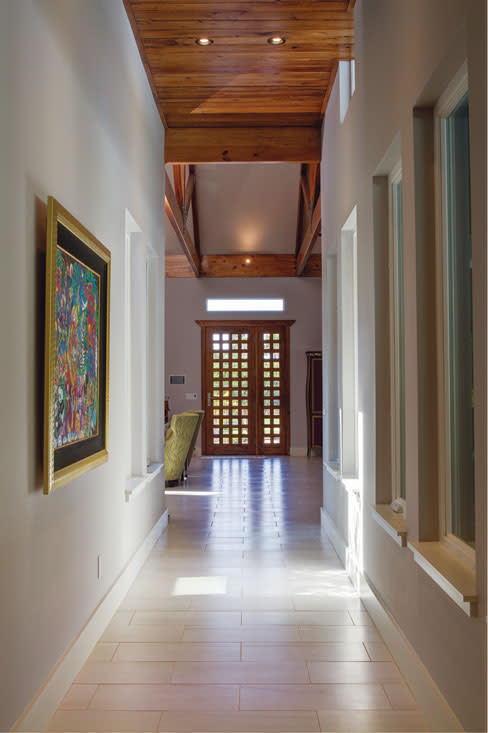 And landscaping is Florida-friendly; landscape architect Michael Gilkey incorporated native plants and a low-water irrigation system.
Homeowner Varner is delighted. She moved into her home in January and did not use heat or air conditioning until late April. "In fact, during that unusual cold snap in March, she sent me two photos," says Wynne. "One was of her outdoor thermostat reading the air temperature at 32 degrees. The other was her indoor thermostat. It read 74."
For more Sarasota design and real estate news, click here to read Bob Plunket's Real Estate Junkie blog. >>
This article appears in the January 2014 issue of Sarasota Magazine. Like what you read? Click here to subscribe.