Article
Home of the Month: A Waterfront Beauty in Historic Cortez
Go inside a 4,100-square-foot Cortez home that's currently on the market.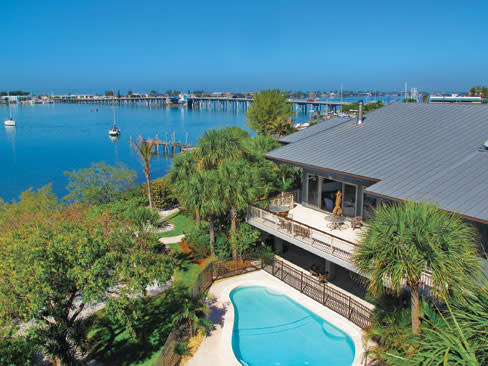 The quaint fishing village of Cortez is famous for its Old Florida atmosphere, with modest cottages dating back to the turn of the century. But it holds a few surprises. This large gated home is like nothing else in town—4,100 square feet set on more than two acres of prime waterfront. The amazing thing is how well it blends in with its historic neighbors.
Designed by prominent local architect Jack West in 1999 for a European family that fell in love with the unique village atmosphere, the home is built in a contemporary style, with soaring ceilings and an abundance of windows to bring in the views of Sarasota Bay and the fishing fleets that still ply their trade.
The luxury is unpretentious but definitely there. Custom woodwork and built-ins add character and detail, and a stone fireplace in the living room soars two stories up to the ceiling. The bathrooms in the house all even have heated floors.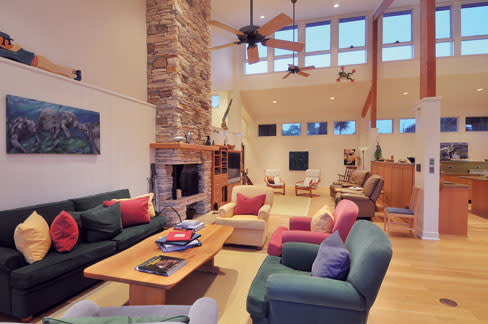 The home occupies what is probably the most prominent location in town, set right on the water with more than 300 feet of bayfront. A long deepwater dock provides mooring for watercraft, plus a boat lift, and a "garage" for jet skis and such. There is also a pool and a guest house on the property.
Like the classic seafarers' homes of old, there's even a widow's walk, located up a spiral staircase, with spectacular sunset views across the bay over to the palm trees and beaches of Anna Maria Island. Just walk—or bike—across the bridge and you're there.
Adjacent to the house but on a separate part of the property is Charlie's Fish Camp, a collection of four "coastal chic" cottages that comprise a mini bungalow colony. These can be rented out or used for visiting friends and family. The fish camp can be purchased with the home—or not.
The home epitomizes the Cortez vibe—simple, honest, a tribute to Florida's past. Your neighbors will be descendants of the old fishing families that have been there since the 1880s, plus artists and other bohemian types, and the residents of what is undoubtedly the most appealing and atmospheric old trailer park in Florida. The local seafood restaurants, many with live entertainment, are famous. There's no other place quite like it—historic charm, fiercely protected by those who call it home.
Interested? 4515 125th St., Cortez, $3,949,000. Contact Terry Hayes, (941) 302-3100, Premier Sotheby's
Click here to read Bob Plunket's "Real Estate Junkie" blog. >>
This article appears in the February 2014 issue of Sarasota Magazine. Like what you read? Click here to subscribe. >>