Article
How to Renovate a Sarasota Beach Condo
Sarasota designers share their condo-renovation tips.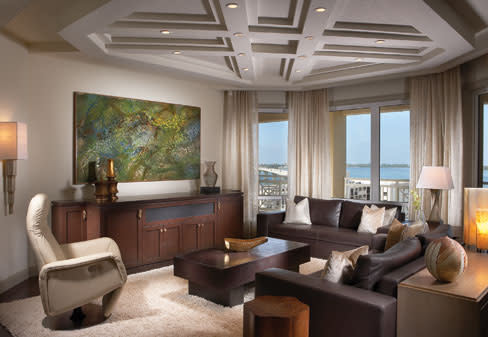 Of course you could buy your ideal condominium brand-new, turnkey even. But sometimes that doesn't give you the view you want or your desired neighborhood. So consider embracing a less-than-perfect dwelling because it has the location of your dreams. Remodeling to achieve the ideal condominium in this part of Florida is easier than you think. People do it every day.
Once you've established your site—beach, golf course, bayside, downtown, gated community— determine the overall size dwelling you have in mind and how many bedrooms and baths you need. Do you want a villa condo, a high-rise, a townhouse? Your real estate agent will narrow down choices based on your wish list. Then pick one and start customizing and updating with an experienced designer. Often your real estate agent can suggest someone. That designer will line up a contractor, and you're ready to start the journey to your vacation dream place. And if you plan it right, all the remodeling can progress while you're living someplace far away from the mess and bother.
With 30 years of experience in the interior design profession, Pamela Hastings typically does four condominium transformations a year, mostly for seasonal residents of Longboat Key and Siesta Key. Although every project is different, Hastings says there are common challenges with older structures. "If your condominium was built before 1980, the biggest issue is the kitchen," she says. "It's likely to be enclosed, with no view. I take down the wall separating the kitchen from the dining/living room and create an open-concept floor plan. Then I reconfigure the kitchen for maximum space and efficiency and put in all new appliances and fixtures."
The designer says condo buyers today want granite or quartz counters, stainless steel appliances, a built-in pantry and fewer upper cabinets in favor of deep and well organized pull-out drawers.
In the master bath, most homeowners want to exchange the existing tub for a roomy walk-in shower. If the room is big enough they also add a freestanding tub. "In the walk-in shower, my clients want a frameless glass door, a bench, rain-forest shower head, multiple jets and a hand-held shower unit, too," says Hastings. "And they're asking for little luxuries such as a warming towel bar and faucets that are art features. Getting that balance between glamour and practicality is always the goal."
Hastings says that the trend is hardwood flooring (or high-end wood laminate) in a dark stain, often maple or walnut or, in a contemporary setting, Brazilian cherry. She advises extending the same flooring throughout the whole apartment to visually enlarge the space. The designer steals storage space where she can, often suggesting a bed with underneath drawers or floating shelves in a room where closet space is inadequate.
She also adds extra-deep baseboards and crown molding to give an older condo architectural detailing. "And I always switch out those builder hollow-core doors for solid ones and update all the hardware on the doors," Hastings says.
Hastings says a typical condominium transformation takes a minimum of three months, but can go on longer depending on how extreme the customization. "I always suggest the clients decide on basic things with me and then go away until the project is complete," she says. "You don't want to live through renovation if you can help it. The demolition part is especially stressful."
Sally Trout, whose firm is based in downtown Sarasota, always has a condominium renovation in the works. She knows ceilings need immediate attention. "In older condominium buildings the ceilings are typically only eight feet tall, and since they are usually concrete there isn't much you can do about raising them," she says. "But I've devised strategies to make low ceilings seem and act higher by treating them as another wall. Make those ceilings something you want to notice."
Trout's scheme begins with scraping and resurfacing any popcorn ceiling in the condominium. Her favorite ceiling paint is Benjamin Moore Ice Mist. "I have this paint on my studio ceiling to show to clients," she says. "It looks white but has the palest tinge of aqua that brings the outside sky or water right inside." Besides paint, other ceiling treatments she favors are creating a beamed ceiling, cove ceiling or decorative inset with metallic wallpaper or paint. Crown molding or cove molding with perimeter lighting tucked behind solves two problems, light and architectural detailing.
"By all means orient your furniture towards the view," says Trout. "Wall-mounted televisions are a plus, and I love to include at least one pair of comfortable swivel armchairs in a room because they can rotate with a view and are both comfortable and versatile. All the window treatments I install are motorized and can be operated by remote. Homeowners love this feature."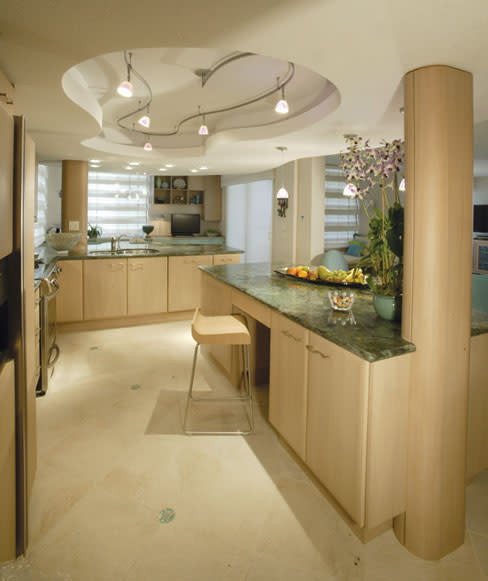 For styling in a small condominium, Trout advises trim furniture with clean lines. Glass tables, mirrored chests, or a few pieces of Lucite will lighten up a room and make it seem more airy. "Scale is everything," she says. "That's where a designer can be really helpful."
Designer Terrance Leaser likes to shop locally for clients doing a vacation condominium. "We have so many great stores in this area that stock just the kind of furniture that's appropriate for condominiums," he says.
For fabrics, he's sold on Sunbrella. "And if you're using drapes or side panels and your condo ceiling is low, hang the drapes where the wall meets the ceiling. If you can mount the rods to the ceiling, better yet. This will make your room look taller. If you have crown molding, hang the drapes just under the molding."
Leaser is a big fan of painted furniture, which adds character and customization to any room. "You can buy painted furniture in beach-friendly colors or you can have your designer get it painted in exactly the shade you want," says Leaser. "Either way, bringing your color palette for the condominium down to selected pieces of furniture makes a real statement and makes your Florida condominium unique."
Achieving Your Ideal Condominium
Pick the location first and then the condominium. You can transform nearly anything; it's harder to duplicate a terrific location, especially one that offers great views you associate with vacation living.
Hire an interior designer who routinely deals with condo renovations and modernizations. There's no shortage of them in this part of Florida, and their services are in constant demand.
Set a budget and know that you will likely go 10-15 percent over that. A full-scale renovation will take from three to six months depending on the size of the unit and how many custom features you want. If your condo is a second home, you don't have to be in town while the work progresses.
If your condo is pre-1980, you probably want to remove the wall separating the kitchen and the living room. This brings more natural light into the kitchen and often opens up a view.
Redo the lighting in the whole apartment. This could be tricky because of a possible concrete ceiling. But professionals can do clever and creative things today with improved track lighting and LED perimeter and recessed lighting.
Run the same easy-care flooring throughout the whole apartment and out onto the terrace or lanai. This increases your living and entertaining space and cuts down on maintenance. Avoid wall-to-wall carpeting and opt for area rugs to define spaces, especially if you're at the beach.
For more Sarasota real estate news, click here to read Bob Plunket's Real Estate Junkie blog. >>
This article appears in the December 2013 issue of Sarasota Magazine. Like what you read? Click here to subscribe. >>