Article
How to Decorate the Perfect Bedroom
Advice from interior designer Mark Dalton.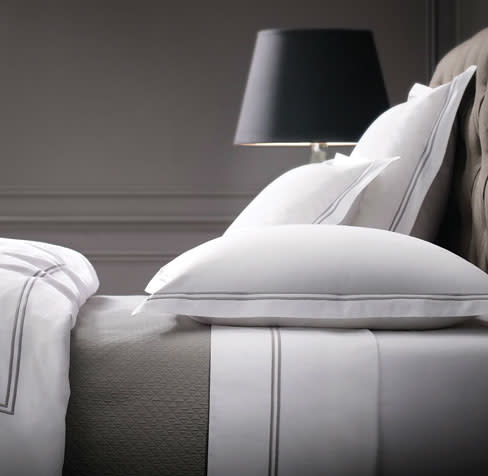 "A bedroom is a personal retreat and should be quiet, relaxing and refreshing. Go for dark, soothing walls, gray-blue if you can't decide. My bedroom walls are Benjamin Moore Jamestown Blue, but I've been doing Beach Glass and Ozark Shadow for clients and they love the feeling it gives.
"You must have black-out drapes or shades. Your bedroom will be cooler and you can nap in the afternoon. I have wooden blinds and black-out drapes on top. In the summer I never open the drapes. I take a nap whenever I can.
"I watch TV in bed at night with my dog because it relaxes me. Some doctors say to banish the box from the place where you sleep. Not for me. But I never eat in bed. If you read, eat or watch TV in bed, you probably want a padded headboard for extra comfort. And reading lamps on nightstands. Mine have 150-watt bulbs. These eyes are getting older.
"One of the reasons I bought my 1950s house was the metal clothesline in the fenced back yard. I line-dry my bed sheets and I peg my feather pillows on the line for three hours once a week to freshen them up. There is no luxury quite like sun-dried sheets and pillows.
"All my bedding is white and it's from Restoration Hardware. Sheets are 400-thread count, pillows are down. Sometimes I'll stuff two down pillows into one pillowcase if I don't think they are squishy enough. I bring in color with throw pillows and drapes. I spent $3,500 on my last mattress, something I do not regret and would do again. Spend whatever it takes to get a really fine mattress and sleep will be good to you.
"I don't spray scent in my bedroom, but once a week when I buy fresh flowers for the house from Victoria Blooms or Fresh Market, I put a bud vase and a single flower on each of my nightstands.
"A bench at the foot of the bed is where you toss bed stuff like extra pillows, and it's where you sit to put on your shoes. Two ottomans side-by-side are as good as a bench.
"Most homeowners redecorate every 10 years. I've had my bedroom for seven and I'm not one bit tired of it."
For more Sarasota shopping and fashion news, click here to read our Fashion IQ blog. 
This article appears in the November 2013 issue of Sarasota magazine. Like what you read here? Click here to subscribe to Sarasota magazine. >>