Article
Design Buzz: Tips and Trends from The Wallpaper Store's Jonathan Slentz
Jonathan Slentz, interior designer and owner of The Wallpaper Store, spots some trends.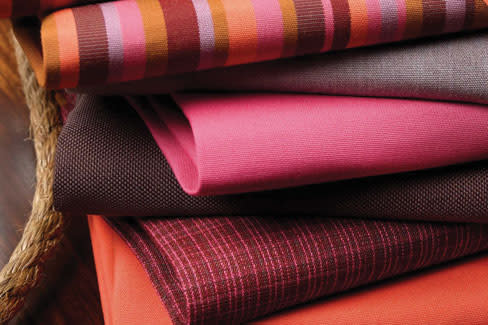 "I'm seeing a lot of purple ranging from palest lavender to deep and dramatic shades. Soothing grays are holding strong, but the new grays have a silvery quality to them that is sophisticated and quite nice. And watch for pale aqua. The new shade has more blue and less green than the aquas of last year.
"As to style, there is less emphasis on doing something beach cottage, Mediterranean, mid-century modern or other design styles. Clients are asking for comfort and personality without naming a kind of design style. Furniture is smaller—goodbye, chair-and-a-half—more tailored but cushy with soft fabrics.
"Motorized window treatments with remote control. Lightweight sun screens (they'll be huge this year) and drapes can now be battery-operated, meaning no big investment in wiring. Drapes and shades can be moved up and down or sideways with the push of a button.
"The new plantation shutters, which are made of PVC and other plastic components. They are durable, won't fade or warp, and the color has a car-finish sheen that is custom gorgeous. I haven't used wooden shutters in clients' homes in ages.
"Using outdoor fabrics inside. Companies like Sunbrella have revolutionized their techniques for making this durable acrylic fabric that resists sun fading, mold and moisture retention. The new-age Sunbrella fabrics have the feel and look of fine silk, chenille, soft cotton, damask and linen. I use them for clients who have pets and children or for clients who want to reduce home maintenance. As I replace upholstered pieces of furniture in my own home, I'm using Sunbrella even though it is pricier per yard than most other fabrics.
"And what don't I love? Leather sectionals—not a great idea in Florida. Unless you pick a really, really expensive leather, it's going to discolor and it will never give in to the body and feel com-fortable. There's a lot of just plain terrible leather being passed off in sofas and chairs to-day."
For more Sarasota shopping and fashion news, click here to read our Fashion IQ blog. 
This article appears in the November 2013 issue of Sarasota magazine. Like what you read here? Click here to subscribe to Sarasota magazine. >>