Article
Politics & Bedfellows: Famous Political Couple Buys Two Sarasota Condos
Democratic strategist James Carville and his wife, Republican consultant Mary Matalin, buy two condos in Sarasota.
[caption id="attachment_1285" align="alignnone" width="488"]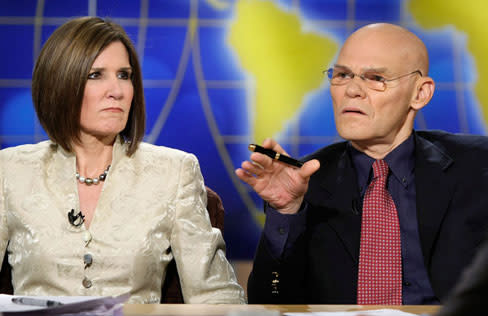 Mary Matalin and James Carville[/caption]
James Carville and Mary Matalin are famous for being politically opposed even though happily married. He's the Democratic strategist who invented the phrase "It's the economy, stupid!" and she's the Republican consultant who advised everybody from Reagan to the Bushes and Dick Cheney. Well, now they've gone and bought two condos in downtown Sarasota, and guess what? One's Democratic and one's Republican, just like them.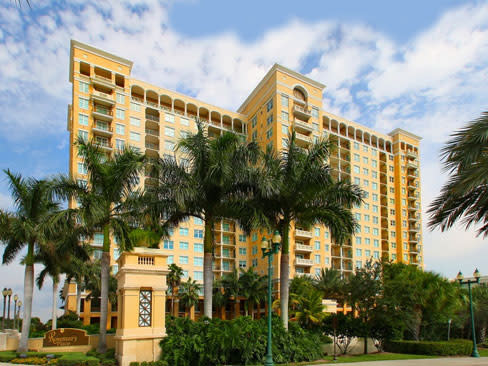 Back in April, they bought Unit 611 in the Renaissance, above, right on the Trail across from the Van Wezel. The Renaissance is very nice, but it is not a prestige building. It was designed as rentals and the units are a little small. There was also a mold or insulation problem, and right after the building was completed it had to have major renovations. It's known for attracting young professionals and people who want a downtown high-rise but can't quite afford the glamorous buildings, like the Ritz or Beau Ciel. In other words, Democrats live there.
The apartment itself (1,360 square feet) has two bedrooms, two baths, a den, and a lot of faux finishes. It's a corner unit and most rooms face the bay. It was offered for sale furnished, and has been rented out over the years, at $2,500 for an annual lease and $4,500 seasonal. The Carvilles got it for $415,000, down from an asking price of $450,000, and I bet the owner was glad to see them, as it had been on the market for 979 days.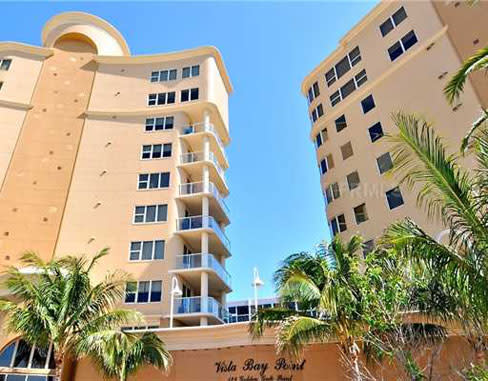 Once they realized how Democratic their new home was, they went out and bought the Republican version, about half a mile a way in Golden Gate Point. It's unit 702 in Vista Bay Point, one of those twin beige-y buildings right on Ringling that have those odd rounded dome shaped things on the roof. This place is much fancier. It's got 3,317 square feet, three bedrooms, 3 baths, a coded elevator, two terraces (one faces the bridge, the other Marina Jack) and that ultimate Republican indulgence, a bidet in the master bath.
The asking price was $1,369,000 but the Carvilles got it for $1.2 million. It's a strange building that takes a little getting used to. The rooms are all oddly shaped, resembling gerrymandered Congressional districts. Though it's on a busy street, it's very well sound proofed, and if there was a mob outside yelling things, you'd never hear a peep.
The Carvilles swear they never discuss politics at home, which is great because now they don't have to. Like everybody else in Sarasota, they can now discuss real estate.
Read Bob Plunket's report on the Sarasota real estate market in our October issue right here. >>