Article
Look Inside the Most Buzzed-About Home in Sarasota: Guy Peterson's Spencer House
Follow us inside the most talked-about new home in Sarasota.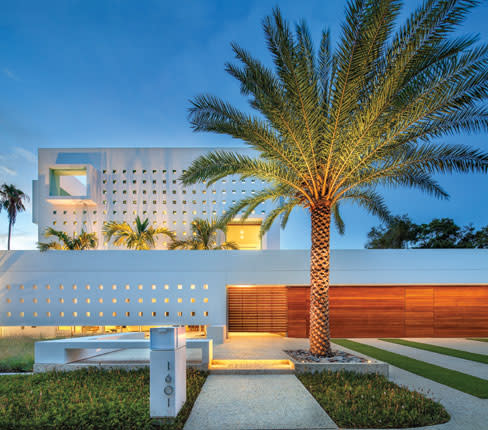 Let's get it right out of the way. The new Guy Peterson-designed Spencer House on the corner of South Orange Avenue and Prospect Street in downtown Sarasota is controversial.
During the 15 months it took to build it, people complained that the modernist residence—with its strong, bright white horizontal planes perforated by dozens of small square openings—isn't compatible with the comfy cottages and Mediterranean homes in the surrounding West of Trail neighborhood. (They don't call it Bungalow Hill for nothing.)
The next-door neighbors mounted a high-profile campaign against the home's owners, Gary and Beth Spencer, in part because they had to severely trim back their beloved old mango tree to accommodate the new home's pool. They even set out a card table on the sidewalk to gather comments from passers-by.
And a Herald-Tribune reader's poll last May garnered a whopping 3,158 votes—59 percent liked the house, 41 percent didn't—with a wide range of responses, everything from, "It's where I would expect to get my teeth cleaned" to "You know, I kind of like it."
Peterson's peers obviously approve; the Florida chapter of the American Institute of Architects gave him their prestigious Firm of the Year Award this summer, and the local AIA chapter gave him an Award of Excellence for the Spencer House in 2012, while it was still under construction.
Sarasota Magazine's office is just a few blocks away, so we'd been following the Spencer House's progress closely and were itching to venture beyond that long, low perforated wall along Prospect Street to see what all the fuss was about. Now that we have, we count ourselves in the "wow" camp.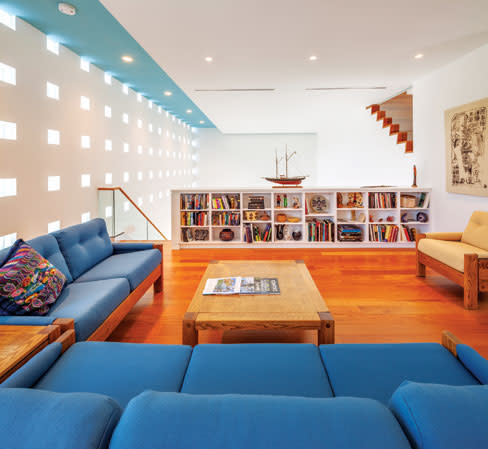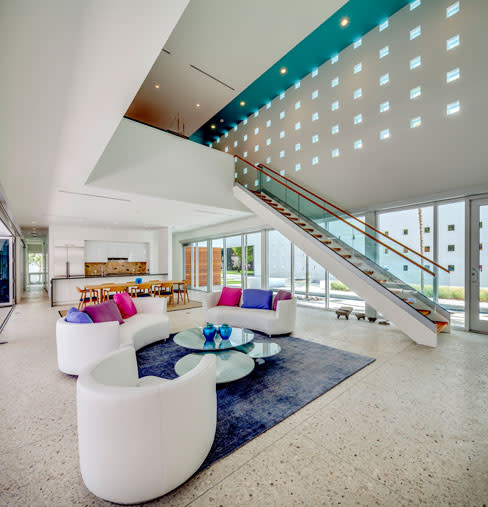 "This house is all about light, openness and transparency," says Peterson. That's clear the moment you pass through the honey-toned grappa-wood front door. We love the uplifting feeling of the enormous 24-foot by 48-foot public space, where ceilings soar from 10 feet tall in the open kitchen at one end to 22 feet tall in the living-dining area. Natural light floods in through long expanses of glass walls. On the north side those walls accordion out to provide completely open access to the swimming pool deck, and on the south they overlook a palm-lined courtyard and a narrow sliver of a reflecting pool. The perforated walls act as screens against street traffic, yet let in lots of light and air. (Translucent screens that descend at the push of a button provide total privacy in the adjoining master suite and guest bedrooms.)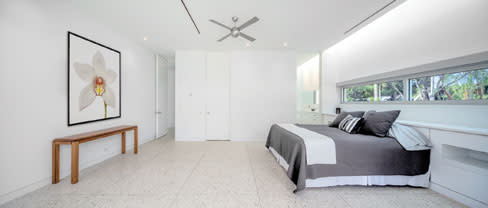 Longtime Chicagoans, the Spencers—he's had a long career in international finance, she's an archaeology enthusiast who volunteers at Chicago's Field Museum of Natural History—had been visiting his parents in Sarasota for 30 years before moving here three years ago. This is a casual home, reflective of its owners' lifestyle. They entertain their large extended family that lives here and welcome their grown children visiting frequently from out of town.
"We asked Guy to blur the distinction between indoors and out," says Gary, "and it certainly does that"—from the large squares of shell flooring that run throughout (roughly honed on the outdoor patios, polished inside) to select ceilings painted a glowing shade of teal that Peterson calls Corbu blue because it was championed by iconic French modernist architect Le Corbusier.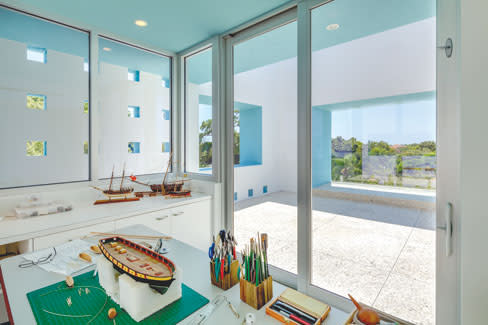 Grappa-wood stairs lead upstairs to second-floor his-and-hers offices, then upstairs again to the third-floor "shipyard," where Spencer pursues his passion for building painstakingly detailed miniature re-creations of authentic sailing ships. The shipyard leads out to an open terrace with outdoor kitchen and heart-stopping views up to downtown Sarasota and out to Lido Key.
Peterson installed four of his signature "shadow boxes" of varying depths on the exterior, also painted Corbu blue on the inside, to frame views and create shade. "They become view portals," he says, evoking for us the homeowners' own personal Skyspaces. Lucky them.
Outside, Gary Spencer's brother, landscape architect Dane Spencer, planted mostly native species: a green feathery ground cover with spiky purple pompoms called mimosa, or the sensitive plant, because the leaves close up when you touch them; an ornamental grass delightfully named Elliot's love grass; and on the corner, a 30-foot flatwood plum tree that, for two weeks each spring, will bloom with profuse white flowers. "You want to follow the lines of the architecture," says Dane. "It's less about trying to cover up the building and more about accentuating the clean lines."
Beth Spencer picked the fascinating kitchen and bath backsplashes, which are made of stone embedded with 50-million-year-old fossilized fish from the Green River Formation in Colorado, Utah and Wyoming. They're remarkable.
Her passion for archaeology—her specialty is Mayan hieroglyphics—led to a singular demonstration of what can happen when an architect and client "get" each other.
At the very moment that Peterson was developing the perforated walls as the central design concept of the Spencer House, she sent him a photograph of a favorite Mayan ruin. You guessed it; the ruin has a perforated tower wall. "Can you believe it?" Peterson exclaims.
Yes, we can. The shared vision of Peterson and the Spencers shines through every aspect of this important addition to our city's collection of outstanding modern architecture.
Get your own insider's tour of the Spencer House Sunday, Oct. 20. It's a fund raiser for the newly formed nonprofit Center for Architecture Sarasota. Tickets are limited and advance purchase is strongly recommended. Tour details, ticket prices and CFAS information are available at cfasrq.org. 
Take a video tour of the Spencer House:
DESIGN TEAM
Architect
Guy Peterson | OFA, Inc.
Guy Peterson, FAIA, Principal
Project Manager     
Damien Blumetti, Associate AIA
Contractor    
DTI (Dean Thompson Incorporated)
Dean Thompson
Landscape Architect    
Dane Spencer Landscape Architect
Dane Spencer, Principal
Interior Design    
David K. Lowe Interior Design
David K. Lowe, Principal
For more Sarasota architecture and real estate news, click here to read Bob Plunket's Real Estate Junkie blog. >>